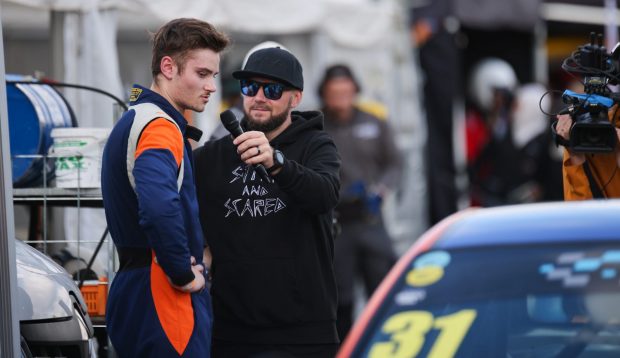 Final NEA Event Victorious to "Čapkauskas autocentras – Racing Team"
After so much rain on Saturday it was a real blessing to see bright sky and sun shining on Sunday morning. Endurance series participants had a sigh of relief knowing they will have both, grip and visibility.
Morning started with BEC4H practice followed by first race of NEA at 11 a.m. It was nicely long grid having 24 cars here! Their qualifying sessions were done Saturday evening and pole position taken by "Čapkauskas autocentras – Racing Team" with dad and son duo here: Ramūnas Čapkauskas and Titas Čapkauskas. Next to them on a grid – "Soderus racing" having Darius Žitlinskas and Adomas Petrovas behind the wheel. "Hemi Racing by Statomenas " started from the 3rd place of the grid and it is represented by Jonas Jancevičius and Mindaugas Vaidila. So, fully Lithuanian peak of the grid with three Cupra cars.
First corners and first incident await here, involving "Diesel Power", "Krauman Motors" and "KTK Racing Division", forcing "Krauman Motors" BMW to spin losing important positions, as "Diesel Power" is back to box for some repair works.
Two leading Cupra's were going side to side, until "Soderus Racing" took a chance of overtaking "Čapkauskas autocentras – Racing Team" that was stuck behind slower participant. He managed to do so; however, he was leading for really short period of time, slipping out and losing the gained position. It seams no luck in "Soderus Racing" corner, as after 40 minutes of driving the tire went out and they were forced to go back to Pitlane for quick work on a car, dropping to the 3rd place.
Mandatory pit stop was quite smooth except for one team – "EST1 Racing", being penalized with drive through penalty. Afterwards they loose the leading spot in BMW 325 Cup class giving it to "Krauman Motors". Those two cars kept fighting for the 1st place up until the finish line. The leading three cars did not changed and on the top – still three CUPRA's from Lithuania.
Bad luck has visited the Finish team "Special Stage", as their car slipped out and got stuck on a second corner of the track having 27 minutes to go until the finish.
Once again, having only 19 minutes to go, "Soderus Racing" was forced to go back to the Pitlane zone for tire change. It seems they had faced the same issue twice during the race, coming back to competition being 3rd, giving up the 2nd place to "Hemi Racing by Statomenas" team.
Quite fluent remaining race there, clarifying the event's leaders and all season champions among all classes. Obviously, the best race was to the fastest duo here today and "Čapkauskas autocentras – Racing Team" can celebrate the champion title! 2nd place in BTC4 taken by "Hemi Racing by Statomenas" having unlucky "Soderus Racing" in the 3rd. However, they can be happy keeping the 2nd place this season, as thy had quite an advantage of points before the race.
"ABC Race" victorious to "SK Volvozari", keeping "Zabaki Racing" on the 2nd step of the podium. However, those guys had a trusted number of points gathered, keeping the champion title. In BMW 325 Cup class the "Krauman Motors" did not allow "EST1 Racing" to overtake them and kept the leading spot, nevertheless, those fast Estonians took the champion title this year, having "Dream 2 Drive" 3rd today and 2nd in season standings. "DMK Racing Team by Eurolint" took the victory of BTC1, having "Lenktynių inžinerija" on the 2nd step of the podium, and "MKM Racing" on the 3rd. Even though they were 3rd here, they managed to keep the 1st place of the season! "Autokaslita" team was happy about 1st place here today in BTC2, keeping the 2nd place in season overall standings. "Reinup Motorsport" took the victory in BTC3, keeping "RS Racing Team" and "Diesel Power" behind. However, the amount of points received did not allow them to make big changes in season standings and "RS Racing Team" kept the champion title and "Diesel Power" made sure that vice-champion place belongs to them.
As for V1600 class, no doubt here – "LDV Racing Team" is the winner.