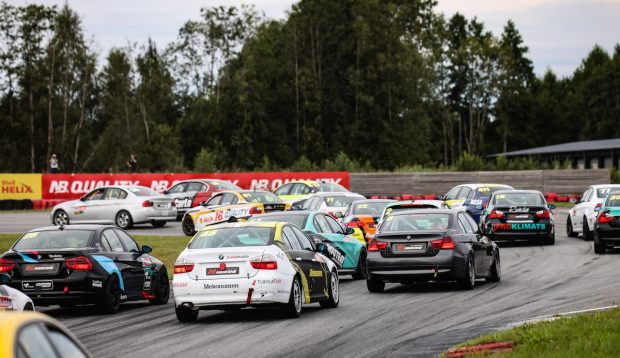 First racing day in Parnu Summer Race is over, new track records set, history writen and first winners determined.
The Saturday races for the first time this season brought mixed conditions and thus giving additional pressure for the teams and racers. The overall winners of Baltic Touring cars classes, BMW 325 CUP, V1600, ABC Race and the guest series NEZ Porsche Spring challenge were determined, and the spectators were not disappointed!
The class of the beautiful beasts – the GTs and TCRs saw very mixed conditions in the morning Qualifying. Jonas Karklys managed to Qualify on pole, beating his teammate Aurimas Jablonskis and the the BGT class series leader Ignas Jomantas. Sven Karuse was fastest in TCR, Drew Holland in BGT AM and Ramunas Capkauskas in BTC4.
Jonas Karklys had impressive performance in race 1 with his Audi RS3 LMS GT3 EVO II, beating not only his oppenents but also the lap record for GT Cars – -1:11.792. Second place went to the pilot of AMG Customer Racing by Ajus group and third to Aurimas Jablonskis from Juta Racing. Sven Karuse was dominant in the TCR class, Capkauskas in BTC4 and Aivaras Remeika in the BGT AM.
Race 2 was again won by Karklys thus winning the event, second to Jablonskis, while third to Peltola who also was third in the class standings. The GT AM class Race 2 victory and event victory went to the proud member of Britain – Drew Holland, second to Remeika and third to Darius Gaucius. The TCR victory with two race wins goes to Sven Karuse, second to Tomas Urbonavicius and third to Darius Zitlinskas. Ramunas Capkauskas showed his class, by winning both races. Aras Kvedaras second, and Henrikas Statkus third.
The BMW 325 CUP. Ricards Subeckis started Race 1 from Pole and skillfully managed to keep his opponents at the back but later was penalized and relegated in the table. In a mix of battles between Povilas Bonkevicius, Julius Kirsis, Alex Reimann, Romet Reisin, Paulius Urbonavicius and a big pack behind them. Reimann managed to see the chequered flag in second position but was also penalized after and relegated to fourth, thus Paulius Urbonavicius was first, Romet Reisin was classified second, while Julius Kirsis third. Krisjanis Oskerko finished fifth, Uldis Timaks sixth, Bonkevicius seventh and the championship leader Leo Messenger with 100 kg of compensation weight onboard was eighth.
Race 2 was Alex Reimann performance, pole to first without a mistake but was later relegated for practicing start to third position. Julius Kirsis managed to held first place from Povilas Bonkevicius. Ricards Subeckis was defending hard against attacks from Romet Reisin and that allowed for a great bunch of cars to catch up. Reisin managed to overtake Subeckis for fourth. Urbonavicius finished sixth, Messenger seventh and eighth position went to Aurimas Mistautas.
The results are still provisional and under investigation.
So overall in 325 CUP provisionally first place goes to Julius Kirsis and second to Paulous Urbonavicius, third to Romet Reisin.. In rookie category first place to Estonian Karl Lang, second Arturs Sarma, third Vadims Ozols.
In Masters first place to Julius Kirsis, second to Artjoms Koclamazasvili and third to Uldis Timaks. Ladies – the one and only Emilija Ulvydaite.
Baltic Touring Cars classes showed exciting racing with overtakes and intrigues. In the most powerful one – the BTC3 class. Tomas Jatkevicius successfully converted his pole position to a race victory with a one second gap over Arturas Kliobavicius, while Maksim Avdejenkov finished third ahead of Gediminas Bilinskas who had to change car as his main car had technical difficulties. Race 2 was quite identical – Kliobavicius couple of times challenged Jatkevicius but could not convert it. But Bilinskas could – an overtake in last laps gave him the last podium position.
BTC2 was a proper battle of Hondas. Tadas Petukauskas started from pole, holding behind three Estonians – Simo Lind, Antti Jartsev and Kairo Kallas. Petukauskas held the lead six laps into the race when his engine said that it is enough and gave up, letting Simo Lind into position 1. Lind could not relax as Jartsev was close behind, but managed to keep the position until the finish flag. Andrius Keblys managed to pass Kairo Kallas for the third. In Race 2 Jartsev had a leading position for some time until Simo Lind came by in opening laps. Jartsev was close in the back but not close enough for an attack. Great battle was experienced by Keblys and Kallas, swithcing positions back and fourth, with Keblys move on the last lap gave him the third position.
Dovydas Akstinas had a perfect weekend – pole position, two race victories and fastest laps and enjoying the wonderful season. While Vidmantas Pociunas had comfortable second place.
The day started with NEZ Porsche Sprint challenge series which had 13 entries from Finland, Latvia, Lithuania and Estonia. The Qualifying session was won by Matias Salonen, but Jani Kakela lined up right next to him. The rainy conditions favoured Olli Kangas who got a great start and soon found himself in the lead. While first lap was disastrous for championship viceleader Henri Tuomaala who spun and had to retire. Valters Zviedris quickly got himself up to second, chasing Kangas but a puncture 4 corners before the finish flag, and had to finish fourth. Second place went to Kakela and third to Matias Salonen.
Race 2 saw mixed up the grid but dry weather conditions. Eduardas Klepikas started from pole but lost the lead in the first corner to Thomas Kangro, who with his quick pace comfortably lead the race to victory followed by Matias Salonen and Race 1 winnr Olli Kangas. Klepikas came fourth, while Henri Tuomaala was fifth. Valters Zviedris had a spun while trying to overtake for position. Zviedris chased the leaders but finished ninth in the race.
The Parnu Summer Race 2023 will continue tomorrow with Baltic 4H endurance championship and Nankang 2h Endurance academy.