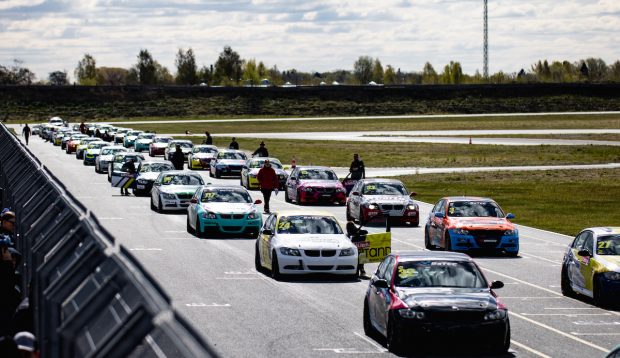 The penultimate BaTCC round already this weekend!
The fourth and penultimate Baltic Touring Car Championship event will be held in the Porschering race track in Estonia. The racing event will be joined by NEZ Porsche Sprint challenge series and the slightly changed Baltic Endurance Championship with 4 hour distance.
The new endurance format (distance reduced to hours, strict pit window times and stint durations) has turned out to be quite popular, as in the race week 24 teams have completed their entries, with most of the entries – six in the TC3 class. Some new, previously unseen teams have joined the ranks – Meister Racing Team & LGT, Vineda Racing and friends from Finland with GT3 CUP Porsches – SPP Racing, Iceboys Racing, Relaa Racing and ALM Motorsport. For the first time ever, we will have three GT3 cars – with one entry from Stateta BRO by Heidelberg Mobile with Mercedes-Benz AMG GT3 Evo and two entries from Juta Racing with Audi R8 GT3 EVO II. There still might be some teams joining in next few days.
The fourth round of the five-event series means there is a lot to gain and a lot to lose in the overall standings and we have some very interesting matchups in many classes.
The BMW 325 CUP so far have 34 entries, but the number will definitely grow. The series is lead by Leo Messenger from Rode racing, having a 50-point advantage over Ricards Subeckis who will have to something spectacular to reduce the gap before the final round. Julius Kirsis is ranked third but is closely followed by Paulius Urbonavicius, hometown hero Romet Reisin and Ramunas Grigaitis. Some seasoned 325 CUP veterans have returned for this race – Alex Reimann and Marius Grigaitis who will both be among the favorites.
Julius Kirsis has a very safe lead in the masters category, with 106 point advantage, but the battle for second place is tight between Artjoms Koclamazasvili, Donatas Jucius, Pavel Beskovnoi, Andris Cats and Darius Gaidulionis, while in the rookie category everything is tight – Karl Lang and Eividas Sitavicius are nearly equal in points with Arturs Sarma and Kris Mannama in close pursuit.
V1600 has a very intriguing situation, Ernest Eglitis after skipping race in Kaunas, has lost his leadership and is trailing 13 points to Raivis Meilands. Elvis Turans is third ahead of Kaspars Rudmiezis and Arvids Rumbens.
BTC1 is a hunting ground for Dovydas Akstinas who has 6 out of 6 victories this season is comfortably leading the championship.
While similar act is done by Simo Lind in BTC2 class, winning all 3 of the events and having 5 race wins. His 143 points in the table gives him an advantage of 59 points over his compatriot Antti Jartsev.  Kairo Kallas and Tadas Petukauskas are not that far back and everything is still possible here.
BTC3 class has been a real rollercoaster this year – three different event winners and packed points in the standings. Double victory in Kaunas gives a slight lead now to Gediminas Bilinskas with 31 point advantage over Tomas Jatkevicius(77 points). Arturas Kliobavicius has 70 points, Vaidas Budrys 66 and Justas Gudavicius 65.
BTC4 class for Parnu Summer race have four entries, in the season we have had 4 entries so far and all four are split by just 4 points, with double shared lead for Ramunas Capkauskas and Arturs Simins. Will be nice battles for the championship.
GT AM have 3 entries, and all the championship contenders included – Jyrki Jonkkari, Aivaras Remeika and Drew Holland!
A real blast will be GT PRO class – with 3 GT3 car entry joined by Jyrki Peltola and his notorious Chevrolet Corvette, a battle of HP and speed!
The Nankang 2h Endurance grid grows every day and has reached 25 entries so far and for sure will grow even more! Seven entries in the BMW 325 CUP class, including all the big boys – Dream 2 Drive, KTK Racing Division, Krauman Motors and EST1 racing. 3 entries in BTC1, 4 in BTC2 and four so far in BTC3. Six entries with fast machinery is in the BTC4 class and 1 team so far in ABC Race.
15! beautiful Porsche GT3 CUP cars will line up for NEZ Porsche Sprint challenge. Valters Zviedris, the driver of Capkauskas Autocentras team, the BMW 325 CUP 2022 and BaTCC TCR 2021 champion, is leading the series once again with 156 points 24 more than the Finnish legend Henri Tuomaala and 31 more than the young Finnish gun Matias Salonen, who is the owner of Bikernieki GT track record. Tuomas Kangro, the local ace, is the one to watch also in Parnu.
ABC Race racing usually provides tough as nails racing, and nothing less is expected also this weekend. With 14 entries and all the leaders registered it will be a nice battle between series leader Kristaps Laipnieks and his pursuers – Janis Hans, Kristaps Stikuts and Daniels Ungurs!
See you all in Parnu Summer Race 2023! General admission fee is 15 EUR, tickets can be bought on spot.