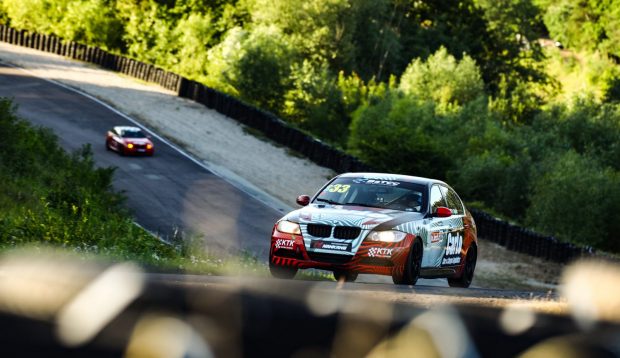 Exciting Qualifying day in Kaunas Grand Prix
Beautiful weather, a lot of excitement and huge battles yet small gaps in the Friday training and Qualifying sessions on the first day of Kaunas Grand Prix.
91 participant has entered in various classes in the Baltic Touring Car Championship and Lithuanian GT series, and together with Ring Challenge series it will make a very interesting and massive racing Saturday.
The Nemuno Ziedas race track is very specific but just local knowledge and experience is not enough to secure pole position in the BMW 325 CUP Qualifying – it takes much more than that and Ramunas Grigaitis from KTK Racing Division showed that – his maiden pole in the BMW 325 CUP series and he will lead the 31 big car field tomorrow. Second row will be lead by championship leader, Frenchman Leo Messenger from Rode Racing. Third spot goes to by Dream 2 Drive pilot Julius Kirsis and next to him – Izidorius Paukstys. Fifth Paulius Urbonavicius, sixth – championship viceleader Ricards Subeckis.
Very exciting Qualifing sessions were in the Baltic Touring Cars classes. BTC3 pole position went to DeWALT Grand Prix winner Arturas Kliobavicius, beating his nearest rival Gediminas Bilinskas by 0,5 seconds. Third place goes to Justas Gudavicius. In BTC2 home town heroes have prepared well to stop Estonians, but Q session still went to series leader Simo Lind, who pipped Tadas Petukauskas by just 0,1 second. Third place to second man in the series – Antti Jartsev.
BTC1 class Qualifying. First place was earned by Audrius Liutkevicius, beating his rival Dovydas Akstinas… by 0,001 second! One thousand of a second!
V1600 pole position goes to Latvian Raivis Meilands, beating his compatriots Elvis Turans and Arvids Rumbens.
ABC Race series had training sessions, while Nankang 2h Endurance sessions start tomorrow.
The racing starts at 12.50.