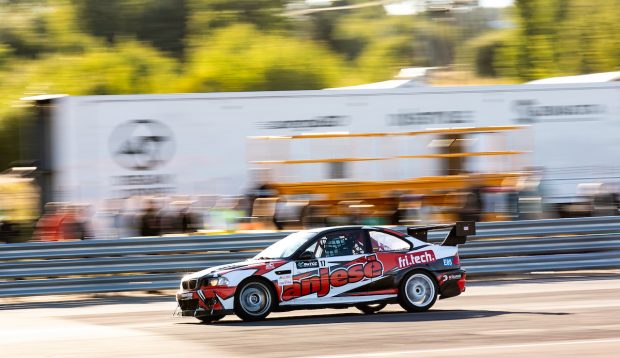 The Lithuanian heat in Nemuno Ziedas marks the equator of 2023 season
The Baltic Touring Car Championship round 3 Kaunas Grand Prix, held in Nemuno Ziedas on July 7-8 will be quite special, as not only it will be huge in terms for positions in standings in all the classes involved but also that it will be held together with Ring Challenge series making it a massive event!
The Nemuno Ziedas race track is not a walk in the park to tackle, but serious high speed track that seldom forgives errors, this year a new infamous chicane will be implemented to reduce the possibility to serious crashes and accidents. The Kaunas Grand Prix will welcome Baltic Touring Cars, V1600, BMW 325 CUP, Nankang 2h Endurance and ABC Race classes.
"The Circuit racing is massive in Lithuania, and we are always glad to have a racing event in here, with buzzing atmosphere in the paddock. This will be a great event as for the first time we are uniting forces with Ring Challenge series to make this race even better, more interesting for both participants and spectators. I wish safe racing on the track and for everybody to enjoy the event!" says Andis Meilands, BaTCC director.
The situation is quite tense in many categories, but the biggest shuffle is always possible on BMW 325 CUP, where 45 drivers have already participated in two rounds and some newcomers joining also for Kaunas GP. The current points leader with 220 points is Leo Messenger from Spins/Rode Racing team, followed by Latvian Ricards Subeckis (152) and Lithuanian ace Julius Kirsis (Dream 2 Drive) with 139 points. Everything is still possible in the standings here!
BMW 325 Masters standings is lead by Julius Kirsis(204), followed by Andris Cats (144) and Artjoms Koclamazasvili (132). Rookies 1st position so far is held by Eividas Sitavicius, chased by Vadims Ozols and Kris Mannama. Ladies trophy is held by Emilija Ulvydaite, while the newly formed Gentlemen class is spearheaded by Olivier Villeneuve.
One of the hottest and most unpredictable situation in the standings is in BTC3 class, who knows who will be the fastest one in Kaunas? Gediminas Bilinskas has the lead with 58 points, chased by Tomas Jatkevicius(49), Arturas Kliobavicius (43) and Justas Gudavicius(43), don't count also Vaidas Budrys (33).
4 wins out of 4 races gives quite a comfortable lead to Simo Lind in BTC2 class. 31 point advantage over Antti Jartsev in second, while third is held by yet another Estonian Kairo Kallas. Nemuno Ziedas is a home ground for Lithuanians, so expect some mix up in the results in the event.
BTC1 class this year is dominated by Dovydas Akstinas who has overcome technical issues and is showing good speed. Second and third places respectively in the standings so far to Vidmantas Pociunas and Audrius Liutkevicius.
V1600 have hotter battles than ever on the race track, with all the cars quite close to each other on the track and showing some quality racing. Ernests Eglitis is a leader with 100 points, winning all 4 races so far. But the battle is still on as the gap to followers Kaspars Rudmiezis and Raivis Meilands is not that big, as the gap to next pursuers.
BMW 116 Trophy lead is held by Elvis Turans, with just an 18 point gap to Edgars Karlsons.
ABC Race trophy is expected to have 12-15 entries for Kaunas Grand Prix, including all the leaders – Kristaps Laipnieks (80 points) and his nearest rivals – Janis Hans (70) and Daniels Ungurs (50). Rookie category is lead by Kristaps Stikuts.
Nankang 2h Endurance BTC4 class had some nice entries in the previous round and the lead after 2 rounds goes to Capkauskas Autocentras team, followed by Soderus Racing and Orlen Lietuva Mazeikiu ASK. RS Racing Team has the most points in the BTC3 class but the competition will not be easy in Nemuno Ziedas with some strong and fast local teams joining. BTC2 class sees the dominance of the 2 Estonian teams and the question is who will win in Kaunas – Race.Attack or Lind Racing?
MKM Racing are the leaders in BTC1, while LDV racing in V1600 class.
ABC Race has a nice battle ahead for Zabaki racing to held the lead against both Jap Factory cars.
Free entry for spectators for free practice and Qualifying sessions on Friday, 10 EUR entry fee for Saturday races.