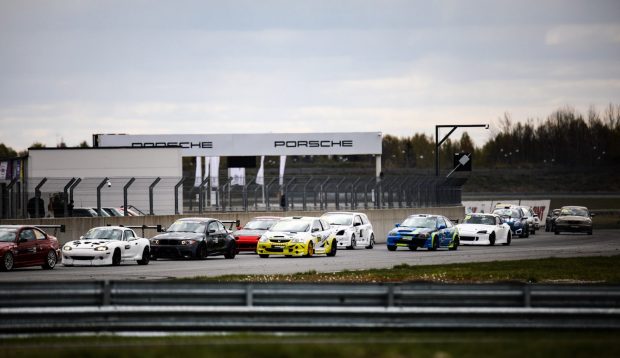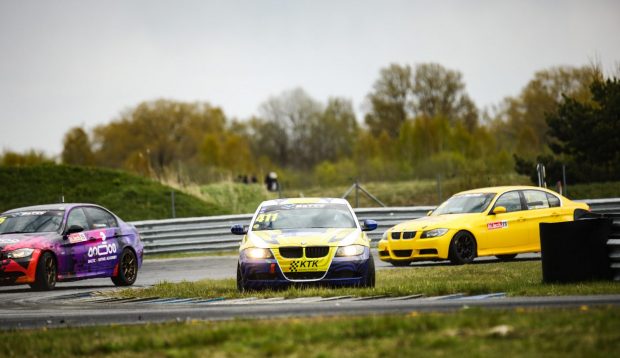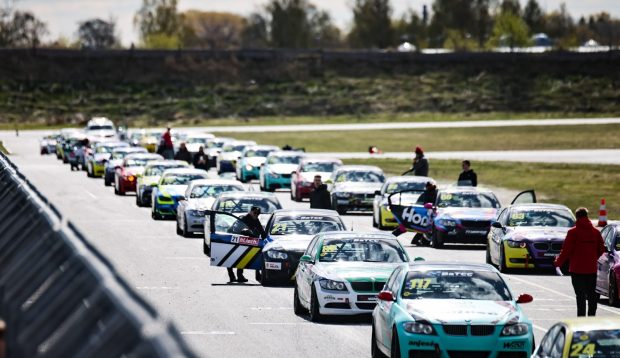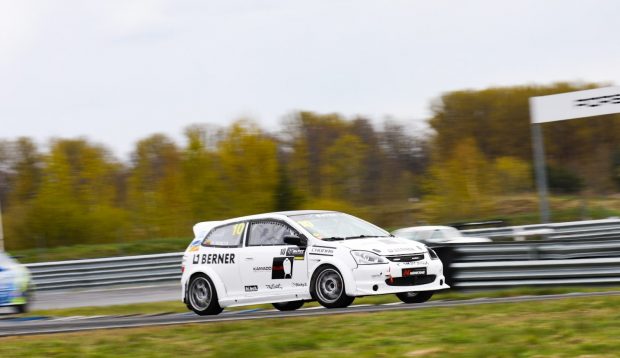 Saturday first winners of the races are determined
In the first Baltic Touring Car Championship round in Porsche Ring Estonia, in sunny but chilly weather hot battles on the track were witnessed and first winners emerged.
In the long anticipated racing in the BMW 325 CUP class, 41 car lined up on the grid with Leo Messenger leading the pack from the first corner, followed by Ricards Subeckis and Julius Kirsis. With a lot of battles in front, middle pack and in the back, this was the top 3 of the race. Race 2 started with Ricards Subeckis taking the lead on the 1st lap, leaving Messenger and Kirsis behind. The race was red flagged after 2 full laps after a hard crash. The race resumed under safety car restart and Subeckis made it perfectly. Race 2 finishing order – Subeckis, Messenger, Kirsis who was penalized later for false start, Krisjanis Oskerko, Romet Reisin and Martins Lapins.
Overall after two races TOP 3 – Subeckis, Messenger, Reisin. Masters category was won by Kirsis, leaving behind Andris Cats and Matiss Mezaks. Rookie category winners – Karl Lang, Kris Mannama, Vadims Ozols. Among two ladies the fastest one was Emilija Ulvydaite, Erika Arkusauskaite second.
Nice battles were witnessed in V1600 class with seven entries. Both races was won by Ernests Eglitis, while battle for second was hot between Kaspars Rudmiezis, Raivis Meilands and Edgars Karlsons. With Rudmiezis and Meilands taking the podium.
BTC1 both races victorious was Dovydas Akstinas, showing good speed and reliability. 2nd Audrius Liutkevicius, third Vidmantas Pociunas.
Nice pre race intrigue was in BTC2 class and the races were exciting but the outcome was the same for P1 – Simo Lind kept his dominating performance from Q sessions and won both races. Antti Jartsev in the 2nd race had to fight some battles with Andrius Keblys.
BTC3 had a lot of various events and action on track. While Justas Gudavicius won the first race, overtaking Tomas Jatkevicius when he was busy with backmarkers. Technical problems occurred for Gudinavicius in race 2. In two race overall, the TOP3 is following – Tomas Jatkevicius, Vaidas Budrys and Gediminas Bilinskas.
BMW 116 Trophy both races was won by Elvis Turans, followed by Edgars Karlsons.
The event continues with the BEC 6h race and Sunday with GT, ABC Race and Nankang 2h Endurance races.