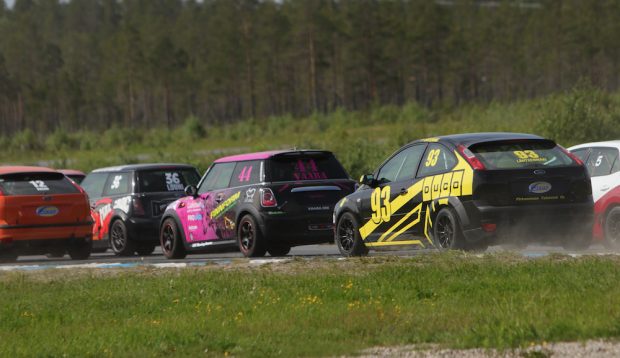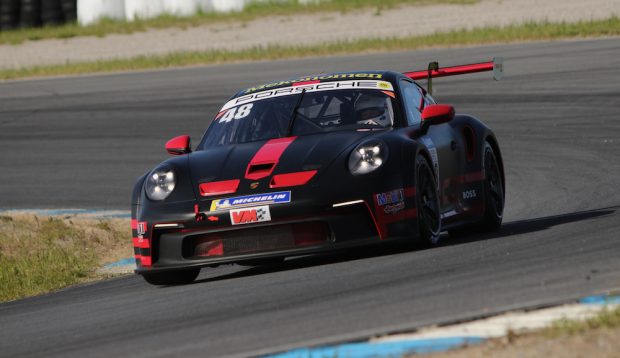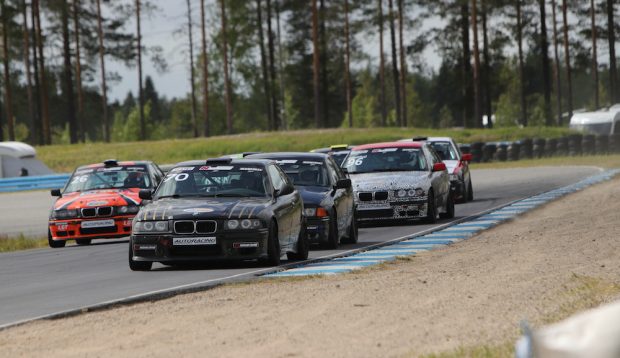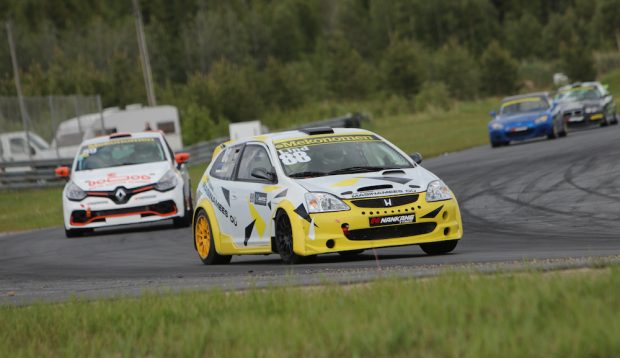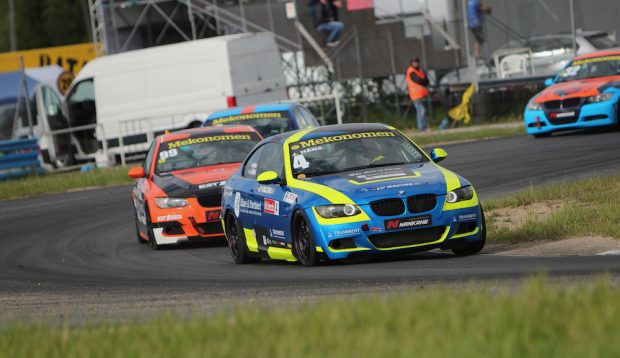 Adventures of Extreme Mekonomen GP Weekend
Busy Saturday
The extreme weekend in Finnish "Botniaring" circuit has started with an extreme of… "BMW Xtreme" race! How else it would be better to start an incredibly long and busy racing weekend?! The battles of these local guys have opened the marathon of quite a number of races. 24 different series! White nights are another advantage of always welcoming Botniaring, allowing to race almost anytime you want.
Differently from Baltic countries, Finnish series are getting awards after each of the race. So, all Saturday was a carousel of races and award's ceremony changing each other. Drivers kept moving from track to podium and vice versa, making atmosphere even more festive. And of course, races were filled with tense and battles, crashes and collisions, spiced by drivers' mistakes. That made the game even more interesting.
So, getting back to the "BMW Xtreme" race, we must once again congratulate Juho Siekkinen. This mono class was replaced by Legends Cars bugs, where the victory was taken by Finish guy Kalle Merisalo. As always, during Legends' races – no place to be bored! Filled with pushes, slipping out of the track or taking over.
Later technique got bigger, more powerful and even more eye catching. And how else it could be, as the track was taken over by NEZ Porsche Sprint Challenge participants. Even 17 of them have showed up on a grid, representing Finland, Estonia and Lithuania. 1st run was leaded by Lithuanian racer Mantas Janavičius, who was caught by Thomas Padovani during the last laps. This well experienced racer kept his position up until the end of the second run, too, keeping the 1st place to himself. Meanwhile, Lithuanian driver took the 2nd place, keeping Emil Westman in the 3rd.
Saturday was resultative for "BTC 1" and "BTC 2" drivers, too, as they got a chance to find out who's the fastest among them. As other participants had their 'Q' sessions on Friday, these guys were busy from an early morning, fighting for their places on a grid. 1st run did not pass by easily, there was an accident causing Latvian racer Atis Veismanis 5 seconds penalty. After both runs, the winner's title in "BTC 1" was assigned to Lithuanian racer Aurimas Kučinskas, keeping another LT guy Tomas Jatkevičius right behind him. As for "BTC 2" classification, the 1st place was taken by this season's leader Simo Lind, keeping two Lithuanian racer Andrius Keblys on the 3rd step and Kasparas Skyrelis on the 2nd.
As always, the most fun was kept in "BMW 325 Cup" series. This time we had 35 participants on the grid, meaning that the qualifying race was avoided. Of course, the battles for the victory were strong as always, fights tight and intensive, provoking some mistakes, pushes, penalties, red flag and… even protest. So, the race was pretty much colourful. The competition here never ends on the track, basically, it finishes after technical check-ups and investigation of all the accidents and incidents. So, awards ceremony was performed according to preliminary results. This time, on the top step of the podium we saw Leo Messenger. Estonian Alex Ivanov was the owner of the 2nd place, and Latvian guy Ricard Subeckis kept the 3rd place to himself.
As a tradition, Saturday's racing marathon was closed with BEC6H race. Even though the grid wasn't very long, the race was really fun, coloured by a lot of fazes of CODE 60, technical issues or teams' mistakes. After 6 hours battle, the victory in Overall was taken by "Porsche Baltic GT3" team from Lithuania, represented by Nerijus Dagilis, Andrius Šlimas and Paulius Žadeika. 2nd place in overall and the 1st among TCR's was won by "NOKER Racing" with Kęstutis Stasionis and Sten Piirimagi. And just behind him, in the 3rd place of overall and 2nd in TCR class, the finish line was crossed by Estonian team "ALM Motorsport" with Sven Karuse and Anttis Rammo. The 3rd place among TCR's was taken by locals – "Black Rose Racing".
"Porsche Baltic GT4" team from Lithuania was the fastest in "GT AM" classification, as for "GT PRO" – Finish "KSB Racing by Joujaam" were the best here. "TC 2" class victory was taken by "Baltic Karting Academy", running safe from the local team "Special Stage" staying in the 2nd place. Among Diesel cars, the first place was taken by "Antėja Racing Team" who had so much technical issues during the 1st event of the season. "Team R2M" took the 2nd place in Diesel class.
Sunday's Victorious Joy and New Record

Extreme Saturday was followed by an extreme Sunday, that was, no doubt, equally fun and intense.
Same as on Saturday, the day begun with Finnish "BMW Xtreme" race. Just like on Saturday, once again victory was taken by Juho Siekkinen. Later on, those cars on the trach were replaced by more powerful and much louder V8 Thunder Cars. The victory was taken by Toni Lahteenmaki, showing quite the pace here.
And then the big cars once again were banished by Legend cars. These tiny monsters had even three runs this weekend, as two of them took a place on Sunday. The first victory was taken by Kalle Merisalo, as the 2nd run was victorious to Tuomas Plosila.
And finally, after the lunch brake "BGT PRO", "BGT AM", "TCR" and "BTC 4" classes had a chance to show up. These races were really special to one Lithuanian racer, for sure. The victory among TCR's was taken by that young racer Kasparas Vaškelis with Hyundai, who not only took a trophy, but also wrote a new record of TCR lap time in this particular track. Remembering that two years ago this guy had a crash when the brakes were lost, it's quite a comeback! Kęstutis Stasionis was a 2nd here and Ivars Vallers was the 3rd. In "BGT AM" class, Kastytis Volbekas was the fastest and in "BGT PRO" classification leading position was taken by Thomas Kangro, keeping Finnish guys Mika Makinen and Emil Westman behind him. "BTC 4" class victory was taken by BaTCC series old-timer Jyrki Jonkkari.
"Mekonomen Grand Prix" finished together with "Nankang Endurance Academy" two hour race. Just like always, the battles attacked so much attention. Lingering tense put and influence on participants forcing them to make stupid mistakes, on the other hand, making the race even more interesting. The intrigue was kept right up to the last laps of the competition. Of course, the crashes and sportive incidents as well as technical issues were not avoided here, making additional work for teams. After two hours, fortune belonged to "Baltic Karting Academy Family" team that was the fastest among all the participants. It was quite a duo in here: the team was represented by father and son, Rokas Kvedaras and Aras Kvedaras. At the same time, they took the victory in "BTC 4" class, too. In "ABC Race" group, the victory was taken by Latvians "LDV Racing Team", in "BTC 2" class – by Estonians "Lind Racing", keeping "Autokaslita" team in the 2nd place. "RS Racing Team" was the fastest in "BTC 3" class. And in the most popular "BMW 325 Cup" group, the victory was taken by Latvians "Jurmala/Papa's saciksu komanda", keeping the "EST 1 Racing #3" team in the 2nd place and "LV Racing" in the 3rd.
After this extreme weekend of Mekonomen GP there is a gap in between of the races and some good time to relax. Next time BaTCC series will invite everyone to Parnu Summer Race, happening on 12-14 of August.