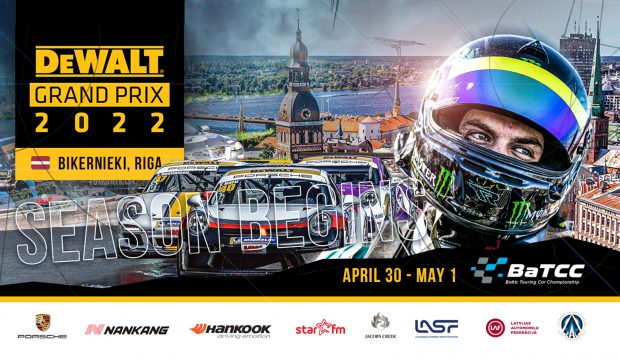 Grand Season Start with "DeWALT Grand Prix" – Already This Weekend
Even though the spring outside is not spoiling with warmth, this weekend is definitely going to be hot as during midsummer: "DeWALT Grand Prix" is going to hit as real heatwave. Officially, the racing season of 2022 will start here. Is there anything to be looking forward to? For sure! Some previous champions and already beloved races will be complimented with new faces and fresh competitions.
Another trick performed by organizers – changes in regulations, making the competitions even more interesting and waited.
New Winds in Regulations
The general new and main correction mostly will affect the popular "BMW 325 Cup" class, even though the change is affective to all BaTCC participants. However, as it is used in case if number of participants in one class exceeds the maximum number of 36, it was straight applied to BMWs during this round. For "DeWALT GP", we have already 49 participants that have filled the entry form! So, according to the changes in regulations, only 26 fastest will get their starting positions after standard qualifying sessions where they will drive in two groups. Other 10 racers will gain their grid positions after 8 laps of "pre-q race". This regulation update brought even more adrenaline.
Some changes were brought to BEC6H series, too. The main of them – new limit of personnel allowed to work with a car in the Pitlane. Instead of four mechanics as it used to be, this season – only two individuals permitted, making the maximum number of personnel equal to 5 instead of 7 (two mechanics, two drivers that are changing and the team principal). There were no dramatic changes among classes in the series, leaving "TC1" class (cars with engines that capacity is up to 2000 cm3), "TC2" (vehicles with engine of capacity between 2000 cm3 and 3000 cm3), "Diesel", "A3000+" (cars with engine in the front and capacity between 3000 cm³ and 3500 cm³), "GT AM" (vehicles with engine in the front and SRO GT4), "GT PRO" (serial and not serial, tubular and monocoque type, LM GTE and GT3 type cars), "Porsche GT3 Cup" class (Mainly Porsche GT3 CUP 991.1, 991.2 and 992 generations) and "TCR" class.
Intriguing Participants of the 1st Races
So, beside 49 participants that are planning to compete in "BMW 325 Cup" series, eye will definitely be caught by racers of "BGT PRO" classification. In between of these racers – Mantas Matukaitis, who changed his car cardinally, trying to catch the victory and to domesticate this racing season with Lamborghini Huracan ST Evo. Another trump's card is in Finish racer's Mika Mäkinen hands. This experienced racer is planning to compete with Mercedes Benz C63AMG. Next to these guys – Jyrki Peltola with Chevrolet Corvette C6 and one more new racer Ignas Jomantas with Porsche 911.1 GT3 CUP.
Quite a long grid is going to be in "BTC1", "BTC2", "BTC3" and "BTC4" classes – various technique, some new faces and old champions – perfect combination for good races. As for TCR sprint series, at least three guys from all the Baltic countries are planning to show up on a grid: Lithuanian racer Kasparas Vaškelis with Hyundai i30N, Latvian Ivars Vallers behind Audi RS3 LMS wheel and Estonian Peeter Peek with Honda Civic Type R.
BEC 6H participants grid does not look very long yet, however, it is already obvious, that the car park is not only upgraded with more powerful cars, but also with more various and eye catching ones. What is more, already known names and list of racers are complimented with new individuals. So, it is obvious: more new names and racers mean qualitative mixture and more adrenaline on the track.
As for beloved "Nankang Endurance Academy" series, even 26 teams are getting ready to start in this first round. In between of these guys – champions and winners, as well as new names and some intrigue.
Another great thing about DeWALT GP – one more 'mono' class, just more powerful one than BMWs. We are talking about "NEZ Porsche Sprint Challenge" that will be met as a candy by a child, for sure! We are going to have at least 17 Porsche GT3 CUP vehicles competing here, driven by athletes from Finland, Estonia and Lithuania.
So, even more nice cars and technique for the grand opening of the season!
Double Awards and The Live Stream   
Another tradition we have – the live stream and broadcast of the competitions. So, the DeWALT GP is not going to be exception and we are preparing nice weekend stream for all the fans who cannot come to watch it in the track. Live broadcast is going to start on early Saturday morning together with a grid of Porsche GT3 Cup" cars at 09.45 h, and it will end late evening with the awards of the 1st day winners. Sunday live stream will begin with the first race of the day that happens to be the "ABC Race" at 13.00 h. You will be able to see live up until the awards in the evening, at 19.00 h.
Another great thing for previous winners- the awards, that are going to be held on Friday. Finally, champions of 2020 and 2021 will be named and awarded!
Obviously – so much action and races, so much fun to look forward to! See you in Riga!