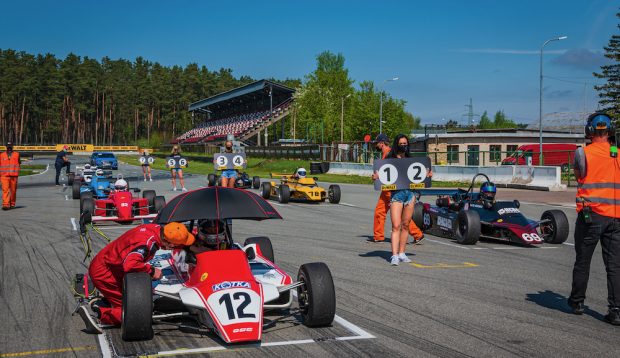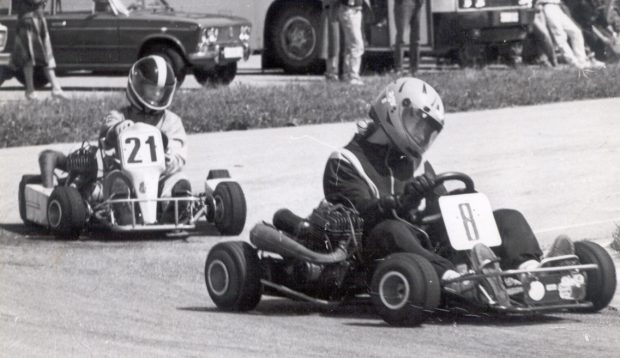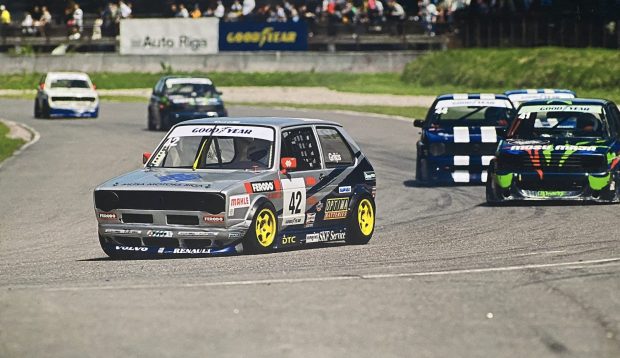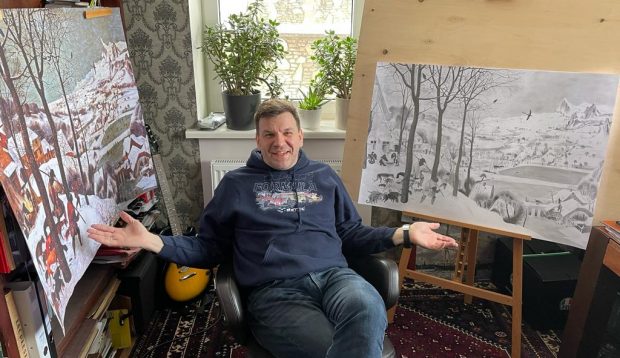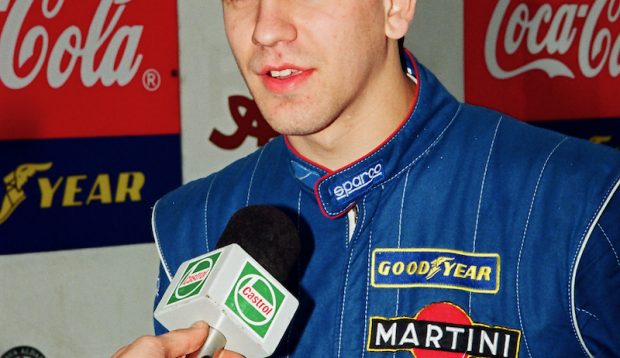 160 km/h in Bikernieki racetrack in formula. The Champion with a respect to the heritage – Andris Grikis.
Without a doubt Andris Grikis is one of the Latvian and Baltic circuit racing legends. In more than 35 years of his career he has achieved some remarkable victories and gathered various motorsport experience. In the last years Andris is the fastest formula racer in the Baltic States. In a short conversation with BaTCC, Andris looks back on his career.
"I got infected with motorsport virus, when I was 6-7 years old, when for the first time I saw races in Bikernieki circuit. I grew up in Ogre where various motorsport practices and races occurred frequently. Some time later me and my family moved to Riga. And then I read in a newspaper that local youth centre for technical sports is recruiting, I said that to my parents, and they had no objections. That's how it all started."
First steps in motorsports for Andris did not start with karting races but with making of model planes, service and building of karts, minicar races down the hill. In this discipline Andris two times went to competition in Czechoslovakia with his coach Juris Majors. "Few years ago, I met my Czech opponents from those times, and we gathered to remember those races down the hill. Simultaneously with minicar races, I started my kart career with my dad as a chief mechanic. It lasted 10 years. I did not have any big achievements – among 30 participants I was a TOP10 driver, finishes in TOP3 or TOP6 was a success for me."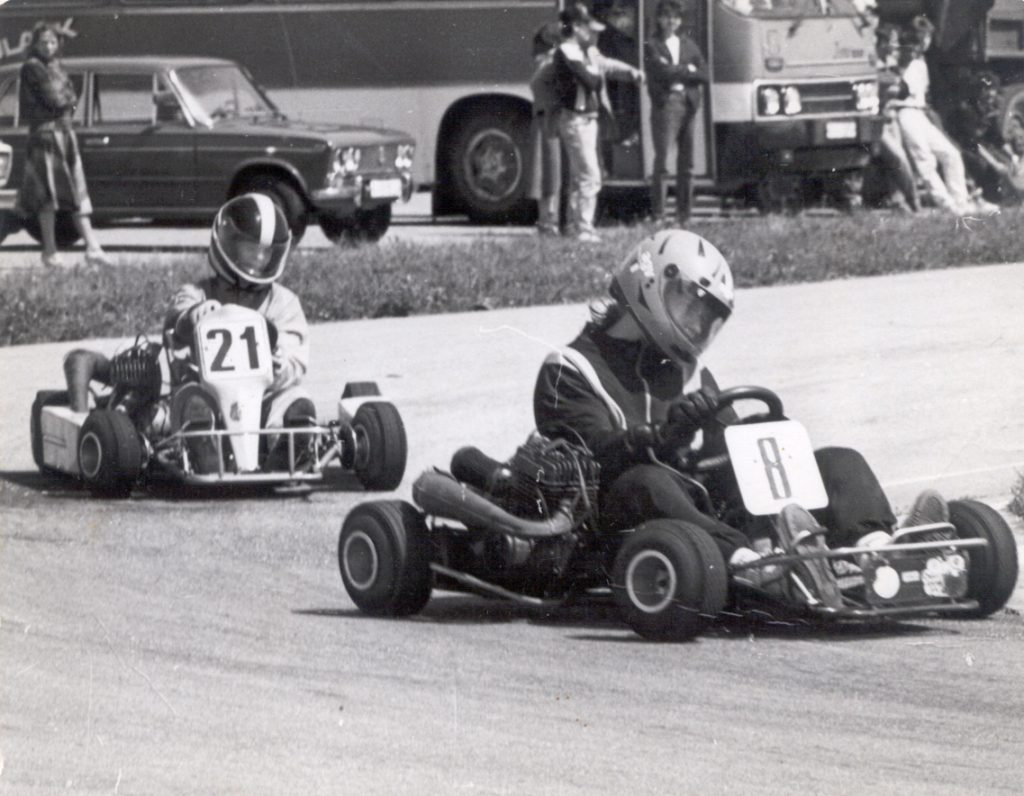 Andris Grikis is also a key figure in the late 90s very popular racing series "Golf Cup" Making his debut in 1997, Andris was a champion in 1998, fastest among 35 competitors.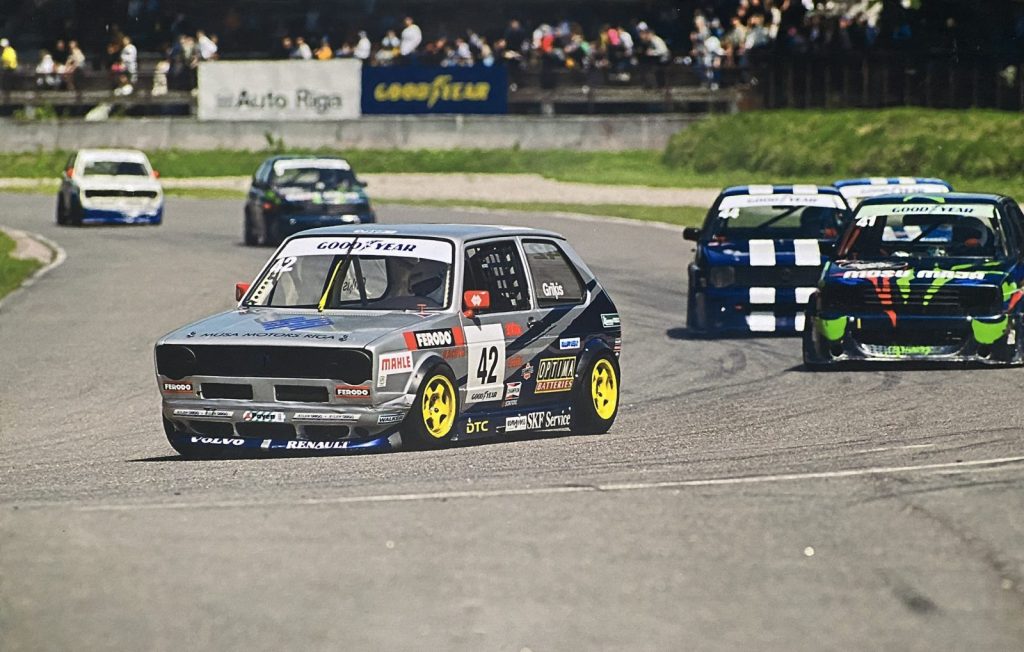 "I can easily say that my debut and first rendezvous with the big Bikernieki track was in the cargo hold of a truck that transported mini cars to a the "Witch Kettle" curve for practices. When I first sat by the wheel of Golf I, I got to know the car track in full. It was my first proper experience with a front wheel drive car – and it wasn't easy at the start. With time I adjusted to it, I had purposeful practices and became faster and managed to become a champion in Golf Cup, Latvian and Baltic championships. I could also win in 1999 but I had an accident with a driver from another class and lost valuable points that at the end of the season decided the championship."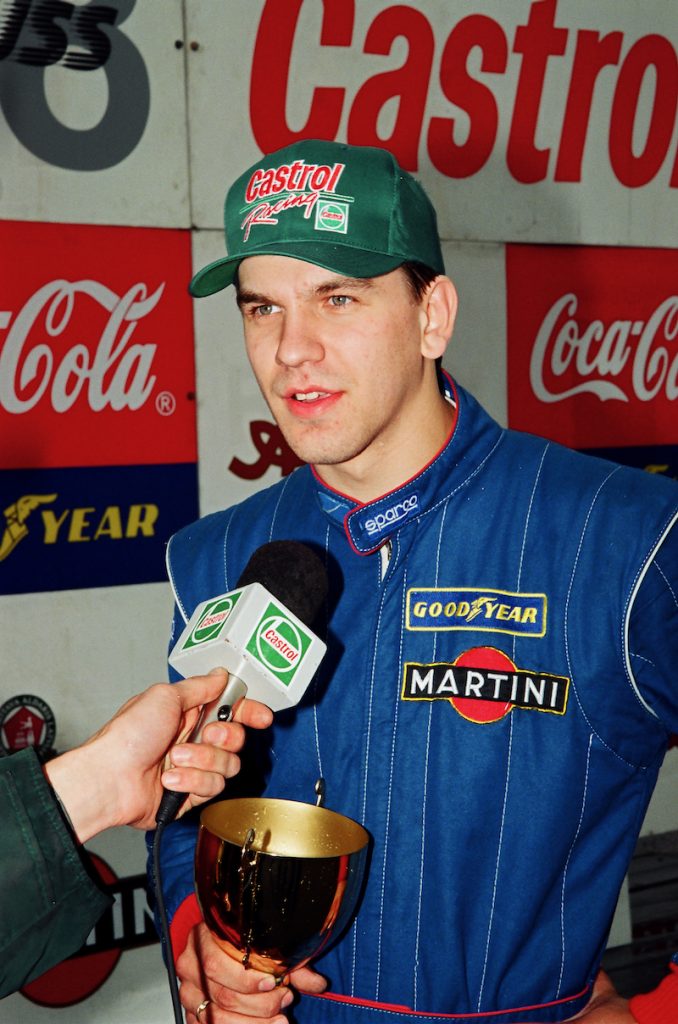 Girts Kruzmanis won the 1999 "Golf 1600" championship, beating Andris Grikis by 2 points (311 to 309).
"During the "Golf Cup" times, I worked in "Mūsa Motors Rīga" car shop, and my employer was also one of my supporters in motorsports. When the company saw the enthusiasm me and my colleagues were preparing the car for races, they decided to support me. I can say that I was one of the first professionals as one day during the week I could use only to prepare my car, keeping my salary. Also, all races outside Latvia were formed as official business trip. Conditions were right for success!"
"After I became Master of Autosport in 2000, I understood that I have to move up from the "Golf Cup". The 2liter class(B2000) was growing and became very popular later on but I could not financially afford to race there but I got a good opportunity to try myself in rally. After long research, we bought Renault "Clio" and the debut was again not easy, but at the same time we got faster and faster with each rally. In the middle of the season, the finances didn't come through and we stopped this project. And again, I had a chance to participate in "Rallijs Latvija" with an A group Mitsubishi EVO, but with this the rally chapter was over – it was time for work career and family."
After quite a long pause away from racing, the return of Andris Grikis was in quite unusual discipline – historic formulas.
"During my kart years, when I was around 16, it was clear for me that someday I will drive in Formula 1! It was just logical back then. Also, when I watched races in Bikernieki, Formulas were always the most exciting race for me. When in 2012 I received a phone call that there is a chance to test the formula of the USSR racing legend Edgar Lindgren, I agreed. The formula was given to Riga Motor Museum. I managed to agree with them that I bring it to good shape, service it and race it. I made my debut at the end of 2012 with Estonia-Madi-03 chassis, and I won the Dzintara Aplis series the next year. After two seasons with this chassis, I bought Estonia 21-10 with 1300 ccm engine, I became faster, gathered knowledge in setting up the car and won several championships. I was now ready for the next step – the bigger class of 1600 ccm engines – Formula Mondial. With some more experience, I could grow my pace and become a leader also in this class, twice winning Latvian championship in 2017 and 2019, three times Estonian and the Baltic Championship in 2018, 2019, 2020 and 2021. Personally, as my biggest achievements I count wins in Moscow, Poznan in Poland and a victory in German historical formula series at Lausitzring track in the 500th competition of DTM Series."
"For my success, I have to say big thanks to the Soviet times racing legend Toomas Napa(9 times USSR champion in Formula 3 and Formula Vostok classes in 1980s), who agreed to meet me and share a lot of valuable information which I still use to seek for a faster lap times in Bikernieki. Also, the design of my car is replica of his car livery, as dedication to my childhood hero. Yes, I believe that choice to drive Formula cars is subconscious connected with special and unforgettable memories from the childhood in Bikernieki. It's a different world and still a very interesting one for me – it's a special feeling to with average speed of 160 km/h in a 30-year-old frame. My German colleague, who followed me at a race in Poland, said, that when driving behind me, it's clearly seen as the chassis bends and twists in fast corners. Unbelievable feeling and emotions."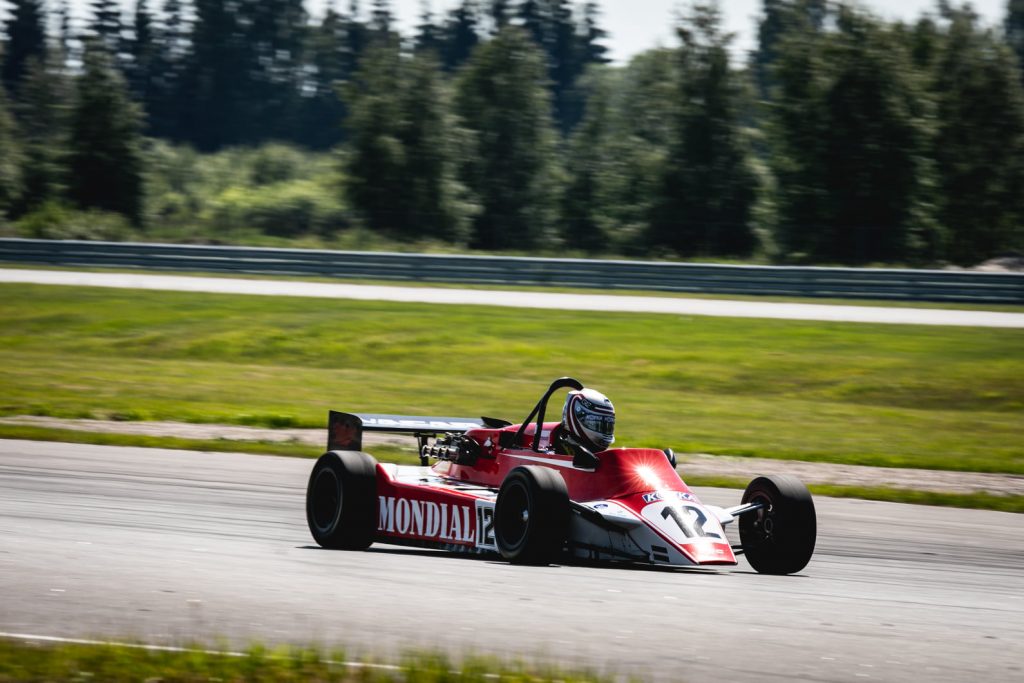 During the last season Andris has taken a role of Godfather to the Historic Formula community, agitating, helping and organizing the movement. "I am glad that our numbers grow, the level of cars is getting better and the same applies to the level of drivers and their enthusiasm."
The cars Andris have had during his career, his equipment and team are always visually attractive and elegant: "I like order in work, life and in racing. I believe that in order to have success and also enjoyment from what you do, you have to improve yourself as a pilot all the time when you are on track. And the car must be technically and visually perfect. I have no problems with that starting from "Golf Cup" times and a big part of that is my Chief Mechanic Raimonds Langins. All our experience together on race tracks makes us understand each other really well."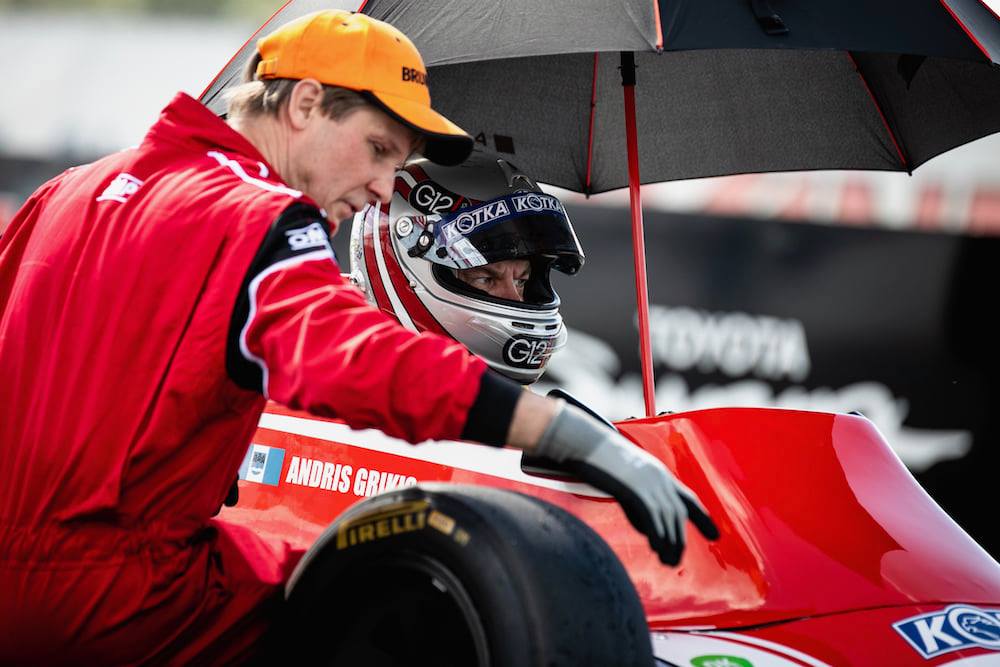 All the time in Andris' career logical steps can be seen – from minicars to karts, from karts to circuit racing. Rally with a low powered car to a faster one. And the same in formulas – from older to newer chassis, and then to bigger engine. So, what is next?
"Without any specific plans so far, but I have an idea of a historical Formula-3 model from Western Europe or maybe endurance racing with a modern touring car. Maybe at some time I could be a team manager or owner in circuit racing.
To shorten the long and dark winter evenings from motorsports and work duties, Andris has acquired a new hobby – painting. Slowly, with special pencils until the last detail he repaints oil-on-wood painting "The Hunters in the snow" by dutch artist Pieter Bruegel the Elder.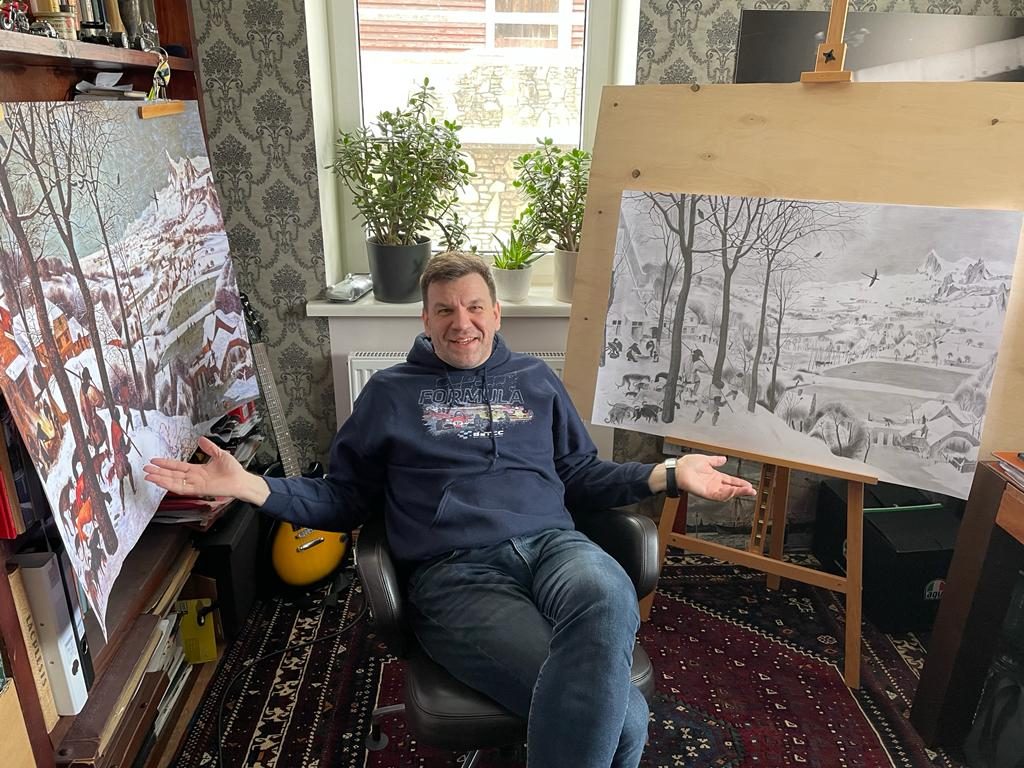 Master on track and in life.