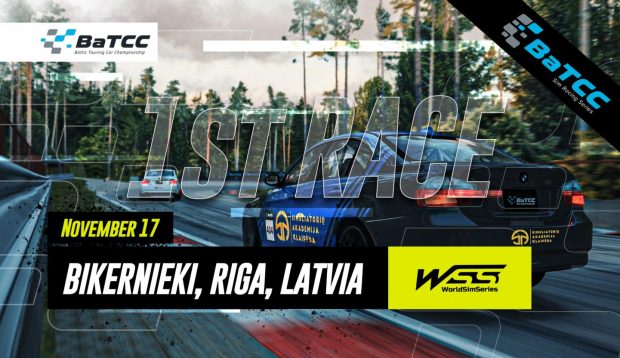 Announcing E-BaTCC Season 3!
We are continuing our winter season activity – having a sim racing league all around the BaTCC racetracks. This season that will start on November 17 the E-BaTCC sim racing league will consist of two racing events – BMW 325 cup series will be open for every sim racer that has an account in worldsimseries.com, while the BaTCC series will be open only to the real racers of the BaTCC series so we can find out the best driver in sim racing among the real drivers of our series!
The E-BaTCC season 3 will start on November 17 and will continue for five weeks every Thursday visiting tracks in the Baltic States and Botniaring in Finland.
As the BMW 325 CUP series in BaTCC 2021 was a big success as well it was very popular in the winter sim racing series it was just logical to continue with this mod also in the new season, but with a bit revised physics with recommendations from the BMW 325 CUP 2021 champion Karolis Jovaisa himself. So, the cars will be as max to the real life feel as ever. And we hope that this sim racing series will inspire some new racers on real tracks, following the success of Jovaisa, Edvinas Zadeikis, Haroldas Jotautas etc.
Instead of a test option for the winners, the money prize will be available for the TOP5, championship winner taking home 200 EUR and smaller money prizes for the next in the standings.
Last year, we also had a one-off race among real life BaTCC, BEC 6H and Nankang Endurance academy racers, that was quite emotional and in good spirits. So, this year, we are introducing also a 5-event series in the same tracks as the BMW 325 CUP. The car used for this series will be announced just few days before the event to reduce the options for practicing and making it more equal for everyone in sim racing. BaTCC drivers please apply in email info@batcc.eu and make a profile in worldsimseries.com.
The entry fee for both series will be 5 EUR per event, including a PRE-Q session for BMW 325 CUP participants to split into divisions for the race event. While BaTCC series number of participants will be limited to 24. Both series will be broadcasted live in BaTCC social media and other media channels, race commentary provided by Toomas Vabamae, a passionate racing fan and expert, and a sim racer enthusiast as well.
Calendar:
Round 1, DeWALT Grand Prix, Bikernieki Big ring, 17.11.2021
Round 2, Mekonomen Grand Prix, Botniaring 25.11.2021
Round 3, Parnu Summer Race, Porsche Ring, 02.12.2021
Round 4, Kaunas Grand Prix, Nemuno Ziedas Fast Lap 09.12.2021
Round 5, Motul Grand Prix, Bikernieki Ring of Speed, 16.12.2021