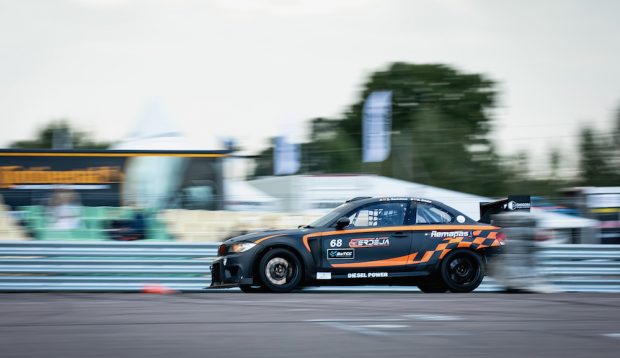 Erdeja – team that has fun and ambitions for wins!
Team Erdeja made a great and impactful debut in the Nankang 2h Endurance Academy – three victories in the BTC3 class and one more second place in the 5 events, but it was not enough as the Joujaam team beat them by just 4 points in the overall standings. The one DNF in the first race of the season cost them dearly.
Although, the drivers of the team Robertas Zauka and Židrūnas Šaučiunas are no beginners in the Baltic racing scene – both drivers have quite an extensive experience in the sprint racing, with both have been competing in the BTC3 class for several years. BaTCC team had a small interview with the team to hear about the history, the previous season, and future plans!
"We definitely had a lot of fun, a lot of emotions and that is the most important part when racing! Despite the fact, that we did not win, we really enjoyed the season and those 3 wins in the class was a great achievement for us in our first year of Endurance racing. We both didn't have any before this season. We decided to try it and our fun in the Nankang 2h endurance race started!"
Erdeja racing team drives a 3-liter diesel BMW 1series car. It's not a new car in the scene, but a widely rebuilt and refreshened car bought from "Telsiu Statyba" team that used this car in the 4h and 6h races. "We knew this was a good and reliable car. We are a bit of fans for diesel powered cars, so at the same time it was also a logical choice for us. We had a good testing programme before the season, but sadly for technical reasons we could not start the first race of the season in Riga, but besides that everything went well – the car was reliable, and we also showed a great pace throughout the race!"
Talking about the Nankang 2h Endurance Academy, the team is more than satisfied: "We like it very much – the 2 hour distance, the pitstops, tire and all other tiny details that are very important also in the endurance racing. It's great fun to compete among 30 teams in the race, where nearly all cars are with really similar pace. It makes the driver work all the time during the race. We see no need to change anything in the rules, as the possible changes could bring some improvements, but at the same time there are also setbacks. The current format is enjoyed by the racers and so it's working!"
"The BEC 6h race? We have thought about it. Although, it means bigger budget for tires, fuel and entry fees, but at the same time the costs are split among more people. Time will show. But there is no doubt – you will see us on the track in 2022 in all races! Stay healthy and see you soon! Robertas and Židrūnas!"