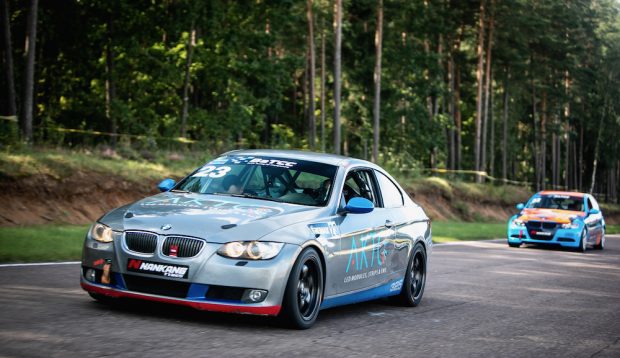 The Final Showdown is here!
In the Riga "Motul Grand Prix" the new champions of 2021 will be decided – it's a title race for many racers and teams and it means only one – big tension and hard battles on the track!
The Baltic 6h endurance championship has already crowned the 2021 Overall standings champions – its "Siauliai – RD Signs Racing Team" with their Lamborghini Huracan ST. After various troubles with their previous cars the team finally is rewarded with big win – in the overall category and also in the GT PRO class, taking 3 wins out of 3.
But the battle rages on it other classes – TCR class had great battles all year long. Noker Racing Team has had their fortune back and are in quite a strong lead before the last round, 42 points ahead of the ALM Customer Racing team with their Honda. Still in the contention is LV Racing, 50 points short of the 1st place and 8 short of second. The championship is still wide open, and anything can happen!
It's still very unclear in the A3000 class standings. Joujaam team holds an advantage of 28 points over second placed team Intrans by Meatbusters, while the favorites of this class Mazeikiu auto sporto klubas is 36 points short from the 1st place. As in endurance racing, it's impossible to predict anything. Also in Diesel class, the current leaders Anteja Racing team must finish to ensure their champions title, as they are chased hard by R2M Team from Finland. The champions are already decided in the A2000 class – Klion Racing team and in GT AM – where the Porsche Baltic has clearly been the best team this year!
The proper racing battle is for TCR champions title – Mikk Maaten and Valters Zviedris hold 126 points both, while also Kestutis Stasionis is in the contention with 96 points! Anything can happen here!
The biggest fights this season we have experienced in the BMW 325 CUP class – Karolis Jovaisa is holding a strong lead against the second placed man Edvina Zadeikis. As there are 120 points on stake it's still very hard to predict the final standings after the season as many drivers including Krisjanis Oskerko, Paulius Urbonavicius, Enar-Klaus Kunman, Artjoms Koclamazasvili, Kristo Krinpus and others are in contention for the overall standings.
Laurynas Simonavicius is the BTC1 2021 champion and he will still be in Riga to show his quality. While Aurimas Kucinskas, Dovydas Akstinas and Erko Puusaag will battle out for the 2nd place in the series.
BTC2 class sees even 4 potential candidates – Simo Lind, Atis Veismanis, Julius Asmonas and Arminas Lekavicius. The best position is for Simo Lind who holds a 10 point lead against Veismanis. This will be a great battle for overall standings.
BTC3 class Aurimas Mistautas needs just 4 points to clinch the title, while Julius Kirsis and Izidorius Paukstys need to solve the fight for the 2nd place.
A much awaited duel is waiting us in the BTC4 class between Jyrki Jonkkari and Janis Hans. If Hans wins both races and Jonkkari is second the champion will be Hans. Will see how this battle will turn out.
There is a big mix of potential outcomes in GT AM class – Laurynas Kriksciunas holds the lead but has not signed up for the race. So Robertas Kupcikas or Kastytis Volbekas can still become champions in the class.
BGT PRO class has their champion – Sim Racer has dominated the season but the fight for 2nd place is still on. With just 2 entries in this class the battle for second will be among Edvinas Einikis and Arturs Batraks.
Karlis Ozolins is the 2021 champion in V1600 class. While 2 newcomers Ernests Eglitis and Kaspars Rudmiezis can battle for 2nd position in overall standings!
Nankang Endurance Academy is a proper endurance race with a lot of teams participating this year and Motul Grand Prix is not an exception – 29 teams have signed up for the race!
Only 2 points separate series leaders in the BMW 325 CUP class Baltic Diag by KTK and KTK Racing Division, the champions title will be decided among those two teams while Jūrmala/ Papas Racing Team strongly holds 3rd place in the standings.
BTC1 class champions are clear – DMK Racing Team! While BTC2 class has some intrigue left for all positions in the TOP3. LND Fixus Racing team golds quite strongly first place and with a finish in points the championship will be won.
BTC3 class has seen impressive 10 entries this season, Joujaam holds not only first place in the BEC6h 3 litre class but also in the 2h race standings. Although Erdeja and BTR teams are not that far behind.
In BTC4 class Fredis and Friends team holds a lead but as they are not attending it leaves all chances to Dock by 222 to clinch the champions title!
See how this all resolves in the Motul GP!
The entrance is open for everyone who has green Covid-19 certificate. Ticket price 10 EUR. Entry is free for retirees, handicapped people and kids until age of 12.