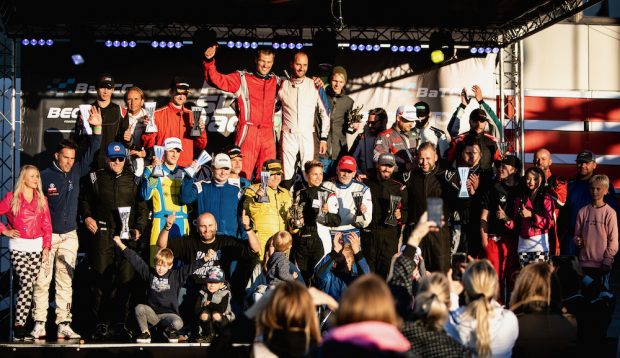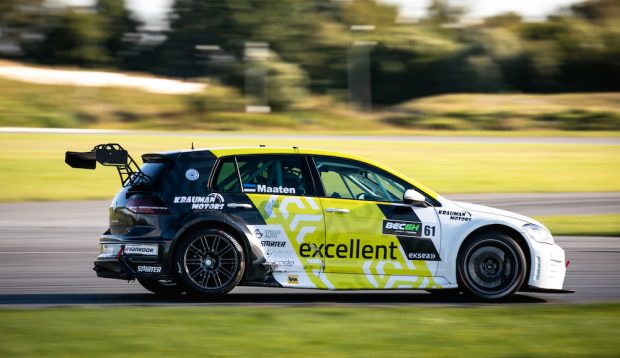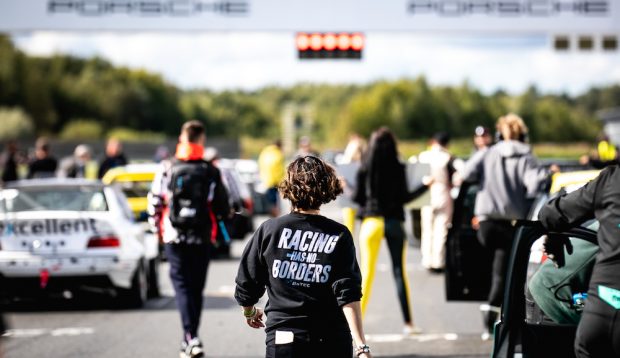 SUNDAY – FUNDAY & ANOTHER TRACK RECORD
"Parnu Summer Race 2021" brought even more battles on Sunday that were spiced up by rain. "Formula Historic" participants had their second run and found out who is the best here. "ABC Race" class little monsters have found out their leaders as well. However, most of the attention gathered among  "GT", "BTC4", "TCR Baltic" classes, as breath-taking and eye-catching technique have gathered here, especially knowing that Sim Racer with Lamborghini has promised another record. Even though Sunday was rainy, expectations were high for this racer.
Impressive starting grid was in "Nankang Endurance Academy" series, where even 32 teams have showed up in a start straight, making formation right up to the turn of Porsche ring.
BaTCC series and new record as a gift to newly named track
All day long, rain kept showing up and leaving the track, each time changing the rules of the game as well as racing pace. However, this fact just increased the level of tension. After an early qualifying session in the morning, Sim Racer and his Lamborghini Huracan has obtained the 1st place on the grid for the 1st race of "GT", "BTC4" and "TCR" classifications. Raivo Tamm with Porsche GT-3 took the 2nd place on the grid and Edvinas Einikis took the 3rd position. All these racers have raced in "BGT PRO" class. The same three drivers were the first ones to cross the finish line.
During the 1st run, in "BGT AM" classification, 1st place was taken by Robertas Kupčikas: this racer kept trying to overtake Edvinas Einikis, even though there were not competing in the same classification. However, main battles have happened in "TCR" classification, especially between Mikk Maaten and Valters Zviedris. Their fights have reached the peak during the 2nd run, when they pushed each other in the track. However, the incident was evaluated and considered as racing moment, so none of the racers were penalized, keeping the positions they have gained during the race.
As for Sim Racer, he promised to make new record, as the first one was reached during BaTCC event in June. Finally, he managed to keep the promise during the second run, as it happened already in the late afternoon and the surface of the track was quite dry. The new track record of closed type touring cars was set to 1.12,501 minutes. So,  here we have, new name of the track and new record delivered!
After all the results of the both races were summed up, third place in "BGT PRO" classification was taken by Edvinas Einikis, Raivo Tamm won the 2nd place. As for the 1st place, no doubt here – Sim Racer took it firmly.
In "BGT AM" class, Robertas Kupčikas took the 1st place after quite the pace was demonstrated, keeping Kastytis Volbekas in the 2nd place and another Lithuanian athlete Laurynas Krikščiūnas was the 3rd in this classification.
Jyrki Jonkkari managed to keep the 3rd place in "BTC4" classification, even though his car's tire has exploded during the 2nd run. Arturs Simins took the 2nd place and Janis Hans was the leader of the classification.
Meanwhile, in "TCR" classification races brought luck to Kęstutis Stasionis, who decided to register almost last moment. Valters Zviedris took the 2nd place and Mikk Maaten kept the 1st one to himself.
"Formula Historic" and "ABC Race" battles
"Formula Historic" classification's participants had qualifying earlier as well as their battles started already on Saturday. 3 of 10 formulas did not manage to reach the finish line on Saturday, therefore, Taavi Kuul was the fastest racer among "Mondial" formulas participants' and Italo Alsins took a win with "Formula Easter". Quite same scenario has happened on Sunday, as Taavi Kuul was the fastest with "Formula Mondial", taking the victory in event's overall. Andris Grikis took the 2nd place and Raitis Murnieks was the 3rd. Meanwhile, Italo Alsins kept the 1st place in "Formula Easter" classification, Sten Suban took the 2nd place, keeping Toomas Januin the 3rd place.
Tiny monsters of "ABC Race" participants kept making mistakes and pushing each other in almost all corners and turns of Porsche ring. Even though there were only 10 tiny cars in the track, adrenaline was over-floating. Finally, all the points were accumulated and the 3rd place taken by Arturs Virbulis, 2nd place won by Ernests Skulte and Janis Ubelis has firmly confirmed the 1st place in this event.
Amazing "NEA" grid and important victories
Incredible battles have occurred during "Nankang Endurance Academy" ("NeA") two hours race. However, it had to be expected, as there were even 32 teams on a grid and weather conditions kept changing, switching the mode to wet race and back to dry conditions.  Estonian team "Reinup Motorsport" with BMW 325 has started the race in the front of the formation, as Lithuanians "Fredis ir draugai" team has started from the 2nd position. These guys have raced with BMW E46 M3. Finally, morning's qualification assured the 3rd place on a grid to "Diesel Power" team.
After two hours of racing and quite a lot of yellow flags and incidents, "Čapkauskas autocentras" took the 3rd place in "BTC4" classification, even knowing that they had some serious issues with car's engine. The 2nd place was taken by "Gazas Dugnas" team and "Fredis ir draugai" team firmly took the 1st place.
As for "BTC3" classification, 3rd place was taken by "Reinup Motorsport" team, second place confirmed by "Erdėja" and the fastest among participants' of this class was "Joujaam" team. "BTC2" classification was leaded by "LND Fixus Racing" team, 2nd place taken by "ASK Greičio Svajonė" and Lithuanian team "Autokaslita" took the 3rd place.
"IRP by Ringaudai Servisas" team was happy to take the victory in "BTC1" class, "Yaris boyz" dominated in
ABC Race" classification, leaving "LDV Racing Team" in the 2nd position.
As for the "BMW 325" class that was the most crowded, the main battles have happened here. 3rd place was taken by Latvian "RS Motorsport" team, second best team was Lithuanians "Diverus-Dream2Drive", and Latvian guys "Papa's Racing" took the victory.
Next battles will happen in Kaunas, "Nemunring" track on 3-4 of September. However, having two events left, one thing is pretty much clear: each point matters as well as both events are critical.
See you soon!