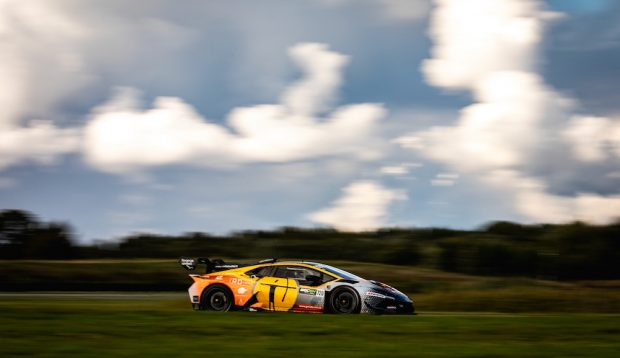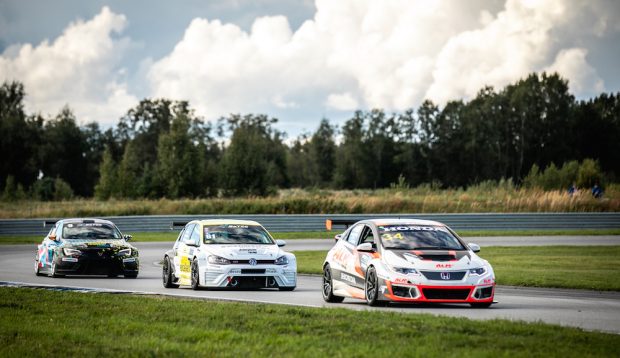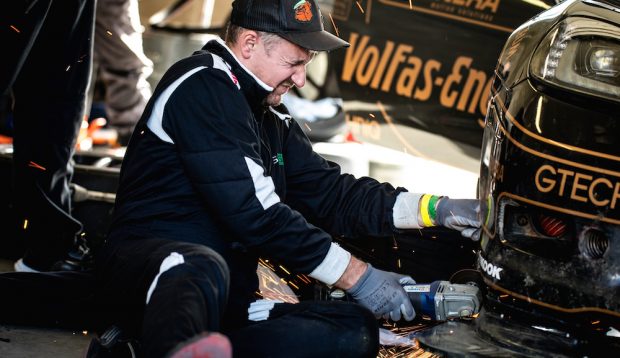 BEC 6H: once again, victory taken by Lamborghini of "Gera Dovana RD Signs" team
Friday qualifying session clarified the grid situation and positions. Even 21 teams were ready for 6 hours action. Finally, the pole position was taken by "Gera Dovana RD Signs" team, showing quite a pace! During qualifying and 1st hour of the race, Paulius Paškevičius was the guy driving the car and assuring the pole position, as well as to grow the distance from other competitors. Their best time during qualifying was equal to 1.15,232 minutes. 2nd place on the grid was taken by a Porsche representing "Audosta Kuusamet Group by Juta" team and Julius Adomavičius has started the race for this team. As for the 3rd place on the grid, it belongs to "Dynami:t Energy by Ignera & Efect" team with their powerful Corvette and Rokas Steponavičius behind the wheel. In this team, Karolis Gedgaudas was the one to start.
Start of the race seemed to be quite smooth and easy. However, after 30 minutes the tire exploded forcing Honda Civic car of "Klion Racing Team" to stop racing, while the technical damaged will be eliminated. All the racers were forced to drop the pace, yellow flags were deployed and it seemed that the rain was getting closer.  However, only few drops fell and the race turned back to normal. It was quite calm driving for some time, except some racers and teams, like "Circle K milesPlus Racing Team", that had a spin after first hour of driving and lost couple of important positions. Aurimas Jablonskis was behind the wheel than. After two hours and a half of driving, "Antėja Racing Team" lost the control of the car and had a  spin in a track, which leaded them ending up in the pond. "Full Course Yellow" faze initiated while the car was fished out of the water and brought back to the Pit Lane.
Each time of "FCY" being deployed, some of the teams were penalized or warned, as not all of them managed to drop the pace to the needed limit of 60 km/h within 5 seconds, as it is mandatory to do so according to regulations.
Having almost three hours left up until the finish to the race, "Gera Dovana RD Signs" team was still leading, and "Noker Racing Team", representing the "TCR" classification, was in the 2nd position and the 3rd at the time were "LMS Racing" team with well-known racer A.Buri (ADAC Germany TCR champion) representing them. Differences were really small in between of all teams, so each corner and racing moment were important.
As there were only two hours left until the finish, "Audosta Kuusamet Group by Juta" moved to the second place in the overall. This last-minute project represented by Porsche GT3 CUP 991.1 car has shown quite the pace. Well, it is not so surprising seeing who is behind the wheel, as team was represented by Julius Adomavičius, Audrius Stasiulevičius and Ignas Gelžinis.
"Black Rose Racing" and "LV Racing" teams got into different battles: next to the fights in the track with their competitors, they were involved into fights with their technique. "Black Rose Racing" team's TCR stopped in the track and had to be pulled back home; later on they were able to move further. Meanwhile, "LV Racing" had more serious issues with gearbox. However, they managed to go back to the track to fight further. While these two teams were concentrating on their vehicles, others were gathering… penalties. Even 5 teams were penalized with 'drive through' for overtaking under yellow flags.
"Tarzanija Racing" kept fixing car issues, hoping to drive mandatory amount of laps, seeking to get some points in the championship.
Only 40 minutes before finish, track personnel informed that car no. 53 "Dynami:t Energy by Ignera & Efekt" Corvette has exceeded the noise limit, asking the team to drive back to the Pit Lane for mandatory work. That issue costed too much time and the team dropped down in the list.
Finally, the finish line was crossed and the winners clarified!
No doubt and any questions asked – "Gera Dovana RD Signs" team was the 1st in Overall as well as in "GT PRO" classification. This time, team's Lamborghini was driven by Paulius Paškevičius, Ramūnas Čapkauskas and Audrius Butkevičius. 2nd place in overall and same "GT PRO" class won by Porsche named "Audosta Kuusamet Group by Juta" team. The 3rd place in overall and the 1st among TCR cars, firmly taken by "Noker Racing Team" and their VW Golf, driven by Kęstutis Stasionis, Sten Piirimagi and Marius Slaboševičius.
Right after Lamborghini and Porsche, the 3rd place in "GT PRO" class was taken by "Circle K milesPlus Racing Team", represented by Paul August, Audrius Navickas and Aurimas Jablonskis.
As for "TCR" class, second place, right behind "Noker Racing Team", was taken by "LMS Racing Team", participating with Audi RS3 LMS TCR – SEQ. This team was represented by Kari-Pekka Laaksonen and well known TCR class racer and champion Antti Buri. The third place was won by "Igorio Lankai" team. Dainius Kablys, Arūnas Gečiauskas and Sigitas Ambrazevičius have represented this team.
In "GT AM" class, victory was taken by "DhR Racing-Autovesta" driving eye-catching Ginetta G55 GT4. Hollands' family was representing this team – just like always. "Porsche Baltic" team stayed behind them and took the 2nd place. This time, Paulius Žadeika, Ramūnas Leonardas Žadeikis and Leonardas Diržys have represented the team.
Estonian team "Joujaam" took the 3rd place in "A3000" class, 2nd place won by "Intrans Racing by Meatbusters", represented by Tomas Urbonavičius, Henrikas Statkus, Andrius Baublys and Andrejus Teras. As for the 1st place, the leader of this event – "ORLEN Lietuva-Mazeikiu ASK" team, represented by Egidijus Gelunas, Arturs Simins and Vitalijus Plastininas.
After quite a long fight with their car, "Tarzanija Racing" was happy to get on the highest step of the podium in "A3000+" class.
Even though "Antėja Racing Team" had some interesting water involving experience, they have managed to win the 2nd place "Diesiel" classification, as the 1st one was won by "Team R2M". Their BMW E46 335d was driven by Jarkko Makynen, Christian Ronn and Samsa Rintala.
Only one race is left until all the season champions will be clarified. Just like always: each point matters! It seems that final race in Riga will be quite intensive and filled with adrenaline.