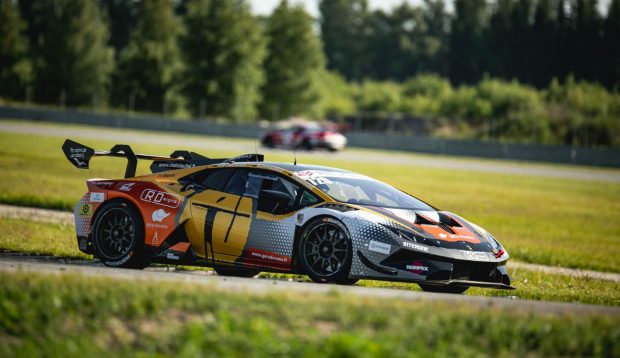 Friday of "Parnu Summer Race": what a day to begin the racing weekend!
Even though day was split in two halves made of practice sessions and registration mixed with first qualifying rides and fights for better starting positions on a grid, it was filled with adrenaline and great racing tension could be felt around in Porsche Ring.
The hottest moments, of course, could be found where the most of the participants are – in "BMW 325 Cup" series. However, it doesn't mean that it was an easy Friday for others.
"Formula Historic" has opened the qualifying fighting sessions and this ride was successful, of course, to the leader of these series – Andris Grikis, as he took the pole position here. His battles seeking to keep the gained position will start on Saturday, at 11.40.
"BTC1", "BTC2", "BTC3" and "V1600" qualifying runs followed further. Few different classes and 17 racers on a grid. Finally, it was clear that Julius Kiršis representing "BTC3" class will start the race at the front of all of them, followed by the mate from the same class Izidorius Paukštys, trying to take away the pole position. Simo Lind was happiest among "BTC2" classification's participants having the best result of the qualifying, as well as Laurynas Simonavičius could be proud with himself, having the pole position among "BTC1" participants. Even though there is no much of racers in "V1600" class, Dmitrijs Gornevs should be satisfied with the pace he showed. All of these guys will meet on a grid once again on Saturday, this time – for race, that will begin at 10.50.
Another great fight for positions has happened between BEC 6h teams. There were 21 of them. Finally, the pole position was taken by "Gera Dovana RD Signs" team, showing quite a pace! Their best time during qualifying was equal to 1.15,232 minutes. 2nd place on the grid taken by a Porsche representing "Audosta Kuusamet Group by Juta" team. As for the 3rd place on the grid, it belongs to "Dynami:t Energy by Ignera & Efect" team with their powerful Corvette. Those guys had some issues with noise but it seamed the managed to solve them. Further we have beloved TCR car of "Noker Racing Team", that is, for sure, fighting for really important position in the classification and overall in general. So, Saturday afternoon will have incredible 6 hour length race and fights.
But before the long-waited endurance battles, we will have even 43 "BMW 325 Cup" participants trying to get as many points of the championship as they will be able to gain! Two runs, that 1st one will start at 11.00 sharp. Two incredible sprint races of these mono class BMWs, promising so many battles and breath taking moments! Among those guys we have couple really fast athletes, assuring the starting positions right at the top of the list! Karolis Jovaiša is the one starting from the pole position. However, there is a really strong and fast girl Carmen Kraav breathing right at his back and well-known racer Ramūnas Čapkauskas trying to catch them both. That is the top 3 of BMWs after two sets of qualifying have been summed up.
So, looking at all the Friday's achievements, once again – what a day to begin the racing weekend! Lot's of things to wait for!