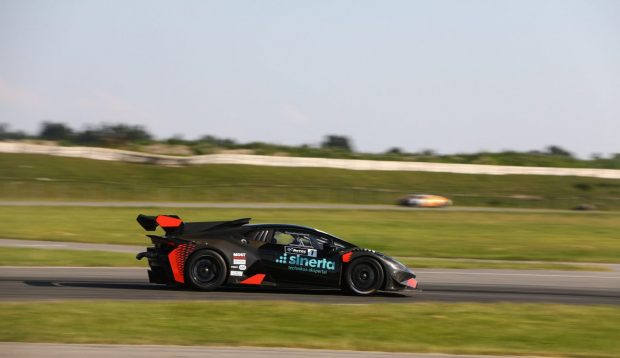 Estonian Sunday with "Henkell Grand Prix" marked with new track record
As "Henkell Grand Prix" reached the Sunday, it did not stop being amazing and breath taking. Battles, adrenaline and tension did not flood back, as Saturday's technique was complemented with even more horse power and impressive cars. Eye caching vehicles were lining up for battles in BaTCC "GT", "BTC4" and "TCR" sprint races, making the grind both, various and interesting. Another star of this Sunday – "Nankang Endurance Academy" with impressive number of 28 teams seeking for victory in their 2 hours length race. As for "Formula Historic", they finally clarified weekends' fastest drivers, as "ABC Race" participants kept pushing each other in the track. So, plenty of action and even more happy faces on the podium.
New track record and sprint series
Sunday afternoon's races began with the starting grid of "GT", "BTC4" and TCR" classifications. In between of those guys – quite various technique, starting with Lamborghini, continuing to Porsche, exclusive Renault Megane Trophy and tough TCRs. During first event this season that happened in Riga, on particular racer from Lithuania (calling himself as Sim Racer) has shown quite a pace, setting new track record in Bikernieki. This time he was back with the same inspiration and motivation to modify the historical pages of "Audruring". However, his modifications had to start with his Lamborghini, as it was too loud according to Estonian regulations made particular for this track. So, eventually Sim Racer and his team have spent really valuable time of practices for exhaust modifications and looking for solution. Finally, the solution was found … and new track record (of body-type cars) were set. He said is aim now to come back with other type vehicles to make sure, that all the track records are "updated". Well, we will see about that.
Meanwhile, after both races results were summed up, Laurynas Krikščiūnas and his BMW M4 took the first place in "GT AM" class, as, no doubt, Sim Racer kept the 1st place of "GT PRO" classification. Raivo Tamm and his Porsche GT3-Cup 991.2 kept the 2nd place, leaving the 3rd to another Estonian racer with a Porsche – Oliver Tiirmaa.
In "BTC4" classification, Finish racer Jyrki Jonkkari took a leading position, leaving the 2nd place to Latvian athlete Janis Hans.
As for "TCR Baltic" series, the 3rd place was taken by Lithuanian racer Kęstutis Stasionis and his VW Golf GTI TCR, 2nd place won by Estonian Mikk Maaten and another "VW", as Latvian Valters Zviedris kept the 1st one to himself. He was competing with "Audi" – same car he was racing in BEC 6H on Saturday.
"ABC Race" kept pushing each other, spinning and fighting for podium up until final seconds of the race. Tiny cars, not so much participants but plenty of action. Finally, 3rd place was taken by Ernests Skulte, 2nd by Janis Ubelis, and Arturs Virbulis became the leader of the competition.
In "Formula Historic" ("Easter" modification), leader was Toomas Janu, leaving the 2nd place to Ekke-Taavi Sepper and the 3rd to Sten Suban. As among "Mondial" Formulas, well known racer Andris Grikis kept the 1st place to himself, Indulis Rukuts took the 2nd place and Ain Lahker held to the 3rd.
"Nankang Endurance Academy" ("NEA") – filled with battles… and penalties
During qualifying, Lithuanian team "Erdėja" with BMW 320 has reserved the pole position. Under this name, we had Robertas Zauka and Židrūnas Šaučiūnas racers. 2nd place on the grid for the race was taken by "EST1 Racing 73" team with BMW 325i, having the gap of 3 seconds. In the third place of the grid, there was "Diesel Power" team staying 1 second behind: it was represented by Giedrium Gudaitis and Alvydas Malakauskas. However, instead of 28 teams, only 27 showed up on the grid due to technical discrepancies.
Two hours of racing were extremely hot: only few seconds difference in between of the teams, changes in order after quite a lot of penalties and technical caprices made this race incredible interesting and unpredictable. Some teams faults resulted not only the Stop & go penalties, but also the podium itself. Most of the penalties were gathered for speeding during "Full Course Yellow" faze or once again, for speeding in a Pit Lane.
Perhaps most expensive penalty was assigned to "Eastfield Racing" team from Latvia, competing with BMW 325 driven by Lionel Masnager and Roberts Rode: after speeding during FCY for almost 45 seconds, these guys got 1 minute Stop and Go penalty, moving them away from the podium. Instead of 3rd place, they got to the 5th in their "BMW 325 Cup" classification.
After all the penalties were assigned and two hours race have passed, the victory in this class was celebrated by Lithuanian team "KTK Racing Devision" with Andrius Čilvinas and Povilas Bonkevičius behind the wheel. Their mates "Baltic Diag by KTK" team represented by Mantas Jasiulevičius and Egidijus Gražinis have kept the 2nd place, and the 3rd was assigned to "Krauman Motors" from Estonia, having Carmen Kraav and Kren Tunder behind the wheel.
Among most experienced participants of "BMW Masters" class, the victory was taken by "EST1 Racing 73" team, keeping their friends "EST1 Racing 77" team in the 2nd position.
"RP by Rindaugai Servisas" team became an autocratic leader of "BTC1" classification (represented by Deividas Sakalauskas and Marius Kemešys), as Lithuanians "Erdėja" has dominated in "BTC3" class. These guys kept another LT team – "RD Signs 2" right behind them in the 2nd place, as the 3rd position was taken by "Diesel Power" team.
Next event and upcoming battles are going to happen in Estonian track once again, welcoming all the participants to come back on 21-22nd of August.