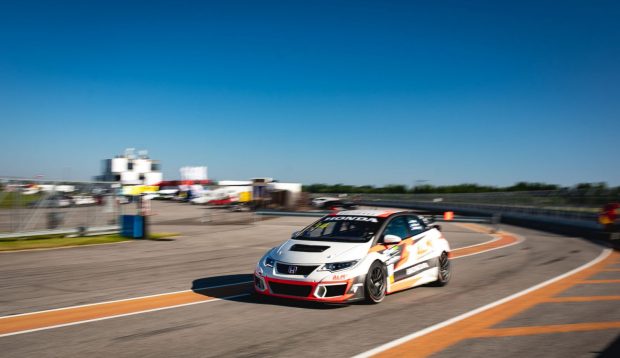 Fridays' BEC 6H qualifying – full of surprises
Even though there were less teams on a grid than it had to be, 20 minutes length qualifying session was really hot because of the tense. After strong competition in between of the teams, the pole position in the race was taken by Lithuanians "Šiauliai – RD Signs" team competing with Lamborghini Huracan, having Paulius Paškevičius behind the wheel. Their best shown time in the track – 1.14,455. The team is represented by such athletes as Audrius Butkevičius, Paulius Paškevičius and Ramūnas Čapkauskas.
Second place on a grid was taken by Latvians, who are directly competing with "Šiauliai – RD Signs" team not only in overall classification, but also in their "GT PRO" class. Of course, we are talking about "Flash Racing Latvia". Their best shown time during qualifying session was only few parts of a second worse than the leaders (equal to 1.14,719 min.). And no doubts – team is competing with Lamborghini Huracan driven by Arturs Batraks, Vilnis Batraks and Thomas Padovani.
Third position of the grid belongs to another Lithuanian team that is among leaders during all the racers: it is "Circle K milesPlus Racing Team" and their Porsche. This time, the Porsche is driven by Ignas Gelžinis, Paul August and Oskaras Brazaitis. Once again, these guys are also directly competing for the victory in both, overall and "GT PRO" classification.
After a lot of intense fights in between of "TCR" class cars, final grid positions for these guys have changed  in a couple of moments after the qualifying. Some of the great times were annulled due to the fact that cars were too light. Among them were two leading teams, that had to give up their great places on a grid moving to the back of the queue. So, as this happened, third place (among TCR's) winner "Juta Junior" team moved to the first place in their class, starting from the 4th grid place. Their Cupra TCR this weekend is controlled by Jonas Karklys, Audrius Navickas and Aurimas Jablonskis. Right behind them, 5th grid position was reserved by "Bunasta Savesta Consulting", with their brand new BMW M4. During qualifying, the car was driven by Tomas Rimkus. Without him, there are another two great drivers like rally star Vaidotas Žala and Jurgis Adomavičius. By the way, during practice sessions, team's new member Vaidotas Žala showed quite great pace.
AS for the race itself, it starts today, on Saturday, at 14.00 local time. Of course, it is going to be streamed live.