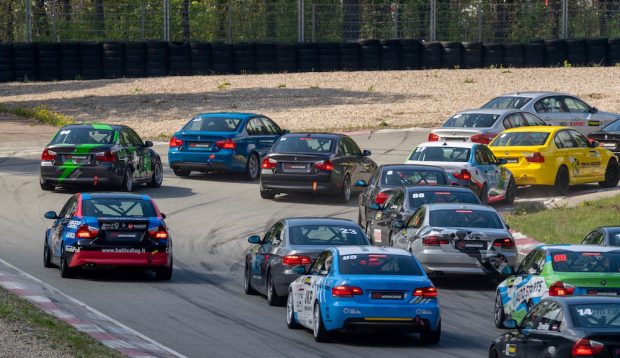 Racing Rock 'n' roll continues in Audruring!
In less than two weeks "Audruring" race track in Estonia with "Henkell Grand Prix" will host the second round of Baltic Touring Car Championship and we are in no doubt exciting battles will await us on the track in nearly every class!
The Baltic 6H endurance championship is always full of drama and interesting turn of the events. As more than 20 teams are expected in Parnu, this will mean also a great show. And there are many protagonists who will be ready to fight for the overall victory – will Siauliai – RD Signs racing team win the second round in a row? Or Flash Racing Latvia will bounce back from the unlucky event in Riga? Or 2019 champions Juta Racing will emerge victorious? Or there will be some other black horse?
In the prestigious TCR category 7 cars are expected to be on the grid. We would not like to put a bet on any car as there are many contenders. GSR Motorsport straight back from a trip in Europe, hometown heroes ALM Honda Racing, LV Racing that dominated the previous Parnu event or maybe Black Rose Racing from Finland?
It's great to have some competition in the A3000 class with four cars on the line and also in Diesel where it's hard to guess the winner with returning teams like Special Stage from Finland and Anteja Racing team from Lithuania and BEC 6h debutants Citus Racing. Still some more teams are expected to join the grid for the 6 h race.
The hot potato of the sprint racing in 2021 is the BMW 325 CUP, where more than 30 cars lined up on the grid in "DeWALT Grand Prix" and no less are to be expected in Parnu also. The championship leader Konstantins Calko will not attend, and 2nd placed man and last year champion Matiss Mezaks will have a hard time defending against likes of Ramunas Capkauskas, Karolis Jovaisa, Kristo Krinpus, Toms Berzins, Martins Lapins and many others, including one yet not revealed very fast driver from Latvia.
"TCR" sprint category had a great battle in Riga between Mikk Maaten and Valters Zviedris. Kestutis Stasionis also has a lot of experience and will battle for the win. Or maybe it's time for local hero Peeter Peek to return to the top of the podium?
GT class in the recent years has been a true showdown of beautiful and exclusive cars and it's nice to see the grid improving and growing year by year. Sim Racer claimed not only two dominant victories in Riga but also set a new lap record in Bikernieki. He plans to do the same in Audruring, where the current record holder Oliver Tiirmaa will be there to stop him. Arturs Batraks and Audrius Butkevicius, both with Lamborghini Huracan ST will be among the top contenders in the GT PRO class victory. After two years break we see return of Kastytis Volbekas with Nissan GTR, accompanied by Edvinas Einikis in Audi TT RS. GT AM class will feature the real debut of Mantas Matukaitis and his freshly rebuilt Chevrolet Corvette and Laurynas Kriksciunas with a BMW M4. BTC4 class main contender Jyrki Jonkkari will be challenged by Janis Hans with Subaru Impreza. Or maybe it's Vitalijus Parchomenko time to step on the top of the podium?
In Touring Cars category Aurimas Mistautas has been unstoppable in recent years, dominating the BTC3 class. Will there be someone to challenge him? We will find out. While in BTC2 class the absence of the leaders from previous years, have allowed Simo Lind to emerge as the fastest guy around and he is the clear favourite of winning at home track. BTC1 has seen many new racers and Lauryinas Simonavicius was the fastest one in Riga but there should be more competition for him in Parnu.
HCR Formula Historic is a story of dominance by Andris Grikis, yet in Riga he felt Raitis Murnieks close behind him in the Mondial class races. Or will the Estonians take back their speed in the Formula category and be victorious at home?
A lot of questions and not that many answers. See you in Parnu!