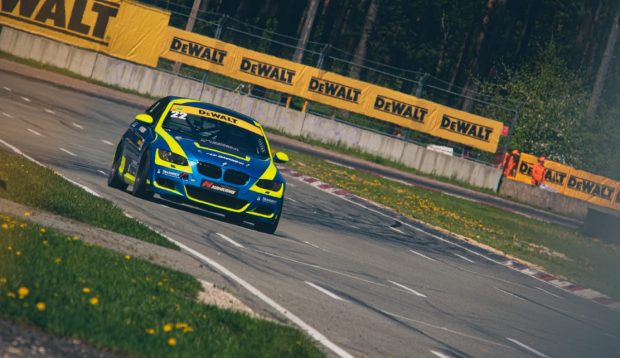 Historical Start of "BMW 325 Cup" Season: victory taken by K. Calko
We can proudly confirm the historical moment. It has been awhile, since the last time, when there were 33 cars on a grid, fighting for the same trophies and victories in the same, mono class. However, there is a rumour, that this beautiful number of participants is not the final one this season.
Before this event, there were 35 applicants. However, due to COVID-19 and technical issues, two crews had to withdraw from the competition. However, still having incredible number of participants on the grid allowed to observe amazing fights, some sporting hustle and many motivated athletes seeking for the first victory this season.
Qualification and annulment
Modern problems require for modern decisions: as there were so many cars, they were divided into two qualifying groups, allowing them to show their real pace and racing capabilities. So, the leader of the first qualifying group was Latvian racer Matiss Mezaks. His best time in the track was 1.35,229 min. As for the second qualifying group, the fastest driver here was Konstantins Calko. His best shown time was equal to 1.35,379 min.
However, the qualifying result of three other drivers were annulled, as the weight of their vehicles were below official allowed limit. All three guys – from Latvia: Pavel Beskrovnoi, Martins Zirnitis and Artjoms Koclamazasvili. Those athletes had to start from the last positions of the grid.
Battles, fights and red flag
First race just was a great prove why everybody loves 'mono' class – especially if there are BMWs racing. More than enough spins, accidents, overtaking, as well as moments to investigate and all track full of action. After the investigation of five strong collisions in between of racers, one Lithuanian racer #16 Karolis Jovaiša was penalized, indicating that he caused the collision with another Lithuanian racer #6 Jonas Ramanauskas.
As the small collisions were not enough, the race was stopped waving red flags, waiting why all damaged BMWs will be moved out of the track.
Sadly, due to all the action in track and technical issues, even four racers did not manage to drive the minimum required distance (75 percent) and were not able to receive points in championship. All of them – Latvian athletes, Martins Lapins, Andris Cats, Zigmars Lapa and Toms Berzins.
Victorious ride of K. Calko
Much better race was for Lithuanian racer Paulius Urbonavičius, who kept the third position from Andrius Čilvinas. Qualifying session leader Matiss Mezaks kept the second place and Konstantins Calko was the fastest among all the racers. However, these two Latvian racers kept the battle going up until the last second of both races.
If you expect that the first run was enough to release all the steam of the adrenaline – you would be wrong. The second run was as hot as the first one. It was equally full of battles, spins and technical issues, conflicting with racers aims and goals. Even 6 athletes were not able to pick up their important points of the championship: Latvians Zigmars Lapa, Kristaps Sapals, Krisjanis, Oskersko, Pavel Beskrovnoi, Estonian Remo Raudsepp and Lithuanian Mantas Jasiulevičius. As for the lucky ones, the third place of the second run was taken by Martins Lapins, second place – by previously penalized Lithuanian athlete Karolis Jovaiša and the first one, once again, secured by Konstantin Calko.
So, after all points have been accumulated, historical season opening of "BMW 325 Cup" was marked with trophies: third place won by Lithuanian racer Karolis Jovaiša, second place belongs to Matiss Mezaks, as the leader position is assured by Konstantins Calko.
Second round of these incredible battles will take place in "AudruRing", on 18-20 of June. There are whispering floating about additional participants that are going to join all those racers, making grid even more incredible.