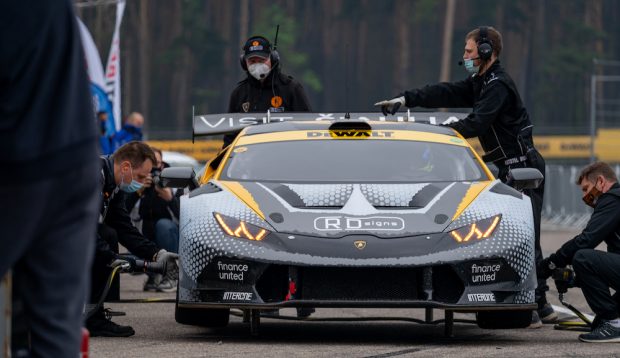 BEC 6H 1st event marked with "Šiauliai – RD Signs" victory in overall
First Baltic Endurance 6H Championship event, along with other competitions, had to face quite a list of paperwork and pandemic barriers. Along with bureaucratic nuances, final preparation elements showed up: some teams were missing one night, others technique demonstrated some naughtiness. Sadly, one of the teams who showed up for the event, had to leave the race due to "COVID-19", as one of the team members had a positive test that was performed during administrative checks. Other two teams did not show up in Riga due to the same reason. So, finally, the grid of BEC 6H competition had 10 teams ready to start. As for quite small number in the competition, some teams expected easy fight… and they were wrong. The first victory this season was reached much harder.
Technical issues, rain and the fact that it was actually the first event after quite long winter, have strongly influenced the performance of all teams. The grid was shorten even before the beginning the official practice. Due to the complex of all these reasons, "Akademija Motorsportas" komanda left the race before it even started.
Comparing to all these facts, qualifying session went quite well. "Šiauliai – RD Signs" team has assured the first place in the start grid, showing the time of 1 minute and 19.660 seconds. Righter after them, second place was taken by another Lamborghini Huracan ST representing "Flash Racing" team. The third place of the starting grid belonged to "LV Racing", competing with Audi RS3 LMS TCR.
Real battles in between of Overall class leaders have started right after green flag was shown and the race started. "Šiauliai- RD Signs" and "Flash Racing", both, leaders in Overall and "GT PRO" classes, have raised the tense from the first moments of the competition. After first half an hour of the race, "Fhash Racing" team was forced to increase the gap from "Šiauliai – RD Signs" team, as it was decreased by 6 seconds driving too fast in double yellow zone. Moreover, after 54 minutes from the start of the race, "Flash Racing" Lamborghini had a spin and hit the tied tires and blocks.  Nevertheless, fast repair tasks were performed and the team has re-joined the race. Their main competitor "Šiauliai – RD Signs" team has moved to pit lane after support tube  issues, too. That allowed "LV Racing" team to move to the leader position in Overall and "TCR" classifications.
Fist season race was not successful for "'Tarzanija Racing" team and their Audi S4. Team kept fighting with technical issues, resulting the car coming back to the garage or stopping at the track during all the race. "Noker Racing" team, participating with VW Golf GTI TCR ("TCR" class) had totally unplanned collision with Estonian team's  "JõuJaam" BMW 325. After accidental attack by this BMW, "Noker Racing' team had to solve some  chassis and wheel issues.
As the race was getting closer to its halfway, misfortune has visited the "Mažeikiai ASK" team's garage. After their Peugeot 308 RC has stopped for drivers' change, it caught a fire. It took a while to find the reason why the oil inflamed, however, the team managed to solve the issue and the car rejoined the race. Sadly, it wasn't for long: the fire made quite a damage and mechanics kept fighting for successful finish up until the end of the race.
Having one hour left to the finish, "LV Racing" was holding on strongly to keep the first place in Overall and "TCR classification. In this race, the team was represented by Konstantins Calko, Valters Zviedrs and Ivars Vallers. This guy was the one chosen to keep going up until the finish. However, Latvians were strongly forced from behind by Laborghini of "Šiauliai – RD Signs" team. Only two athletes were able to drive for this team during this race: Audrius Butkevičius and Paulius Paškevičius. "ALM Racing" team from Estonia driving "Honda Civic Type-R TCR" were holding on to the third place. Peeter Peek, Sven Karuse and Ranno Bundsen – those three guys were delegated to represented the team behind the wheel.
Half an hour before the finish, "LV Racing' had to face some serious technical issues. Due to breakdown of the engine and gear box brackets, car had to stop couple of times to repair it, allowing their competitors to take the leading positions in Overall and "TCR" classifications. All other times started pushing willing to reach the podium and the first victory of the season.
Sadly and totally unexpected, having 1 minute and 15 seconds left up to the finish, "Noker racing" team's VW Golf GTI TCR stopped in the track. Quite sad, as they were nicely trying to push seeking for podium. Also, leading team's "Šiauliai – RD Signs" Lamborghini has reached finish by.. slowly riding towards it: actually those guys had all possibilities to cross the finish line like that, having really safe gap from other racers.
Finally, when the finish line was crossed, the really winners of the first event were clarified. No doubt, the winner of an Overall classification was "Šiauliai – RD Signs" team. Second place was taken by VW Scirocco representing "Dream 2 Drive" team from Lithuania, as the third one – by "ALM Customer Racing" team. Those guys also took the 1st place in "TCR" classification, leaving "Noker Racing" behind. "LV Racing" after all the technical issues they had, took the 3rd place in this class.
"A3000" class winner was Estonian team "JouJaam", as in "A3000+" victory was taken by "Tarzanija Racing", even though they had plenty of problems. As for "GT AM" classification, where finally leader became "Dream 2 Drive" team, 2nd place was taken by "Porsche Baltic". "GT Pro" classification, of course, dominated by "Šiauliai – RD Signs" and "Flash Racing Latvia" teams.
Next round of "BEC 6H" competition is planned to be in Estonia, on June 18-20.