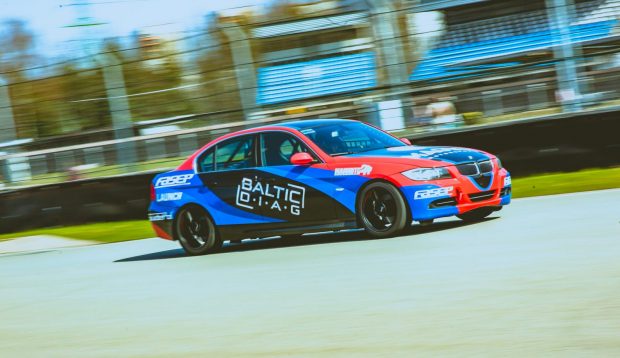 DeWALT Grand Prix opens the Racing season in 2021
The Bikernieki race track on May 14 and 15 will host the first round of the North European Zone and Baltic Touring Car Championship despite the global pandemic and restrictions the number of participats is really big, but the spectators in the event in grandstands and the paddock will not be allowed. The race will be broadcasted live on Sportacentrs TV channel in Latvia and in promoter's social media Facebok and YouTube channels.
More than 100 participants have already signed up for the race.
"The restrictions connected with pandemice of course makes more problems and responsibility but we are glad that we have managed to make the race possible and we are ready that the event will be safe for participants and the service people. We are also glad about the big interest from drivers, that's why I am sure we will have a very exciting first race of the season that will be a great beginning for the whole championship!" says Andis Meilands, director of BaTCC.
The world level cars will be participating in the most prestigious Baltic series – the Baltic 6h endurance championship where 15 participants have so far applied with cars like Lamborghini Huracan ST, Porsche GT3 Cup and TCR as well as several 3l and 2l cars. Home town heroes "Flash Racing Latvia" and "LV Racing" will be challenged by fast and experienced teams like "Juta Racing", "Čapkauskas Autocentras", "Porsche Baltic" and others.
Probably the most fiece battles will be experienced in the "BMW 325 CUP" races where more than 30 racers are expected to line up on the grid from Latvia, Lithuania and Estonia. The equal rules for all cars will make sure that the best driver will win. Among favorites we can mention local heroes Matīss Mežaks, Mārtiņš Lapiņš who will definitely be challenged by Lithuanians Ramūnas Čapkauskas, Robertas Kupčikas, Karolis Jovaiša, Andrius Čilvinas or maybe someone else will be the dark horse and surprise everyone?
Powerful cars will be a lot also in the GT class where on the start line three Lamborghini "Huracan ST" cars are expected accompanied by cars like Chevrolet "Corvette", Nissan "GTR", Audi "TT RS", Porsche "GT3 Cup" and many others. We can expect that the track lap record for GT cars will be beaten this weekend.
"TCR" field consists now of four cars with some other racers expected to join later in the season.
BTC field in several classes is nearly 20 cars and its hard to predict any clear favorite except of Aurimas Mištautas in BTC3 class, challenged by Danas Azikejev, but the BTC2 crown is vacant as Karolis Gedgaudas and Julius Skirmantas are not attending and aswell as BTC1 where Ģirts Krūzmanis is not defending his title. Time for some new champions?
The racing event will be closed with "Nankang Endurance Academy" class which is a fantastic way to start the endurance racing.