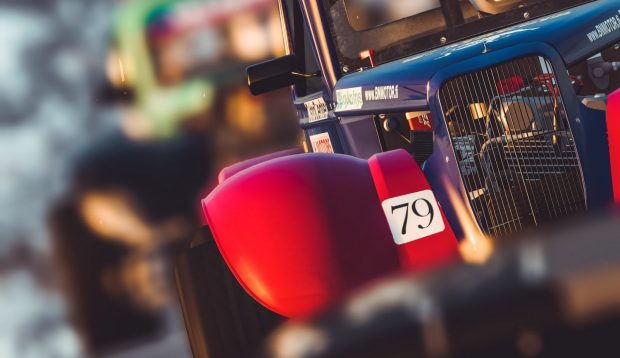 Antell and Kobosnidze both win a race in Ahvenisto
Legends races are always legendary as in Sim racing and in real life. And more than 40 000 were witnesses to great racing and also some drama in the second round of E-BaTCC League of Legends Champions race in Ahvenisto.
Ahvenisto is a special track and its a home soil for Flying Finns, thus it was predicted that the Northerners would dominate this event. Anders Antell set the fastest lap in Qualifying, Philip Miemois secured the front row, while Nika Kobosnidze from Georgia split the Finns in half, leaving 4th place for Rory Penttinen And 5th for Pekka Seppanen.
Right in this order drivers finished also the first lap, while mid race Rory Penttinen attacked Kobosnidze's third position, small contact with them dropped Georgian to 6th behind also to Seppanen and Valters Zviedris. Anders Antell never let Philip Miemois close to him, securing himself the 1st position and valuable points. The TOP4 was locked by Finns, as Rory Penttinen was 3rd and Pekka Seppanen 4th. Valters Zviedris the first non-Finn secured the TOP5 finish. While Nika Kobosnidze eventually intentionally dropped down to 10th to secure pole for Race 2.
Kobosnidze started from Pole and away he went! While Race 1 leaders fought to get through the field to top positions. A small accident in first lap ended in a spin for Pekka Seppanen and Philip Miemois dropping them down to last position. Valters Zviedris was 2nd for a long stint of the race but surrendered his position to Antell and Penntinen who later was penalized dropping him down one position to 4th. Estonian Mikk Maaten finished fifth, while 6th and 7th position went to Swedish drivers Linus Bjorkman and Christoffer Karlsson.
After 2 rounds Philip Miemois leads the series with 68 points, followed by Valters Zviedris(51) and Rory Penttinen (49), Anders Antell is 4th with 43.
Next race will take place on November 29th in Audruring! Stay tuned!