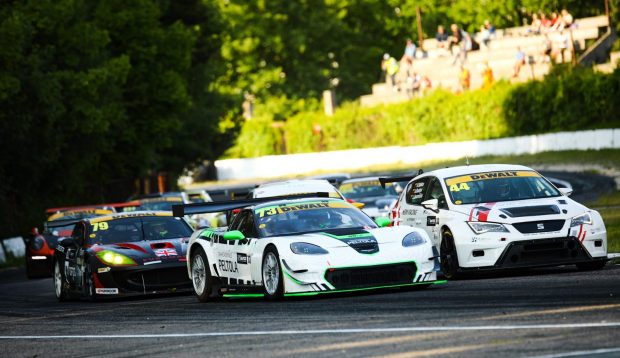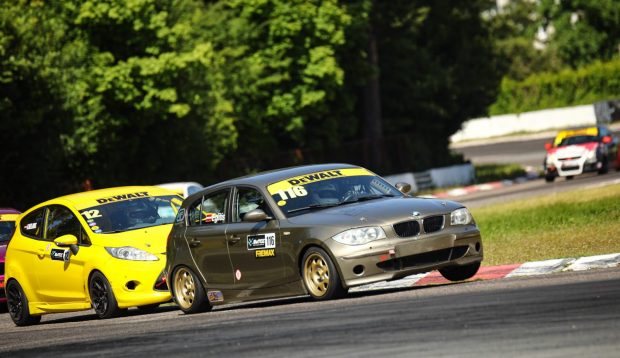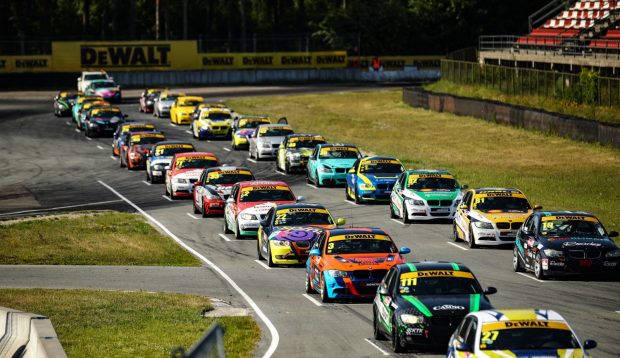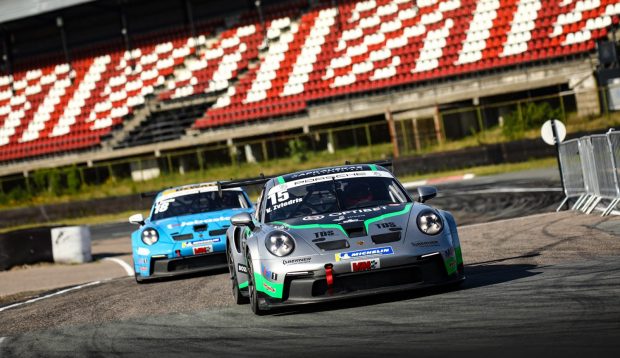 Eventful weekend in DeWALT Grand Prix
DeWALT Grand Prix, the second round of the Baltic Touring Car championship and the NEZ Porsche Sprint challenge was eventful, great victories, accidents, red flags and at the end of the day – also winners and happy faces across all the paddock in Riga.
The day started with the united Baltic Touring Cars and V1600 races and it not disappoint. While main favourite of the BTC3 class was fighting technical issues with his car, his opponents Arturas Kliobavicius, Gediminas Bilinskas and Justas Gudavicius were fighting on track beautifully. The race 1 victory in a hard fought battle went to Bilinskas, while Kliobavicius returned the favor in race 2, thus winning the round aswell. While Bilinskas technical problems affected his result in second race, he still managed to be second overall. Third place to Justas Gudavicius.
BTC2 had a lot of contenders but the day belongs to Mr Simo Lind from Estonia, dominant two victories. Antti Jartsev nearly edged Tadas Petukauskas in Race, but Petukauskas did the same to Antti in the second. So second Petukauskas and third Jartsev. BTC1 day belongs to Dovydas Akstinas – two races two victories, second place goes to Vidmantas Pociunas.
V1600 with six entries on the grid did not disappoint at all – in both races great action and fighting for every place on the track. The resume of the DeWALT GP – first Ernests Eglitis, followed by Kaspars Rudmiezis and Raivis Meilands. BMW 116 Trophy – 1st place to Edgars Karlsons, second Elvis Turans.
GT class had a proper mix of powerful race cars. But its not all about power, the biggest hero of race 1 was Arturs Simins who skillfully managed to keep opponents with much faster cars behind winning race 1 in the BTC4 category, and coming home third in the second race, meaning second place overall losing just to Lithuanian grand master Ramunas Capkauskas. Third place – Andrius Baublys. While overall win went to Ignas Jomantas, who lost a lead for a half lap to Jyrki Peltola. Jomantas won both races in BGT PRO, while Peltola was second in Race 1, in Race 2 he lost out to Tautvydas Rudokas. BGT AM both race victories went to Great Britain's Drew Holland, leaving Jyrki Jonkkari second and Aivaras Remeika in the third!
BMW 325 CUP. Well, as usual the hot weather meant also hot action on the track with three red flags in two races. At the end of the day – Leo Messenger converted his pole position in two wins, taking the championship lead. Second, and one of the surprises of the day – Paulius Urbonavicius second. Julius Kirsis held the pressure and proved his speed becoming the third fastest driver of the day and being also the fastest Masters category driver, sharing the podium with such legendary names as Kristaps Bluss and Uldis Timaks. Rookie class had also a very happy podium with big smiles – Eividas Sitavicius, Vadims Ozols and Arturs Sarma.
The first ever Gentlemen class podium is and will be for guys of the gentleman's age – and the legendary podium is following – third place to Normunds Dobums, second to Vilnis Batraks while first one goes to Frenchman Olivier Villeneuve from Rode Racing.
The guest class from NEZ Porsche Sprint Challenge did not disappoint and provided fair, competitive and interesting racing, that started already in the Qualifying with the track record from Matias Salonen. He also kept his cool and had a hard fought victory in Race 1 followed by home town hero Valters Zviedris and Henri Tuomaala. Race 2 shuffled the cards – Jani Kakela started from P1 and did the job right till the end – first place crossing the finish line. While the Race 2 was red flagged due to the accident in Motormuseum with Valters Zviedris and Thomas Kangro involved, both could continue the race, although Zviedris had to start the race from the pit lane, and he fought well – catching the leader group by the end of the race and managing to finish P5. Second place went to Thomas Kangro, third to Matias Salonen, Henri Tuomaala – fourth.
Nankang 2h race had 21 entries with a some new and very fast cars. Sadly, the first round winners Diesel Power had to retire in early laps, leaving the race win position vacant and there were many contenders for the crown. Arturs Simins spearheaded great comeback for Orlen Lietuva Mazeikiu ASK, but technical problems forced the teams to give up the lead just 6 minutes to go, leaving the victory vacant to Soderus Racing with SEAT Leon. Third place overall and victory in BTC2 to Lind Racing.
The BMW 325 CUP entry victory rightfully earned by EST1 Racing and pilot Romet Reisin, leaving Dream 2 Drive in second place and Neomatic by Krauman Motors in third.
BTC1 victory in Nankang 2h Endurance race to MKM Racing. BTC3 had its intrigues but at the end of the evening, victory goes to experienced 2h race experts – RS Racing Team, beating Neomatic by Krauman Motors and Dvaras Racing teams.
BTC4, the fastest of the classes victory belongs to overall winners – Soderus Racing, leaving behind Orlen Lietuva Mazeikiu ASK and ALBE ALLIANCE Racing team.
ABC Race victory goes to Team Jap Factory.
ABC Race did not have many cars, but did not make the race less interesting. Pace management, accidents and interesting moments right from the start to the finish. At the end of the day here are the three fastest racers – win goes to Kristaps Laipnieks, second to Daniels Ungurs and third to Arturs Danilevskis.
Full race results can be found on https://speedhive.mylaps.com/LiveTiming/F029EA4DD048CB8C-2147483660
See you all in Kaunas on July 7-8.