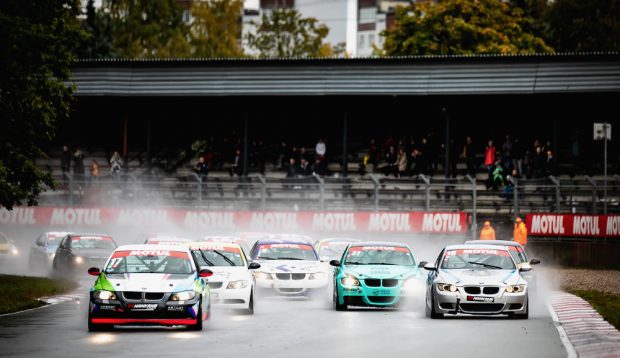 The Riga Grand Finals is here!
The final event of the Baltic Touring Car Championship is at our doorstep – in the following weekend we will find out the new champions of the 2022 season!
As of this moment, there are more than 110 entries in various classes and there are quite a few intrigues that the weekend races will decide!
In the Baltic 6h Endurance Championship we already know the overall champions – all hail the Porsche Baltic GT3 Team! But there is still a battle for 2nd place overall, currently lead by Black Rose Racing from Finland, followed by Noker Racing Team, Porsche Baltic GT4 and Audosta by Ajus Group.
Black Rose racing is also leading the TCR category. While in Touring Car Class category Anteja Racing Team holds a safe lead over Baltic Karting Academy, but the race winning favourites Orlen – Lietva Mazeikiu ASK sits 58 points behind.
In overall we will see teams from five different counties – Lithuania, Latvia, Estonia, Finland and Great Britain. Who will prevail – we will find out Saturday night!
The biggest intrigue of them all is the BMW 325 CUP final two races. After a racing with not happy ending in Kaunas, the racers are ready to for the last round of the season. And especially we welcome back the guys and ladies ready after the crash – Carmen Kraav, Matiss Mezaks, Artjoms Koclamazasvili, Egidijus Grazys, Krisjanis Oskerko. But the big question is will Valters Zviedris will win the series having 65 point lead over Karolis Jovaisa with Romet Reisin close behind Jovaisa?
In the BMW 325 CUP Masters category Matiss Mezaks holds a comfortable lead of 32 points over Ramunas Capkauskas, with a lot of pretenders for 3rd place – Andris Cats, Toms Berzins, Uldis Timaks to name a few.
Krisjanis Oskerko is the BMW 325 CUP rookie champion for a second year in a row. But battle for silver trophy is still on – with Egidijus Grazys, Pavel Beskrovnoi, Janis Ubelis and Dmitrijs Gornevs in the mix.
The battle of titans is raging on in all BTC classes – BTC1 is a duel between Aurima Kucinskas and Laurynas Simonavicius with the former trailing by 13 points, but by winning both races can win the championship title by 1 point!
BTC2 we will once again see a duel between Simo Lind and Atis Veismanis, great performance by Veismanis in Kaunas saw him keeping his championship bid alive.
Izidorius Paukstys or Aurimas Mistautas in the three liter class. Mistautas holds a 35-point lead but anything can happen on the race track.
BTC4 Jyrki Jonkkari is a champion after a one year break.
GT PRO class will feature the beautiful, loud and fast Chevrolet Corvette from Finland with Jyrki Peltola by the wheel battling with Ignas Jomantas and Mika Makinen. BGT AM trophy will go either to Kastytis Volbekas or Drew Holland.
Ivars Vallers in the TCR category holds a safe lead over Kestutis Stasionis.
While in V1600 we will see championship leader Matias Nuoramo battling against 6 Latvians, while Nuoramo holds the lead his compatriot from Finland Benjamin Sylvestersson still has good chances for the Baltic Champions title.
Nankang 2h Endurance Academy has 22 entries and impossible to predict winners in nearly every class. BTC1 class will feature a duel of MKM Motorsport and DMK Racing team by Eurolint. BTC2 already have a champion – Lind Racing but the battles will still go on between five teams. BTC3 situation is much more complicated with RS Racing having 24 point lead over Diesel Power team – anything can happen!
Tickets available on sale https://www.bilesuserviss.lv/eng/tickets/sports/autososejas-sacensibas-batcc-riga-grand-finals-367135/
See you in Riga!