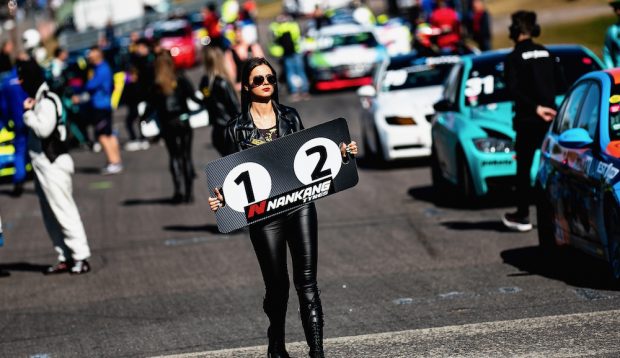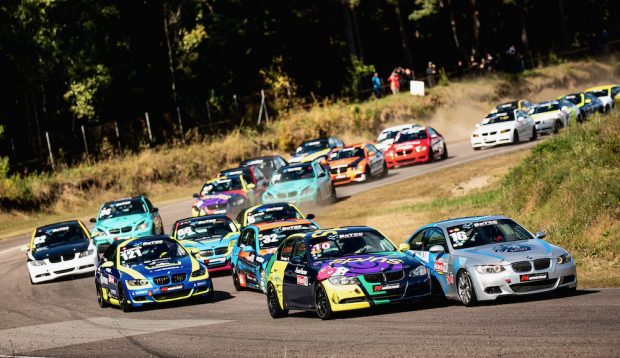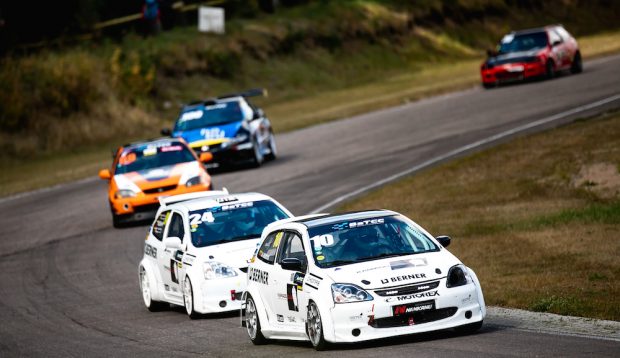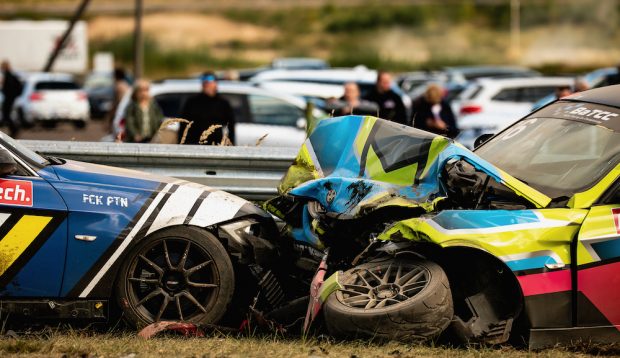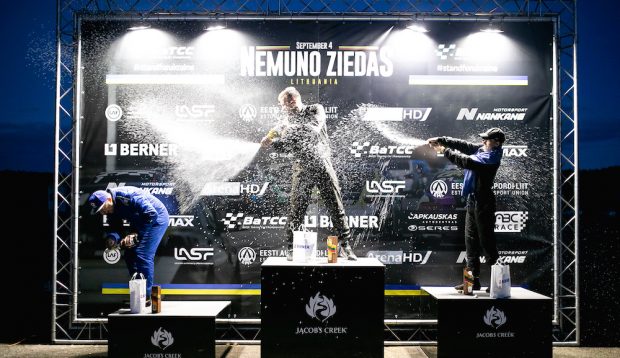 Complicated Kaunas Grand Prix race..
Sunny and warm Sunday, great crowds, full paddock of fast racers and teams, that is how the Kaunas Grand Prix race day started.
The roller coaster race of Kaunas as a second to last event of the 2022 season was expected to have various intrigues and battles on the track. Sadly the battles on the track, great driving and podiums were shadowed by a massive crash in the BMW 325 CUP Race 2 with 11 cars heavily damaged. Luckily, no major injuries for the drivers. Wishing them the best of health and a speedy recovery.
100 participants entered the event in various classes, most of them – 36 in the BMW CUP class where the battle for overall standings is massive and every point counts. On Saturdays qualification new lap records were set – first was Edvinas Zadeikis, then his time was improved by Karolis Jovaisa – 1:20.990, meaning pole position for races. Row 1 was finished by Leo Messenger, Row 2 – Romet Reisin and Egidijus Grazys, Row 3 – Edvinas Zadeikis and Valters Zviedris. Race 1 start was clean and fast, Jovaisa kept the first place but had to defend hard from Messenger. Valters Zviedris got into fourth position by first corner and overtook also Romet Reisin in second corner. On the track Race 1 was won by Karolis Jovaisa who later was penalized for speeding under two double yellow flags and relegated to P6 by a 10 sec penalty. Valters Zviedris inherited a win, while Leo Messenger had engine problems and was classified fifth. Second place for Reisin and third for Sten Pentus. Fourth – rookie Egidijus Grazys.
Race 2 from pole was started by Zviedris followed by Romet Reisin and Leo Messenger. All the drama started at the infamous Nemuno Ziedas track chicane, made by tires. The tires were moved every single lap, forcing the double yellow flags on the previous marshal's post, slowing the cars down and spreading the field. Lap 8 was the final lap of the race – once again the tires were in need to put them back on place, meaning double yellow flags caused the leading pack to stop down significantly and make a small but moving traffic jam, then the tires were put back in position and a green flag was given to the following cars. While the leading cars started to accelerate the next bunch of cars had no warning of slower cars ahead and couldn't stop in time to escape the contact, resulting in a massive crash, with the race immediately red flagged. A serious accident that needs to be investigated fully. Race was not resumed – the results are counted after half distance – 7 laps and granting 50% of the available points.
So overall victory of the event goes to Valters Zviedris, second Romet Reisin, third Sten Pentus. Masters TOP 3 – Ramunas Capkauskas, Matiss Mezaks, Andris Cats. Rookies – Egidijus Grazys, Krisjanis Oskerko, Domantas Varnys. Ladies – Carmen Kraav, Emilija Ulvydaite and Erika Arkusauskaite.
Zviedris leads the championship with 352 points, followed by Jovaisa (287) and Reisin (255) and Zadeikis (240). The title decider in Riga!
A long anticipated was the BTC2+BTC1+V1600 race with 17 cars on the grid. BTC2 had a record entries – 11 cars all with capable speed of fighting for podium! Karolis Gedgaudas, the 2020 champion, showed he hasn't lost the speed – a pole position and two dominant victories. Tadas Petukauskas had to fight for 2nd but managed to break away both races from Atis Veismanis and Simo Lind who had a nice battle all races. With Atis finishind 3rd in both occasions, keeping the title chase contention for Riga race. BTC1 pole went to Aurimas Kucinskas, but Laurynas Simonavicius was unstoppable when it mattered – two victories means that if he repeats the same in Riga, he will be the champion again! P3 this time went to Marius Kemesys.
V1600 sole racer and winner Kaspars Rudmiezis rose up to 3rd in the season standings and will try to do the same in the season finale.
In BTC3 we once again had the intrigue – Aurimas Mistautas or Izidorius Paukstys? Qualifying went in favor of Paukstys. But in the race Mistautas had a stronger start, a small contact in turn 1 resulted in technical problems for Paukstys car and sadly retirement in Race 1. Race 2 victory went to Mistautas, second Paukstys, third Justas Gudavicius. Podium – Mistautas, Gudavicius and Robertas Zauka. In the standings, Mistautas has a 35 point lead over Paukstys – but anything can still happen.
Lithuanian championship GT class was won by Kastytis Volbekas, followed by Ignas Jomantas and Tautvydas Lasas.
Nankang 2h Endurance academy had a bit less participants than usual but that didn't change the intrigue. The pole position was taken by Sakalai Rally 4 Ever (Karolis Gedgaudas and Rokas Steponavicius), next to Diesel Power(Alvydas Malakauskas and Giedrius Gudaitis).
Sadly, Sakalai Rally 4 Ever team had to retire due to technical problems and the lead went to Lind Racing(Simo Lind) who had some nice battles with Diesel Power on the track but finished first overall and first in BTC2 class. BTC2 class second place DMK Racing by Eurolint, third place – Autokaslita.
The victory in BTC3 to Diesel Power, followed by RS Racing Team and Autoradvilis.
BTC4 victory to 222 by Autopark, in ABC Race to LDV Racing.
BMW 325 CUP race was won by EST1 Racing 32 car(Romet Reisin/Priit Kadastik), followed by Krauman Motors from Estonia and Rode Racing from Latvia. Jurmala/Papas saciksu komanda 4th place was enough to seal the deal and be uncatchable in the overall standings of the championship.
ABC Race sprint classes had many interesting battles in both races but the outcome in those was the same – the victory went to Janis Hans. Daniels Ungurs was second and Juris Jaunciems third.
The standings are updated on our website.
The final race of the Baltic Touring Car Championship, Baltic 6h Endurance Championship last event will take place on September 23-25th in Riga, Bikernieki race track.