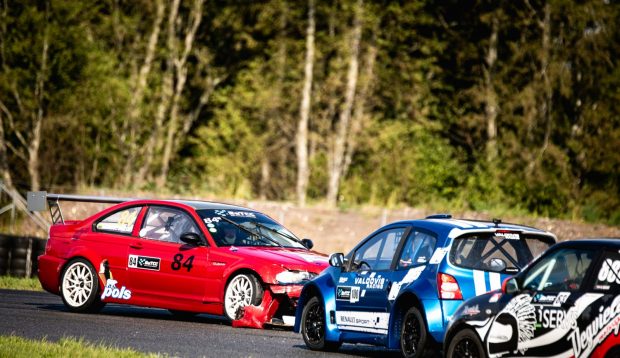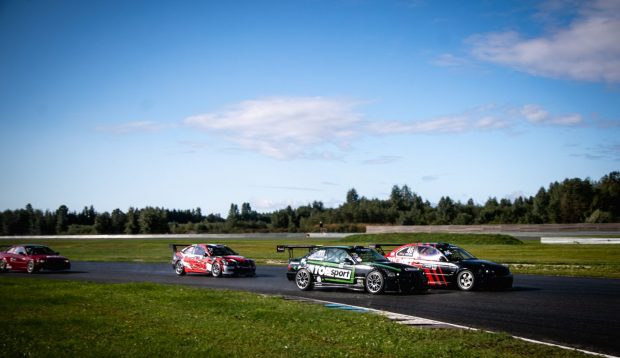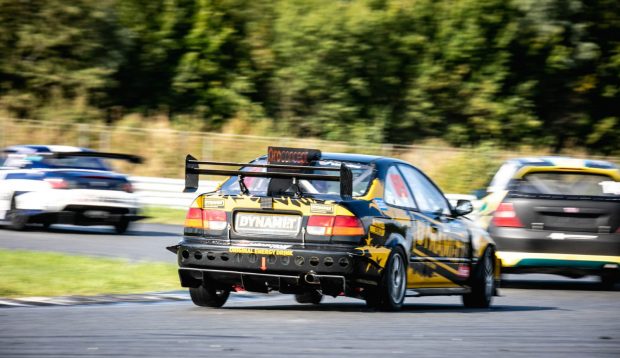 Races of BTC1/2/3 and V1600 – some fire and lots of battles
Saturday morning met with shower-type rain did not frighten the participants. Particular we are talking about "BTC1", "BTC2", "BTC3" and "V1600" classes' racers who have opened the "Parnu Summer Race 2021" racing weekend. There were the first to try the corners of the wet track.
Sixteen racers on the track, as Tomas Jatkevičius had some technical issues and did not start even in qualifying session. So, 16 racers on a grid and pole position taken by Lithuanian racer Julius Kiršis and his
BMW E46. This guy represented "BTC3" class and his mate Izidorius Paukštys was trying to take away the pole position. Simo Lind was the fastest among his class participants as Laurynas Simonavičius started from the 1st position if looking only at "BTC1" classification.
First run, first lap right after start and, actually, first corner and we have some racing accidents. After quite soft touch between of the racers, two guys were eliminated and had to watch the race from the side of the track. One of them – Gediminas Belinskas (representing "BTC3" class) with BMW 320d, and another guy, Dovydas Akstinas ("BTC1") with Renault Twingo RS. Those guys were unlucky to loose quite important points of the championship.
Meanwhile, real battles have happened in "BTC3" class. Julius Kiršis held the 1st place strongly, however, 2nd and 3rd places were clarified right before crossing the finish line, when Aurimas Mištautas overtook Izidorius Paukštys in a quite technically smooth way.
As for "BTC2" class, Julius Ašmonas kept spinning in the track and losing position because of his own mistakes. So, this guy kept getting it back during all run.
During 2nd run of the race, once again Julius Kiršis has started from the pole position. Only his neighbour has changed and he had Aurimas Mištautas on the side, having Izidorius Paukštys right behind them.
The 2nd run was more impressive as during the 3rd lap of the run, Honda Civic of Andrius Keblys caught on fire and the race was stopped with red flag. As soon as the race was resumed, the battles continued, mainly between "BTC3" participants. However, Julius Kiršis managed to hold the 1st place once again, followed by Aurimas Mištautas and Izidorius Paukštys. This mate kept fighting with Danas Azikejev, finally, keeping the 3rd place to himself and his final overtake was under investigation by the Clerk of the Course and stewards. Finally, after all videos and on board material was checked and viewed – there were no further action and Izidorius Paukštys took the 3rd place, Aurimas Mištautas kept the 2nd to himself, as Julius Kiršis took the 1st place and really important points of the season, as A. Mištautas had the 1st place before the event.
As the results of both races were summed up, "BTC1" class leader chair was assigned to Laurynas Simonavičius allowing Erko Puusgag to hold the 2nd place. Dovydas Akstinas managed to gather some of the points during the second run as took the 3rd place in this classification.
Julius Ašmonas took the 3rd place in "BTC2", Atis Veismanis won the 2nd place and Simo Lind, the leader in both, event and season classification. Dmitrijs Gornevs took the 1st place in "V1600".
Next time these guys will meet on the track – is in Kaunas, at the beginning of September. So, nothing is really clear yet.