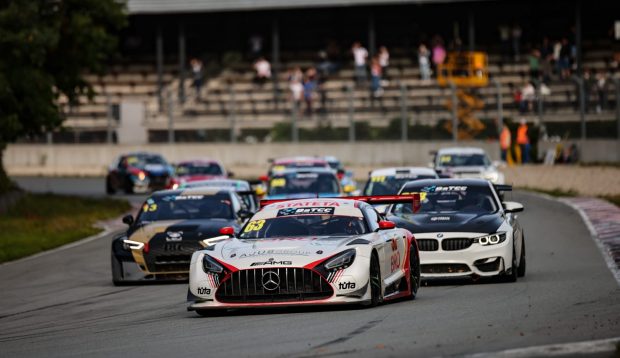 BEC 4H: New day – new track record and "Stateta BRO by Heidelberg Mobile" victory
After two hours of fun racing during NEA, the track start finish straight filled up with BEC6H participants. Pole position taken by "Mercedes Benz" of "Stateta BRO by Heidelberg Mobile". They made sure of pole position ownership by breaking a track record during qualifying! Now the lap time is set to 1:16.325 by rally cross star Reinis Nitiss. He is racing together with Arturs Bartraks and Ignas Jomantas this time.
From the first laps of the race, participants were trying to overtake each other using any moment they can. The tense for sure could be felt and driving style reminded the sprint race and their sharpness.
First penalties for track limits bypassing here assigned after 20 minutes of racing to "Jurmala – Optibet Racing" team with Ramūnas Čapkauskas behind the wheel. 5 seconds added to their time. Few laps later the same penalty assigned to "Nanosun by Tarzanija Racing" team competing in GT AM class.
It seems that BEC6H is less lucky to R. Čapkauskas team as one more (drive through) penalty was assigned for mandatory pit stop time violation. However, the team "Jurmala – Optibet Racing" keeps fighting and holding on to the 2nd place overall and 1st in class.
Same penalty assigned to "Nanosun by Tarzanija Racing" team after second part of mandatory pit stops. Some overheating problems have visited "DHR – RC Cola – Autovesta" team's Ginetta, so they tried to race keeping it in one piece. Having still two hours to go, they make a big mistake coming to pitlane for their stop two minutes too early. It seemed there were some vibration and they came in due to safety reasons. However, this stop did not count and they will need to make another stop. That was quite a harsh decision from the stewards, stating, that next mandatory pit stop has to be 6 minutes longer, making it the total of 9 minutes.
Less than two hours to go, and "Dvaras Racing" team is back to team's pit box for extra work. Some issues with turbine, however, they kept working to bring their BMW back on a track.
A bit more than an hour to go, and one more penalty of 6 minutes to mandatory stop time added for "Hemi Racing by Statomenas" team. However, even though the penalty seemed quite harsh, it didn't affect the position.
The remaining race was quite calm and constant, without bigger mistakes and penalties. Having Mercedes Benz far away from others, his main goal was to keep in running, and that they surely did. Finally, 11 of 13 teams have crossed the finish line.
"Stateta BRO by Heidelberg Mobile" took the victory in overall classification leading in GT PRO class. 2nd place in overall classification taken by Cupra of "Jurmala – Optibet Racing", taking the victory in TC3, too. They were followed by "acticool.com by DMK Racing Team" represented by Deividas Sakalauskas, Tomas Urbonavičius and Marius Kemešys with great looking Audi. Those guys were the 3rd in overall classification and the 2nd on BTC3. 3rd place in this class taken by "Soderus Racing" team.
In TC2, – the one and only "Orlen Lietuva – Mažeikių ASK" team, that had the main goal to cross the finish line. GT AM class leader – "Dream 2 Drive" team, keeping "Nanosun by Tarzanija Racing" on the 2nd step of the podium, followed by unlucky Ginetta of "DHR- RC Cola – Autovesta" team.
"Antėja Racing Team" was celebrating the victory among diesel cars, "Dvaras Racing" took the 2nd spot here as they still managed to show up on a track after unplanned car repair work.
So, no questions asked – the champion was cleared and Mercedes Benz AMG representing "Stateta BRO by Heidelberg Mobile" team brings a victory back home.