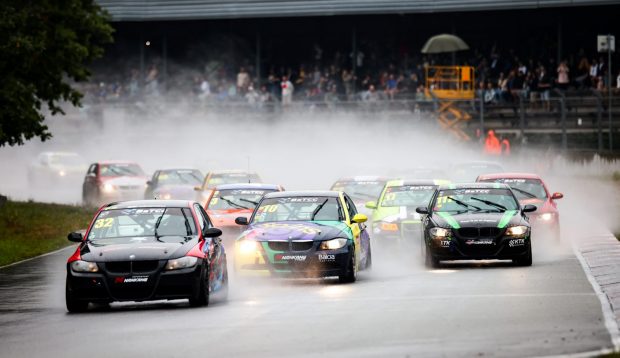 First part of the Riga Finals – from new track record to strongly wet races
What a final! Saturday will be exclusively marked with a sign 'wet', brought by a rain that seems to be historical and hardly forgettable. It seems the Riga Grand Finals had a full program as it started with some qualifying sessions on Friday, having a new track record set by Ignas Jomantas and his good-looking MB.
ABC Race and V1600 battles
Amazing BMW 325 battles and the champion title on the edge
Surprisingly, even with a rainy weather conditions, BMW 325 Cup series' race was as smooth as it could be, without massive crashes and red flags. Surprise surprise! Traditionally, long grid with 36 cars here and season leader Leo Messenger in a pole position, followed by Julius Kiršis and Ričards Šubeckis. First laps driven and Ričards overtaking Leo, seeking for both, victory during the race and this season. Quite a bad race for Julius, as he dropped to the end of the list due some issues with a car, Povilas Bonkevičius jumped to the 3rd place, however, for short period of time only. Romet Reisin started pushing towards the leading positions  and he overtook Leo having 10 laps until the finish and he still kept pushing and being in the 1st place with 3 laps reserve until the race finish. Ričards took the 2nd leaving Leo in the 3rd, Povilas crossed the finish line being in a 4th position. Difficult race for Paulius Urbonavičius, as he dropped out due to technical issues. Karl lang was quite disappointed afterwards, as he slipped out right to the barriers having 7 laps to go. Martins Zirnitis finished his race to early after hitting the tires in a start finish straight. Petri Seppala was happy about his victory among "Gentlemen" participants during both races, Emilija Ulvydaitė was the fastest lady, Artjoms Koclamazasvili took a victory in "Masters", as Arturs Sarma was the fastest rookie both races summed up.
Second race- smooth, but with more touching pushing and side to side riding: all the race on the edge among those fighting for podium. No surprise, as the finish of the race could determine the champions. And it did. All attention went to Ričards Šubeckis who kept fighting for the final championship points, taking any opportunity available. 7 laps until he finish and he is 2nd, however, Romet Reisin was uncatchable. At the end, he did not get enough points to steal the champion title from Leo Messenger. Leo crossed the finish line being 4th. Povilas Bonkevičius was happy to cross the finish line being the 3rd. Both races summed, Uldis Timaks made sure he is the winner among Masters, keeping Matiss Mežaks in the 2nd and Artjoms in the 3rd place. Emilija Ulvydaitė took the victory from Erika Arkušauskaitė in ladies group.
Tuomas Plosila – the King of North!
What a race was for legends cars! They got it all in one day: from windy surely wet track to quite dry the 3rd run. Important race for those guys seeking to find out, who will be the King of the North?
Those babies had three runs, 8 laps each. No good aerodynamics and quite complicated weather conditions made these races even more interesting. Boy they have been missed! As always, battles up until the end having only split-second gaps between contestants. 1st run was a bad one for one of the best Swedish racers Micke Nyman, he dropped out having 6 laps to go. One more unhappy Swedish racer – Erik Bilxt who was penalized for false start. Finally, victory was taken by Erik Seppanen, followed by Tuomas Plosila, and the 3rd place taken by Marko Kilpiä. Next run was much more wet and this time, unlucky to Erik Seppanen, losing pace he kept dropping down. Quite a victory was taken by Erik Blixt here, having Tuomas Plosila behind him and Nico Tikkinen following.
The 3rd run could be considered as the most smooth-one, especially knowing, that it was final over takings and battles for the king's title. Close, but not too close! Great win taken by Leevi Lintukanto here as Henri Tuomaala did not get a chance to catch him.
All races summed up, Tuomas Plosila was announced as the King of the North, having 1st place in "PRO" classification this time, followed by Henri Tuomaala and Erik Blixt. Nico Tikkinen took a victory in "SEMIPRO". He was followed by Erik Seppanen and Nicklas Lindberg.
As for masters, Marko Kilpiä the fastest here, Mikka Riihimaa being the 2nd and Matthias Stromberg keeping the 3rd place to himself.
Ahh, what tense competition it was!!!
V1600 and ABC Race
Saturday seemed to be rainy up from the morning, however, no one expected it to be such a heavy rain. Morning started with "ABC Race" and "V1600" competitors on the grid. Even though this drive was quite dry, it doesn't stop participants from some small incidents and contacts, just like in between of Janis Hans and Kristaps Stikuts. In between of "V1600" racers, season leader Ernests Eglitis was the fastest one, however, it wasn't enough to make sure he got the champion title, and lots of expectations were dedicated to 2nd run. Second place during the 1st race was taken by Raivis Meilands, and the 3rd – by Elvis Turans. However, both, Ernests and Elvis were penalized for false start and got 20 seconds added to their racing time, meaning lost positions and giving up season victories, Raivis Meilands took the victory here and in the overall of both races combined, leaving Ernests in the second position and Elvis in the 3rd.
"ABC Race" was strongly leaded by Daniels Ungurs from the first laps of the race. Heavy rain did not frightened this driver and he took the victory in the race overall, their combined 2nd race with "V1600" ended driving behind the safety car crossing the finish line as soon the minimum amount of laps for points was driven. It was quite a view, when the que was leaded by the ABC racers. Summing up both races, the second place was taken by Kristaps Laipnieks, and the 3rd – by Arturs Danilevskis.
Wet BTC1, BTC2, BTC3 races
Wet races from the beginning for those guys, however, the pace was good the battles interesting. It seemed the rain did not cool the weather and all classes were filled with trying to overtake or otherwise – to keep the gained position. First run was victorious for Andres Ringo in BTC1, as Vidmantas Pociūnas did not manage to overtake him. Among BTC2 racers, Kairo Kallas was the fastest one, as in the middle of the race he overtook Tadas Petukauskas. However, real men fight was in BTC3 class between Artūras Kliobavičius and Tomas Jatkevičius. However, kept the 2nd place being few parts of seconds behind. Gediminas Bilinskas took the 3rd here.
As the rain did not allow to go full speed, the second race started behind the safety car. Even though, drivers did not loose the hope to have a chance for a proper race, especially Tomas Jatkevičius, as he had the pole position here. Having 8 laps left till the finish, the race was resumed. Straight away Andrius Keblys slides out of the track and A. Kliobavičius tries to catch Tomas. 3rd place holder Kairo Kallas slips out losing few positions. It seems that new tarmac track places are really slippery due to heavy rain and it is hard to keep on a track for all of them. Tomas is out of the track and Gediminas Bilinskas is leading. However, he receives the penalty for false start, even though, maintains the title of the season champion. Safety car is back in a track and race is resumed having only 4 laps left. It seems Tomas car has no chance to compete fully and the pace is too low to get back the champion title.
Both races summed up, "BTC1" class victory is taken by Andres Rigo, second place belongs to Marius Kemešys and the 3rd taken by Vidmantas Pociūnas. "BTC2" class 3rd place assured by Tadas Petukauskas, having Estonians Antti Jartsev and Kairo Kallas on the 2nd and 1st step of the podium. The highest level of adrenaline brought by "BTC3" participants and the happiest among them was Artūras Kliobavičius, leaving Maksim Avdejenkov behind him and Gediminas Bilinskas on a 3rd step of the podium.
GT, BTC4 and TCR beauties and amazing champions clarification
Even 19 participants showed up on a grid between "GT", "BTC4" and TCRs with well deserved pole position for Ignas Jomantas that was taken along with new track record settlement! His duo with MB showed the lap time of 1,17.012 min. However, quite a difficult race for Ignas, as wet conditions did not allow him to run away and he was overtaken by Domas Raudonis during the first laps of the race. Those two racers kept fighting each other up until the finish. As their pace was much better than others, they had to overlap slower racers. Actually, it was quite difficult in some cases as slower drivers did not see the flags and was penalized for just – one of the unlucky athletes – Tautvydas Lašas. Afterwards, Ignas took the victory but it was taken away as he overtook under yellow flags and was penalized for that. The 3rd place was taken by Tautvydas Rudokas, that showed an incredible pace starting at the end of the grid. Jyrki Peltola right behind him and bad luck to Lukas Laukaitis, having a spin only 1 lap left to finish. Not the best day to Edvinas Einikis, too, as he stopped in a track having 6 laps until finish.
As for "BGT AM", victory here was taken by Drew Holland, Jyrki Jonkkari in the 2nd and Mika Virtanenin the 3rd.
"BTC4" was victorious to Ramūnas Čapkauskas, keeping Jonas Jancevičius behind. Sven Karuse took a victory in "TCR", having Tomas Urbonavičius in a 2nd.
The second run was much easier and smooth, and right from the start of the race Ignas Jomantas ran away, keeping the other competitors behind. No much drama here and calm constant race. Ignas took the victory without penalties this time, making sure the season champion title, even though he took the 2nd place this event, having Domas Raudonis on a highest step of the podium and Tautvydas Rudokas on the 3rd. Ramūnas Čapkauskas can celebrate the season champion title of BTC4 class, taking the victory here today, Arturs Simins happy about his 2nd place of the finals and Jonas Jancevičius keeping the 3rd place of the podium.
Darius Žitlinskas having the 3rd place among TCRs making sure he is the best this season, Tomas Urbonavičius enjoying the 2nd in the finals and Sven Karuse the best guy today, taking important points to the championship standings.