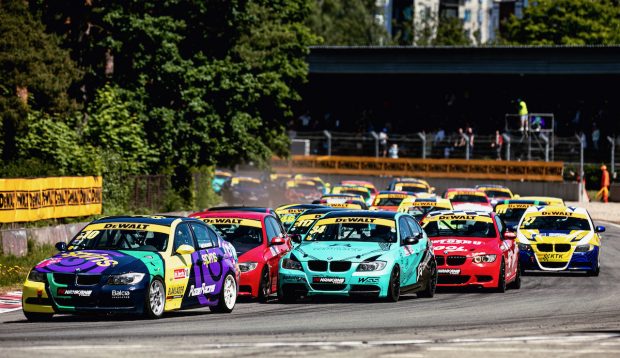 The Grand Finals are upon us!
The wonderful 2023 Baltic Touring Car Championship season is slowly approaching its climax, the Final race where the best of the best will be decided. But that's not all – not only Baltic series drivers will compete but also the fastest, toughest, bravest Legends cars drivers of the North will compete for the title – who is the King of the North?
22 fastest Legends cars drivers from Sweden, Finland and Latvia have applied for the race and we are still waiting for more to join – the list is not final! Current 2023 series leaders and contenders from Sweden and Finland championships, former National and NEZ series champions, that will be a proper battle for the King of the North! Can't miss that one!
Although some champions of the Baltic Touring Car Championship series are decided and known – congratulations to Dovydas Akstinas in BTC1, Simo Lind in BTC2, Elvis Turans in BMW 116 Trophy, Julius Kirsis in BMW 325 CUP Masters, Emilija Ulvydaite in BMW 325 CUP Ladies, Zabaki Racing in Nea 2h ABC Race class, Race.Attack in BTC2 Nankang 2h Endurance and LDV Racing in V1600, there are still many champions to know!
The most intriguing class is BMW 325 CUP, where there are 5 contenders and as sometimes in BMW 325 CUP happens, everything is possible for Leo Messenger, Ricards Subeckis, Paulius Urbonavicius, Julius Kirsis and Romet Reisin. Members of 4 nations can win this!
All is open also in some BMW 325 CUP subcategories – Rookie championship is wide open between Karl Lang (400 points), Eividas Sitavicius (352) and Arturs Sarma(334). In the Gentlemen battle situation is similar – leader is Olivier Villeneuve (312), followed by Normunds Dobums (254) and Atis Veismanis (238).
BTC3 is the battle of BMW titans – Gediminas Bilinskas leads the pack with 135 points, Tomas Jatkevicius trails by just 8 points and that is close to nothing and everything will be decided on the track! With some luck the race is on for Arturas Kliobavicius aswell with 106 points.
A real gentlemen battle awaits us in the BGT AM class, where multiple time BTC4 Champion Jyrki Jonkkari has a five-point lead over British star Drew Holland, both guys separated by just 5 points. Aivaras Remeika sits 32 more points behind.
The most beastly – GT PRO class is lead by Ignas Jomantas from ES Motorspot by AMG Customer Racing with 106 points, but Jyrki Peltola has 87 points and all the chances to win the crown!
V1600 is a duel of two Latvians – Raivis Meilands is first at the moment with 156 points closely followed by Ernests Eglitis with 143. Everything will be decided on the track!
In Nankang 2h Endurance academy EST1 Racing has a slight lead of 16 points over Dream 2 Drive and with 60 points on the table, nothing is clear and 2 hour race will show which team is the best. MKM Racing in BTC1 class has a good lead over Lenktyniu Inzinerija and just has to finish the race to become champions. BTC3 is a battle of Estonian RS Racing team with 202 points and Diesel Power with 170. Just like last season – all will be decided on the Sunday! Capkauskas Autocentras has a comfortable lead of 46 points over Soderus Racing in BTC4 class, but 2 hours is a long distance.
Friday is a practice and Qualifying day, while sprint classes will race on Saturday, with Sunday is the day for the Endurance!