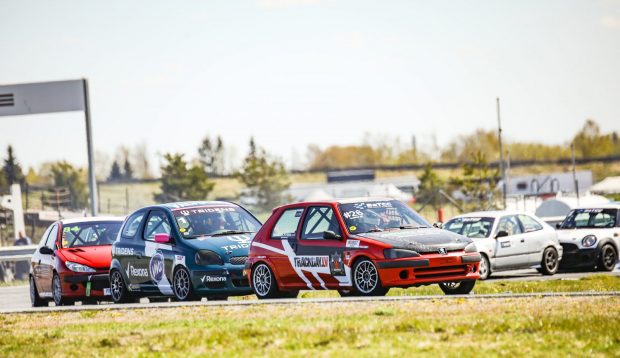 Busy Sunday with nice battles
Sunday racing at the Porsche ring featured a two different sprints categories and the 2h Nankang endurance race.
17 entries in the Nankang 2h Endurance academy race promised a lot of drama in several of the classes, like who will prevail in the BMW 325 CUP, or Simo Lind vs Antti Jartsev in 2liter class? Well this drama ended prematurely as the clutch of Lind Racing Honda failed already in Qualifying despite taking the pole position.
The race itselfs started with Race.attack leading the pack for some time, until Diesel Power came through midrace. Diesel Power were the fastest after 2 hours of full racing covering 79 laps and beating Race.Attack team for 19 seconds. RS Racing team came home third place overall.
The BMW 325 CUP class in the 2h race saw dominance of previous years champions Jurmala/Papas saciksu komanda with drivers Ricards Subeckis and Uldis Timaks – they won the qualifying and also the race, beating Dream 2 Drive team by one lap. Have to mention that Dream 2 Drive team consisted of two racing rookies – Kasparas Kaulius and Tadas Grincevicius. Third place in the BMW 325 CUP goes to Rally Raid Estonia team.
Victory in BTC4 to Capkauskas autocentras, while V1600 was won by LDV Racing. ABC Race – Zabaki racing were ranked first, while MKM Racing won the BTC1 class.
The GT class had some epic and great race cars featuring Mercedes-Benz AMG GT3 with Ignas Jomantas EVO, Chevrolet Corvette with Jyrki Peltola, Chevrolet Camaro with Tuomas Kivisto, Nissan 180SX with Gediminas Baksys. Also last year BTC4 champ Jyrki Jonkkari with his new BMW M3 E92.
The GT PRO class Q was tight – with Jomantas beating Peltola by less than 0,1 sec. But in the race Jomantas showed his class and won both races. The first race was red flagged and stopped after technical problems for Kivisto's car. GT AM class victory went to Jyrki Jonkkari, Peeter Peek was fastest in TCR, while Remeika was fastest in BTC4.
ABC Race first race in a beautiful fashion was won by Janis Hans, followed by his JV Racing teammmates Kristaps Laipnieks and Kristaps Stikuts. Race 2 was won by Laipnieks followed by Hans and Martins Putnins. In two race overall first place – Hans, second – Laipnieks, third Stikuts.
The first Baltic Touring Car Championship event is over! Full results can be found here: https://speedhive.mylaps.com/Events/2189630
See you all in five weeks – DeWALT Grand Prix coming up, where we will joined by NEZ Porsche Sprint Challenge!