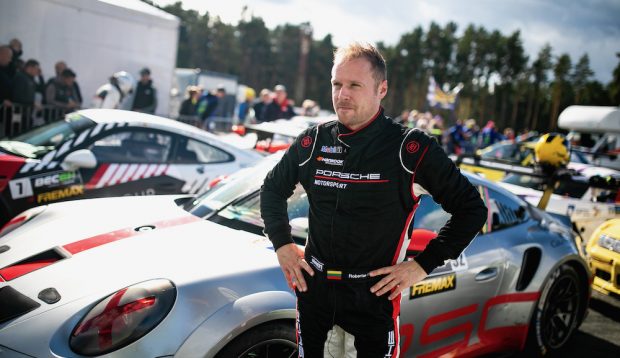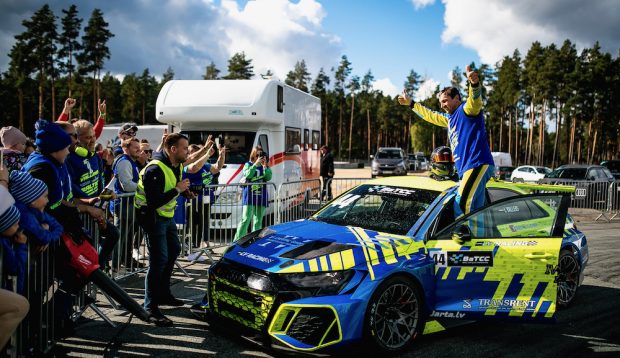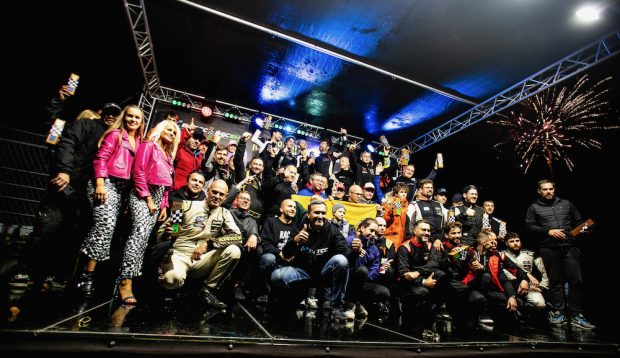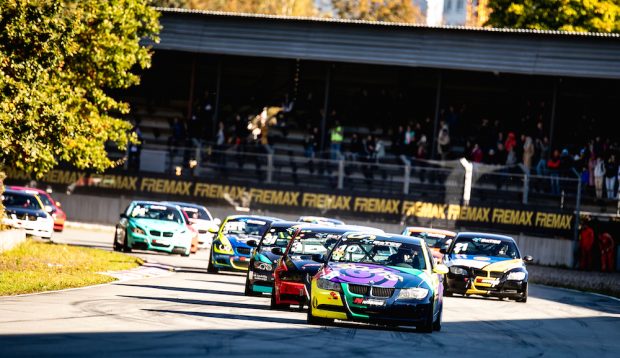 Boooom! The 2022 season is over with Riga Grand finals!
The Baltic Touring Car Championship, Baltic 6h Endurance Championship and Nankang 2h Endurance Academy racing season has ended in Riga Grand Finals, and the event had a lot of drama, emotions, heartbreaks and victories!
5 events, 4 countries, 6 different nations and 215 different participants across all 2022 season, a lot of stories to tell, a lot of points to fight for!
Baltic 6h Endurance Championship

The Baltic 6h Endurance Championship last event saw 16 cars entered and battling on the twisty Bikernieki race track, reaching finish line in dusk and some fireworks to lighten the track and proper racing lines. Porsche Baltic GT3 team once again, for the fourth time in a row proved their dominance winning the race overall and in the class – four out of 4! Real, deserving champions among 29 that raced across all season! Audosta by Ajus Group team reached the finish line as the second fastest team after 231 lap.
While P3 overall and first in TCR class were our new TCR class champions from Finland – Black Rose Racing! Chased home by Estonians ALM Motorsport and Lithuanian GSR Motorsport. Black Rose Racing also are 2nd overall, beating Audosta by Ajus Group by 28 points. While former champions Noker Racing Team holds the 2nd place in the season followed by ALM Motorsport.
Victory in the GT AM class in the event goes to DHR Autovesta Racing, while Porsche Racing Baltic GT4 takes home the champions crown, followed by System KAN-Therm by Ringaudu Servisas and
TREVIO Next. Level Customs Brokers.
First in A3000+ in the race in the season are Tarzanija Racing guys.
While Touring Cars category where fastest teams from TC1, TC2 and Diesel class meet was a home town for the experienced Anteja Racing team – consistency mixed with speed was the key to be the champions of Touring Cars among 12 participants. 2nd place goes to Baltic Karting Academy, third spot in the season standings to ORLEN – Lietuva Mazeikiu ASK
Diesel crown also went to Anteja Racing team that were unbeatable in all four events – who will dare to stop them in 2023? Maybe runner up R2M team or third place guys from CUST LT Racing? TC2 title belongs to the youngsters from Baltic Karting Academy team that with a victory in Riga won 3 successive races. 2nd place goes to 2022 champs Orlen Lietuva Mazeikiu ASK followed by Autoralis. By winning the last race, the TC1 class winners are UAB Klion Racing team, beating HOBU Racing.
Baltic Touring Car Championship
The main intrigue of the Baltic Touring Car Championship races in Riga was the BMW 325 CUP races where the main favourite and points leader before the event Valters Zviedris of LV Racing did his job -a fourth place in Race 1, meant he was one point down to secure the title while contender and 2021 champ Karolis Jovaisa had to win and hope Zviedris gets 0 points from Race 2. Jovaisa did his job – won the race while Valters Zviedris didn't tremble – finished right behind Jovaisa and securing the title! Jovaisa second in the series, while Romet Reisin from EST1 Racing is third in the season standings. 62 different racers took part in the BMW 325 CUP series, a massive success story.
Matiss Mezaks is the Master of Masters category, while another Master and a Legend Ramunas Capkauskas is runner up, followed by yet another circuit racing legend Uldis Timaks. So, Masters or Legends category?
Rookie classification winners are no rookies anymore – all hail the double Rookie champion Krisjanis Oskerko. Second place belongs to Lithuanian Egidijus Grazys, while third place goes to Estonian Pavel Beskrovnoi.
Ladies – the one and only Carmen Kraav was a strong contender also in the overall classification. While second place Emilija Ulvydaite and third place lady Erika Arkusauskaite started their BMW 325 CUP journeys at the second half of the season. Waiting for a full campaign next year!
Drama, competition, willpower and unpredictable events haunted the BTC2 class this season. Simo Lind had the speed and control of the championship, but there are things you cant control – heartbreaking engine blowup in Race 1 of the Riga Grand Finals meant that Atis Veismanis has open doors to secure the title after a 21 year break and Atis managed – winning Race 1 and 2nd place in Race 2 was enough to win back points and become the Baltic champions title. Simo Lind holds 2nd place after a title last year, while 3rd place in the series goes to one more Estonian – newcomer Antti Jartsev has tied points in the series with Tadas Petukauskas, but a win in Riga secures him bronze in the standings.
BTC1 had no less drama, the battle of two contenders – Aurimas Kucinskas and Laurynas Simonavicius had it all! Aurimas held a 13 point advantage, that could have been overcome by Laurynas by winning both races. The series title was decided in the second corner of Race 1 – a massive crash where Laurynas was just a passenger ended his dream to defend the title – DNF in Race 1 and Race 2 meant that Aurimas is the winner of 2022 Championship.
BTC3 class also had it's intrigue – after an unlucky DNF in Race 1 of Kaunas event, Izidorius Paukstys had 35 points gap to 2020 and 2021 champ Aurimas Mistautas. Aurimas became a father couple of days before the race(CONGRATULATIONS!) and didn't come to defend his title, yet Izidorius had to earn on the track enough points to secure the title! And he did – winning both races he is the 2022 BTC3 champ! Robertas Zauka second place earns him 3rd place in the standings. Justas Gudavicius finishes strong third in the event.
BTC4 – Jyrki Jonkkari secured his third title already after Parnu but that didn't stop him from coming to Riga and proving once again – he is the man to beat in the class. Strong and nice racing was seen among BTC4 racers, where Dave Holland finished second while Aivaras Remeika was third. In such order they also ranked in the season classification.
BGT AM belongs to Kastytis Volbekas becoming the champion. A victory in Riga earns Drew Holland silver medals, while Ignas Jomantas is third in the 2022.
BGT PRO class had 10 different racers in the season. Riga race saw the dominance of Robertas Kupcikas with Porsche GT3 CUP 992, winning both races. Jyrki Peltola was close challenger, but not this time -second in Riga and third place in the standings. Mika Makinen had all the chances to win the series title in Riga, but unfortunate accident by not his fault shattered his chances and Mika Makinen finishes second in the standings, losing to Thomas Kangro by 6 points!
Ivars Vallers was the dominant force of the series finishing on the podium every race and deserving of winning the TCR Baltic champion title right at his home. Sven Karuse by winning both races earns finishes season in the fourth position. Second place in the standings goes to Kestutis Stasionis, Kasparas Vaskelis – third!
V1600 was the battle of Latvians against Finns. Finnish young talent, the 2021 Finland champion Matias Nuoramo showed his speed and won also the Baltic title. Ernests Eglitis with all the determination and pace earned second place in the standings by winning both racess in Riga Grand Finals. Benjamin Sylverstersson is third in the classification. While 2nd place in Riga even went to Edgars Karlsons, third to Elvis Turans.
Formula Easter crown goes to Ekki-Taavi Sepper, Formula Mondial to Taavi Kroon!
Nankang 2h Endurance Academy

Nankang 2h Endurance had as many as 35 participants in Parnu event, while Riga finals had 25 eager teams to fight for the victory. 222 by Autodock lead most of the race and won it, meaning the also the season title in BTC4 class.
Not everything was clear in Nankang 2h Endurance BTC3 class – RS Racing Team had a 24 point advantage over Diesel Power. The cards were shuffled by Broliai Motorsport team that won the race taking the maximum amount of points, Diesel Power was second but it was not enough to stop RS Racing team from winning the title!
In BTC2 class Simo Lind with his Lind Racing had done their job by winning four previous events and earning the title. Blown engine meant no racing from Lind Racing in the 2h Race. So Race.Attack with Antti Jartsev by the wheel stood up for the job – winning the race, followed by Hobu Racing and Autokaslita teams. Autokaslita finished second in the series, while Race.Attack victory gathered enough points to secure third spot in the season standings.
BMW 325 CUP had their champion before – Jurmala/Papas saciksu komanda with Ricards Subeckis and Uldis Timaks drove to defend their already earned title – and they did it with one more victory on home soil. EST1 Racing 19 with Carmen Kraav finished second and second is the position in the overall standings. Krauman Motors collected enough points to defend their 3rd position in the season rankings.
Degviela Motorsport are the kings of V1600 class in Nankang 2h Endurance Academy, while LDV Racing are the champions of ABC Race class.
See you all in season Gala Awards that will be announced soon. Thanks to all for beautiful and eventful seasons and hope to see you in 2023!
BaTCC