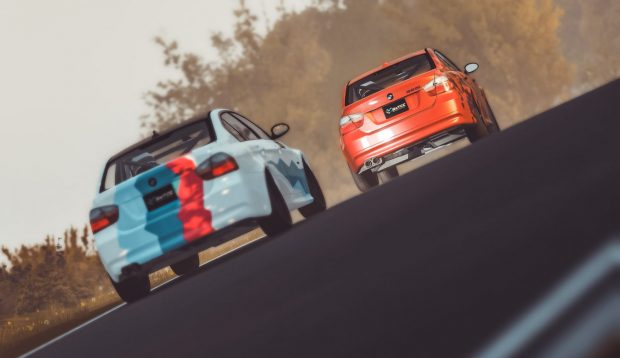 E-BaTCC season two has started with a blast! Karolis Jovaisa wins BMW 325, Philip Miemois dominant in Legends
E-BaTCC Season 2 has started with a blast – epic racing in both classes, providing an exciting show for the spectators – around 35 000 spectators watched the BMW 325 CUP and Legends races. For the first time, timetable was built like in a real event where Race 1 of the BMW is followed by Legends and then again for second races.
In BMW 325 CUP class in Pre Q 41 driver participated and 31 of them lined up on Sunday for Racing – 24 in Division 1 and 7 in Division 2. The Pre Q winner Domantas Varnys proved his pace also in Qualifying earning a pole with a lap time of 1.22.276, followed by Tauras Gudinavicius and Karolis Jovaisa, E-BaTCC season 1 champion. Although the race didnt go well for Domantas – while he lead the first lap, on the second he was attacked by Gudinavicius and Domantas ended up in the gravel, losing all chances for the podium finish. Karolis Jovaisa followed Gudinavicius until the chequered flag. Third place went Haroldas Jotautas, 4th Edvinas Žadeikis. Latvian drivers Kārlis Ozoliņš, Dāvis Bite, Agnis Rozītis, Kristaps Fiļipovs finished the TOP 8.
Race 2 grid was reversed from the TOP10 of race 1 results, meaning Karlis Skirmanis starts from pole, but sadly ends up with a falsh start and goes to the pits. Julius Adomavicius, our TCR BaTCC 2019 vicechampion takes the lead for half a race until is overtaken by Karolis Jovaiša and soon after by Dāvis Bite. Jovaiša cruises to victory, while Dāvis Bite gets disqualified for cutting the chicane, a safe 2nd position given away. Žadeikis crosses the line 2nd but gets a 5 sec penalty and is relegated to third. Haroldas Jotautas earns 2nd place. Kārlis Ozoliņs finishes 4th, followed by Justas Pirinauskas, Kristaps Fiļipovs,  Race 1 winner Gudinavicius and Andrejs Gubarevs.
Karolis Jovaiša wins the round with 43 points(and earns the test prize),  Haroldas Jotautas(33) is second, Tauras Gudinavicius (31) third, followed by Edvinas Zadeikis and Kārlis Ozoliņš.
We want to praise also some of our real life racers Julius Adomavicius, Andrius Cilvinas, Janis Hans, Eimantas Navikauskas, Voldemars Kalve. And Sven Karuse – who won a race in Division 2!
Legends racing never disappoints and this was also the case this time. Anders Antell last seasons vicechampion took the pole, narrowly beating Nika Kobosnidze. This was the main battle also in the race – until the 3rd corner where the leaders clashed, dropping out of TOP10. This allows Philip Miemois to take the lead and win the race although closely followed by Erik Blixt. Pekka Seppanen takes third, Rory Penttinen is fourth. Nika Kobosnidzes fifth.
Martin Palm takes the race lead in second race, builds a comfortable gap.. and blows the engine! Passing the lead to Philip Miemois who takes 2nd victory of the day. Valters Zviedris comes home second, followed by Per Danielsson, Pekka Seppanen and Rory Penttinen.
Miemois leads the series with 50 points, Pekka Seppanen(27), Valters Zviedris(26), Erik Blixt(24), Rory Penttinen(22) in close pursuit.
Next race in one weeks time at Ahvenisto Circuit in Finland!