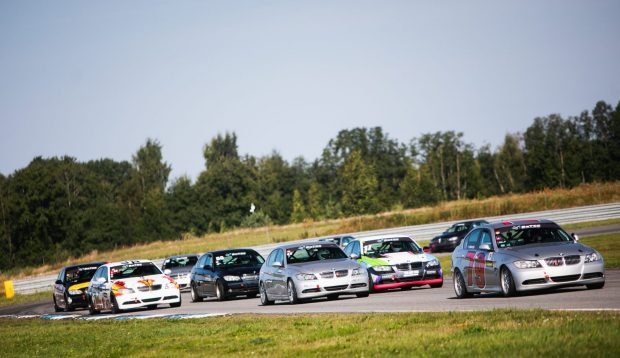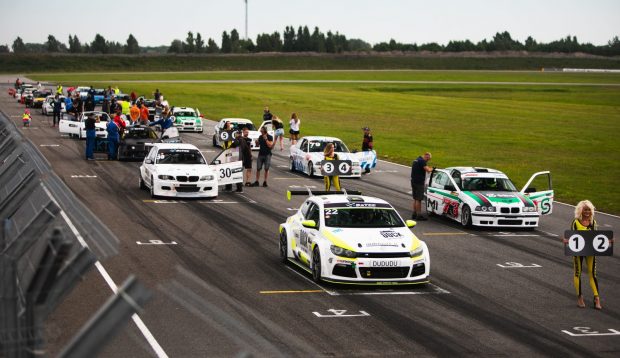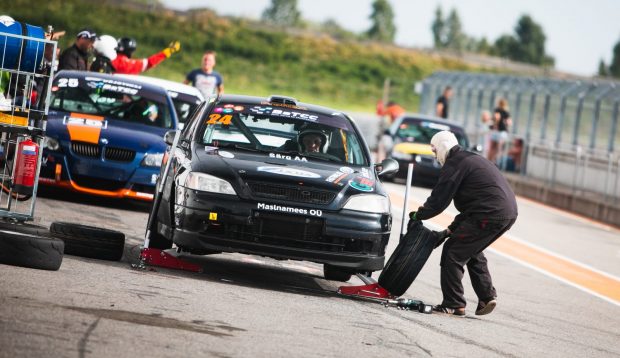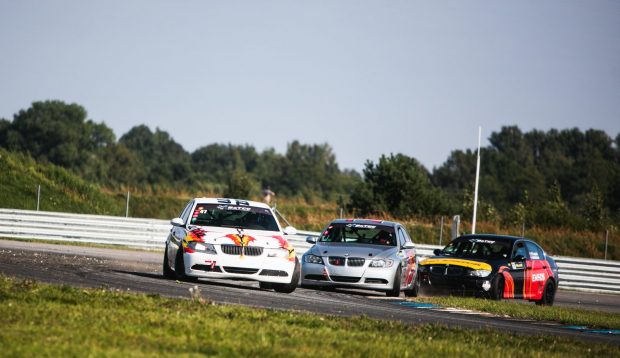 What are the costs for circuit racing in the Baltic States?
Circuit racing is the most prestigious discipline of Autosport in the world and in recent years it has also been growing a lot in the Baltic States with growing number of participants and spectators at the track or by the TV screens. But circuit racing is also been known as the most expensive discipline. Is it true? And what really are the costs to be a participant in the Baltic Touring Car Championship?
Racing classes and starting fees
Baltic Touring Car Championship offers various options for participants to choose budget options or professional world level racing classes both for sprint racing (10-12 laps in a race) or endurance racing.
In sprint racing it's possible to participate in mono class series (BMW 325 CUP) or in several classes that are split in separate categories by the engine capacity – starting from 1600 ccm until unlimited engine capacity cars with slick tires. One other professional racing option is TCR class where cars from different manufacturers with identical specifications compete, the same cars that battle for the FIA World championship title.  Entry fees for sprint racing classes are 200 EUR per event, but every racing class has also a season registration fee of 100 EUR. So, if there are four events in the season and driver participates in every one of them, then in the entry fees he will have to pay 900 EUR. If we split that for a single event, then it's 225 EUR per race weekend, including 40 minutes of free practice and Qualifying time and two races with 10 laps distance each. In total it's around 150-160 km in race mode during the weekend.
Endurance racing splits in two options – two-hour endurance series for cars with limited engine capacity up to 3500 cm and semi slick tires or six-hour endurance championship (BEC 6H).
In BEC 6H, which is the most prestigious racing series in the Baltic States, there are several classes for various racing cars – starting from two litre cars in lowest categories and ending with Porsche and Lamborghini factory race cars in the fastest categories. 2-4 racers are allowed per team in the BEC 6H, with a maximum stint time of 70 minutes when the driver has to enter pits for a driver change. Entry fee for the 6h race is 600 EUR per event and 200 EUR season fee.
In the two hour endurance race one or two drivers are allowed per one team and the entry fee for the race is 300 EUR from a team. The series has five classes, where cars from around 100 HP engines to two litre turbo cars with around 350 HP can participate. Nankang "AR-1" model tires are mandatory for all participants.
The two hour endurance is one of the most efficient budget solutions in racing if race km are counted against the costs. Driving time for the series on track, including practices, is 160 minutes, which in Bikernieki racetrack are equal to around 96 laps or 345 km in race mode. This is a circuit racing series where cars from other Autosport disciplines can enter and be competitive with small adjustments to the car, as the most important aspects in the two hour endurance race is consistency and reliability of the car, not the outright speed in one lap.
Estonian team Fixus Racing are the 2020 champions in the BTC2 class where the team won with the 2-litre engine Opel Astra car. One of the drivers and team's manager Simo Lind tells more: "I have basically a streetcar with roll cage. It has a stock engine with 170 HP power output, stock gearbox, brakes, clutch and Bilstein street suspension. With this car I previously participated in the Latvian National class in sprint racing. Now, this two hour endurance race is a great option for me as the car needed really small adjustments – I put back the original fuel tank as the racing tank was too small and bought some equipment for the refuelling. With a proper strategy and consistency, and a little bit of luck, I can compete against much more powerful cars that have 250-280 HP. In a 10 lap race I wouldn't stand a chance. Sometimes I race alone, but in same races I have a second driver in the team and then we split the driving time in half and the costs for the race. In average, one weekend, all costs, including traveling, sums up to around 1500-2000 EUR but it doesn't include car's development costs. And as we all know, race car modifications never stop. Of course, racing is racing and if the car has some technical problems or there is a crash, the costs go up. The two hour endurance race is one of the best budget options in the championship. It's low cost if we count the time and the km we get in the races against the costs. Also, there is a competition for every car so it's an interesting and fun experience. I am already preparing for the next season and I am looking for one more driver!"
Buying a car, build and rent costs
To build a competitive car to participate in the Baltic Touring Car Championship the participant needs to plan the budget of no less than 10000 EUR, which includes buying a streetcar, installation of a roll cage, necessary racing driver's equipment and the preparation of the car for racing.
BMW 325 CUP at the moment is the most popular racing class in the BaTCC championship, and it's possible with this car to participate in sprint racing and also in a separate class in two hour endurance series. To fully prepare BMW 325 CUP car for racing will cost around 12000-15000 EUR. There are options to buy a race ready car for around 15000 EUR in the race car market. Rent is also an option, with prices for one event varying from 1800 to 2500 EUR, depending on offer.
Kārlis Daube, circuit racing rookie from Latvia who build the car in several months during winter tells more: "The whole process starts with finding a donor car which we found in Lithuania, the car and transportation cost us 4300 EUR. The car went straight to rebuilding in AIX Motorsport garage under Aigars Tīdmanis guidance. Turning it into a race car cost me a bit less than 11000 EUR, while the whole budget for the season with one sprint racing event and one endurance race, and several test sessions cost me 18500 EUR, including car build, tires, safety equipment and various maintenance and improvement works. Of course, it's possible to reduce the budget by doing the work by yourself, but then a lot of work and personal time must be spent."
Similar estimate is presented by Povilas Bonkevičius, the manager of the "KTK Racing" team that fielded four BMW 325 CUP cars on the grid last season, and some more may join next year from the team's stable. Povilas: "It's possible to find a left wheeled BMW E90 325 car in a good condition for rebuilt for about 3000-4500 EUR, but a complete rebuild into a race car would cost around 12000 EUR, including a basic engine and chassis rebuild. With a preparation like this the car will be fully competitive and reliable, the result on the track will be fully dependant on driver's skill and luck. These are our prices, it's possible to do it cheaper for 4000-5000 EUR, if the work is carried out by yourself."
With cars from classes BMW 325 CUP, BTC2(up to 2000ccm), BTC3(up to 3000 ccm) and BTC4 (up to 3500 ccm) it's possible in one race weekend to participate in both sprint and endurance racing and using the same model tires. You can find some good race ready offers in race car market with BTC2, BTC3 and BTC4 cars. These classes would be the classes with lowest possible costs to start racing.
The price of used world level TCR cars range from 50000 to 100000 EUR, depending on various aspects, while new cars from factory are ranged from 100000 to 140000. In this case you get a top-level car identical to ones used in World championship. These are professional, factory built race cars you can race in Baltic Touring Car Championship in sprint and endurance racing. There is a wide range of offers for renting such cars or a seat in BEC 6h race from various teams. One race weekend in sprint racing when renting a service would cost around 7000-8000 EUR, but a seat in the endurance race with two one hour long stints would cost approximately 6000 to 10000 EUR. In the Baltic States prices for such service is much lower than alternative offers in Western Europe and Russia.
Direct and indirect costs of a race weekend
Buying or building a car for racing is just the first step, the budget for costs in a race weekend must also be calculated to have a successful racing experience.
As an example, we will take the BMW 325 CUP class in sprint and endurance races. Typical race weekend is two days long – sporting checks, scrutineering and free practices on Friday, while two races are held on Saturday.
In average, for one racing weekend is necessary to have one new tire set(600 EUR per set, but not mandatory to have), fuel (100 EUR), mechanic (50 EUR a day), also the brake discs need to be changed from time to time(100 EUR set) and the same applies to brake pads (200 EUR per set / 50 EUR per event). If the team also participates in the two hour endurance race, one more day for a mechanic is added to the budget and an additional fuel (50-100 EUR). The tire set from the sprint racing is enough to last also the 2h race. When the race is abroad, the traveling and accommodation budget comes into play.
Costs for a race weekend in Bikernieki for Lithuanian and Estonian racers:
| | | | |
| --- | --- | --- | --- |
| Position | Sprint race | 2h endurance | Both |
| Entry fee | 200 | 300 | 500 |
| Tires(one set) | 600 | 600 | 600 |
| Brakes(pads and discs) | 100 | 100 | 150 |
| Mechanic | 100 | 100 | 150 |
| Fuel | 100 | 100 | 200 |
| Travel and hotel | 200 | 200 | 300 |
| Other costs | 200 | 200 | 200 |
| Total: | 1300 | 1400 | 1600 |
The table shows approximate costs for one race weekend with a BMW 325 CUP, not taking into account technical problems of the car or accidents that may happen in motorsports.
In the next table we will take a wider look for the season costs for a BMW 325 CUP sprint racing, if the season has four events. We will take a look at three different situations: when the car is owned, the car is bought or just built, or the car is rented.
| | | | |
| --- | --- | --- | --- |
| Costs for the season | Built/bought | Rent | Owned |
| Car | 15000 | 8000(2000 EUR/event) | 0 |
| Entry fee | 900 | 0 | 900 |
| Mechanic | 400 | 0 | 400 |
| Tires | 2400 | 2400 | 2400 |
| Brakes | 400 | 0 | 400 |
| Fuel | 400 | 0 | 400 |
| Other | 800 | 0 | 800 |
| License | 120 | 120 | 120 |
| Racers equipment | 1000 | 1000 | 0 |
| Total: | 21420 EUR | 11520 EUR | 5420 EUR |
It can be deducted that one season in circuit racing in BaTCC series four events when building or buying a car will cost around 21500 EUR, keeping in mind that the car can be sold for the same or similar price at any time. Rent also is a good option if the participant has no intentions to worry about car preparation process for the races and other things related to preparation for the event, but the racer has one priority – to race! By looking at numbers, we can see that the rent is a good budget option if racer wants to race two seasons, he spends less money and saves his time and health resources by preparing the car for every race weekend.
The costs are confirmed by Povilas Bonkevičius: "We have calculated the running costs, if we are renting a car for the whole season. For sprint racing, the amount is 9600 EUR for four events, including car service in the race, transportation, entry fees and a new set of tires. For a 2h endurance the costs are 12800 for four events or 3200 EUR per one event where we do our job very professionally – developing the car's setup for the track and the weather, work together with the driver to analyse the telemetry and we have a cheerful feeling in our garage – as the main thing is to have fun from the racing! While talking about the costs, I also strongly recommend having a budget for testing during the season. It will cost additional money, but it will pay back in the long term by helping to solve some technical issues that may also happen in the races and it will also help the driver to learn the track, car and setup of the car. The results will come! We are open for more clients for the next year – we offer car building, rent or service during the race weekend."
Similar costs can also be calculated in other budget classes, that use semi slick tires. Also, when building a car, remember that costs for roll cage, painting and driver's equipment are absolutely the same when building a car that costs 2000 EUR and has a 100 HP engine or building a car that costs 8000 EUR and has a 300 HP engine. The costs differ for modifications that are allowed in the respective technical regulations of the class.
Circuit racing is a motorsports discipline that generates a lot of adrenaline and fantastic emotions. And the races are broadcasted live on TV – it's a great way to show yourself not only to friends and family, but also to the sponsors. See you all on the track!