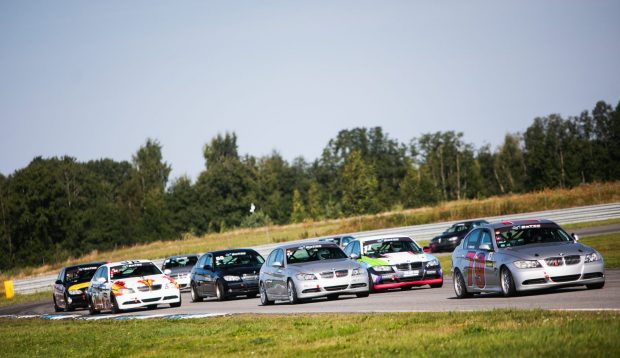 BaTCC 2020 season report – a season in a shadow of Covid19 but with a bright sight into 2021
The 2020 racing season in Baltics ended prematurely with the Motul Grand Finals cancelled due to the existing Covid19 restrictions. Although, the 2020 season was in a shadow of the virus, we still had massive fun in our races and managed to determine the fastest racers in some of the classes. And we have a strong foundation to look optimistic in the future.
BEC 6H
Originally planned with 4 events from which only one took place that gathered 24 teams from five countries. The weather was fantastic and so was the racing on spot, Flash Racing Latvia won the race, closely followed by CircleK Miles Plus Racing Team and Porsche Club by LG OLED. In TCR class among 7 teams, the LV Racing was the fastest one, followed by Igoriolankai and Energizer Racing. Victories in other classes went to GAGA Studio racing team (A2000), Mazeikiu Auto Sporto Klubas(A3000), Porsche Baltic (GT AM).
As only one round was held no season champions will be nominated. In 2021, 3 or 4 events are planned in Audruring and Bikernieki race track. There are no major changes planned in sporting or technical regulations of the class for the next season, except for BGT PRO class, where a kg/hp ratio will be implemented to make racing more competitive.
Baltic Touring Car Championship
Some of the classes of Baltic Touring Car Championship had a season of three events, some had only two and one. See a short report of each class below. We plan to have 3-4 events for BGT, BTC4, TCR classes for next year, while Nankang Endurance Academy and other classes will have even 5 events where we will experience great racing all across the Baltic States. No major changes in Technical and Sporting rules are planned so the racers can already prepare their cars for the next season.
The most hard fought battles were in the newly founded BMW 325 CUP. While the 1st even tin Kaunas gathered only six cars, the amount of participants grew to 14 cars in Parnu race in August. As the last round was cancelled, the seasons champion is Matīss Mežaks, who narrowly beat Ramūnas Čapkauskas by 2 points, while 3rd place went to circuit racing rookie Andris Čats. The track will grow massively in 2021, when more than 30 cars are awaited in the season standings.
The most prestigious TCR class had only one event, thus no championship for the class. The one race was dominated by Latvian legend Girts Kruzmanis, followed by Rokas Kvedaras from Lithuania and Peeter Peek from Estonia. The class championship title is still vacant from this season. Who will be up to fight for the trophy in 2021? We will see.
The most powerful class of BGT PRO had 2 events and the champions can be crowned – congratulations to Vilnis Batraks with Lamborghini Huracan ST who managed to beat Raivo Tamm from Estonia and Egidijus Gutaravicius from Lithuania. We expect a lot more new and powerful cars in this class for the next season, including some guests from Finland!
BGT AM is the class with a huge potential for growth. While the virus messed with some plans for some racers we still had a very competitive racing between Edvinas Einikis and Janis Hans. Einikis is the winner of the 2020 season, while Janis Hans has to settle for the 2nd place. We are sure we will see a lot of interesting duels between those 2 racers in next year, 3rd place went to Drew Holland from Great Britain who managed to beat Mantas Matukaitis, Marius Dijokas and Tautvydas Lasas.
BTC4 usually was famous for rivalry between Jyrki Jonkkari and Russian racers. Sadly, Russians couldn't join us this year so it was an uneventful season for Mr Jonkkari who defended his 2019 title, followed by Vitalijus Parchomenko in 2nd place.
BTC3 class was a newcomer in Baltic series and we had a dominating performance in here by Aurimas Mistautas, who is rumoured to be building a new, more powerful class car for next year. Vacating the 2020 title. Second and third place respectively went to Tautvydas Andziulevicius and Danas Azikejev.
BTC2 can be describes as a clash of the titans and class veterans Karolis Gedgaudas and Julius Skirmantas. Karolis was the fastest pilot this year, narrowly beating Skirmantas. With third place going to Tadas Petukauskas.
In BTC1 class we were witnesses of outstanding performance by Girts Kruzmanis who was never challenged and earned his championship title with no doubts. Second place goes to Erko Puusaag while third to Dovydas Akstinas.
Formula Mondial as usually was dominated by Andris Griķis, who frequently was challenged by several competitors but never beaten. Second place goes to Taavi Kroon, third – Ain Lahker.
In Formula Easter class Raitis Mūrnieks successfully defended his 2019 title, very, very narrowly beating Jaak Kuul by 2 points. Itālo Alsiņš was third in the standings.
We are more than happy with the first Nankang Endurance Academy season, that in 3 rounds gathered more than 25 different teams and we see a great potential in this series in the future – for new teams to try out the beauty of the endurance racing and use this class as a stepping stone for the BEC 6H.
In five classes there was quite a lot of battles for the 1st place and the leaders changed from event to event. Fixus Racing from Estonia triumphed in BTC2 class, BTC3 class was dominated by Diesel Power, while BTC4 glory went to DHL Racing team. BMW 325 CUP class was won by KTK Racing, but BMW Masters the Reinup Motorsport team proved their speed in and became the class champions.