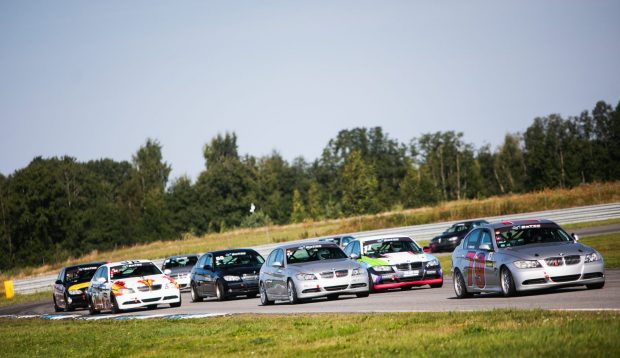 BMW 325 CUP news for 2021
The promoters of the BaTCC racing series have agreed with the Racing Commissions of ASN's of Latvia, Lithuania and Estonia that the BMW 325 CUP class additionally to the Baltic Championship status will also have the National championship of each country.
The granting of National Championships status means that every participant will have a chance to become a National champion of the respective country. The decision will promote the number of participants even more and more than 20 cars on the starting line in the first event of the 2021 season can be predicted.
BaTCC director Andis Meilands tells more: "The idea of BMW 325 CUP in my head was for several years already when in the spring of 2019 we understood that this is the right moment for the class to be introduced. I have to admit the rapidly growing popularity is a huge but very pleasant surprise. I have to thank those six brave men who started this season in Kaunas in the class.  I think the main reason of the success is the equality of the cars and that the race cars are very similar to road versions. Mono suspension, tires, brakes make the racing on track even more close."
"More than 30 cars are ready or being built for the racing from the Baltic States and Russia, meaning that we will have great representation of nations in the series where racers will fight not only for the BaTCC title but also for the Champion's title of the National Championships. The great news will help to rise the prestige even more and will ensure the longevity of the class. See you in the new season!"
While Povilas Bonkevicius, KTK Racing Racing division leader says that: "The 2020 season proved that BMW 325 CUP is a class for racers not engineers. The mechanical parts are strictly regulated and data loggers in 2021 will ensure no variations in the engine are made. Frequently "mono" classes tend to get more expensive to race competitively, but organisers have set some game rules, which gives everyone equal rights and opportunities to race, no matter whether you go with small or big budget, all that matters is your skills on the track. As per Lithuanian championship status its really great and I can say this will be a very prestige title next year. In 2020, we had 6 Lithuanian racers competing, but next year I think we can expect 10-15 cars from Lithuania. This kind "mono" class we have waited for a long time and now that it is finally here we can race!"
Mikk Maaten will be a team manager for two BMW 325 CUP racers from Estonia in 2021 and he is very elated with the news: "The BMW 325 CUP class will be the only class of the Estonian Championship and I hope that 2021 BaTCC season will bring some life back into Estonian competitive circuit racing and we will have many Estonians joining in!"
There are couple of other news regarding BMW 325 CUP as in the class there will be separate categories for rookies, ladies and masters. All racers will fight for the overall trophies where the BaTCC and National champions will be decided. But there will be a separate category for rookies(Racing license for the 1st or 2nd season), ladies and Masters where participants 45 of age or older will participate.
2021 BaTCC calendar for BMW 325 CUP:
Kaunas, 24-25th April;
DeWALT GP, Riga, 14-16th May;
Riga, 24th July
Parnu Summer Race, 21-22nd August;
Motul GP, Riga, 25 -26th September.
BMW 325 CUP is a class that successfully debuted in 2020 where BMW E90 or E92 model cars with 2,5l engine, mono suspension, air filters, brake discs and pads and Nankang AR-1 tires are competing. 14 participants from Latvia and Lithuania raced in 2020.
Huge thanks also to our 2020 sponsors – APE Motors, Blue Print
2020 TOP5:
Matīss Mežaks, 93 points
Ramūnas Čapkauskas, 91
Andris Čats, 72 p
Artjoms Kočlamazašvili, 62 p
Andrius Čilvinas, 60 p
Season overall can be found here:  http://batcc.eu/results/?season=2020&type=batcc&class=bmw325cup&round=0