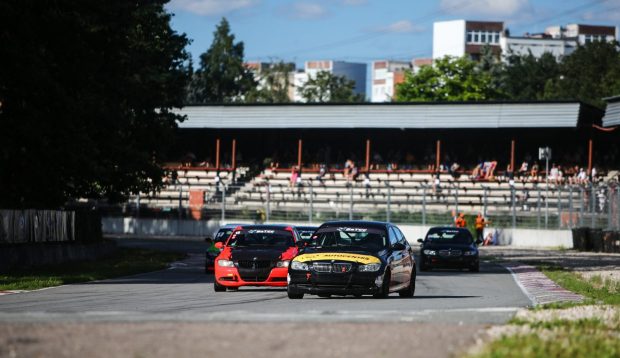 Sunday – Fun day: painful M.Matukaitis crash and incredible battles
This weekend was special for races' lovers, as Baltic Touring Car Championship event finally came to Bikernieki track in Riga. The track missed by everyone and pushed event from May had only this one opportunity to invite athletes, teams and spectators. Even though it was one-day event, it was a great and fun Sunday with provided opportunity for "GT" cars to start their season. As for other classes, participants have gathered for their second event this season. Next to "BGT AM" and "BGT PRO" classes' participants, there where "BTC 1", "BTC 2", "BTC 3", "BTC 4", BMW 325 Cup series and the second round of "Nankang Endurance Academy".
There were 45 cars in total preparing for start: 17 of them belonged to NEA series. However, there had to be 18 card on a grid but the team "222 by Dock" has faced the technical issues already in the morning. As their "VW Scirocco" hasn't show the inspiration to participate in the race, team did not start.
Big crash of M. Matukaitis and the GT cars
As always, the morning has started with practice sessions and qualifying. "BTC4" and "BGT" classes' participants were the first to find out their starting positions. The fastest among this group was Vilnis Bartraks with Lamborghini Huracan. His fastest lap was 1.20.849, having a gap of almost four seconds from Janis Hans with Subaru Impreza. Right almost up to the last second of qualifying, Mantas Matukaitis and his BMW were fighting with Janis. However, first of all his car weighted less than required so the result was annulled. However, it was not even a problem compared with situation later. During the first run, he lost brakes and crash the car. As the team said later, BMW died in a battlefield with no possibility to be brought back to life. Due to technical issues, Marius Dijokas also left the track earlier, without crossing the finish line. Same situation happened to him during the second run, too. No doubts – the winner of "BGT PRO" – V. Batraks and his Lamborghini. Meanwhile, in "BGT AM" third place was taken by Tautvydas Lasas with BMW, second one – Edvinas Einikis and his newly handmade AUDI TT, as the first one belongs to Janis Hans and Subaru. As for "BTC 4", Jyrki Jönkkäri was the lucky one to cross the finish line, holding the first place.
Skirmantas vs K. Gedgaudas
During the qualifying, among "BTC 1", "BTC 2", "BTC 3" participants, the fastest driver was Julius Skirmantas driving the lap time of 1.30.485 minute and assuring himself the pole position on a grid. During the first laps, Karolis Gedgaudas took over Julius and secured the first place in the class and was the fastest during this run. Paulius Urbonavicius took the third place. As for "BTC 1" class, the best result was shown by Girts Kruzmanis and Tautvydas Andziulevicius was the fastest in "BTC 3 class". However, this driver received a warning due to acts on track during the race. Second race was quite calmer comparing to the first run. Summing up the points, first place in "BTC 1" was taken by Girts Kruzmanis, as the second one taken by Dovydas Ankstinas. The third place in "BTC 2" was taken by Paulius Urbonas, Julius Skirmantas took the second place and the first place of the event and season overall now belongs to Karolis Gedgaudas and his Honda Civic Type-R.
Crazy runs of "BMW 325 Cup"
There were 10 BMW's in BMW 325 Cup this time. These guys do not have qualifying sessions and the starting positions are clarified by taken out the number out of the 'hat'. So, this time luck was on a side of Edgars Bundzis: he took the pole position. R. Capkauskas took the second position. He showed his temper and wish to win right from the first laps and moments: already during the first laps, he took the leading position actively trying to keep it by fighting with Toms Berzins. However, bad luck for this driver: after accident on a track, he quit racing and came back to the Park Fermé much earlier. At this point, it does not take long for Artjoms Koclamazasvili. Having one lap left to the finish line, he overtook Ramunas and took the first place. The third place during this run was taken by Matiss Mezaks. There were so many battles and fights during the race, that it was too difficult to follow them all at once. After all this fighting, almost all of the cars came back damaged. The second run was interesting, too, ending with penalties and a lot of different contact moments in track. After all penalties have been calculated and added, the winners were clarified. Finally, the third place belongs to Ramunas Capkauskas, second place won by Matiss Mezaks and the first one taken by Artjoms Koclamazasvili.
Cherry on a cake – the NEA fights
After the qualifying times being summed up, the pole starting position was taken by "Helios-Sauda" team with Honda Civic. There are two fast drivers competing by uniting forces: Marius Miškūnas and Karolis Gedgaudas. As for second place, it was taken by "DHL Racing Team" and young Titas Čapkauskas behind the wheel. Meanwhile "KTK Racing" team took the last place on a grid, as they did not manage to drive the qualifying sessions.
Right from the beginning of the race, "Helios-Sauda Racing" ran away from others. As for "DHL Racing Team", they kept fighting with technique spending more time in pit lane than in track. "Team Rexona Men" left the competition early, too. Until the mandatory pit stop of 5 minutes, all teams kept driving straight and faster each lap. No incidents and crashes and quite well made pit stops. However, bad luck did not abounded leading team. During the first event, they had some technical issues. Same thing happened this time and after 53 laps from race beginning, they dropped out of the competition. After all the technical issues and cars' whims,13 teams have managed to cross the finish line.
In "BMW 325 Cup" class, first place was taken by Latvian team "79", as "KTK Racing" team won the second. The third was won by Latvians "WRR". As for "BMW Masters" class, the one and only "Reinup Motorsport" took the highest step of the podium.
In "BTC 2", there were real battles up until final moments. Finally, during last laps of the race it was clear that the first place belongs to Estonian guests "Lind Racing" and their Opel Astra, as for second place – Lithuanians "AKTO" team took it. Third place belongs to Estonians "ACAP Racing" with Toyota Corolla.
Third place of "BTC 3" class was taken by NEA newbies "World Sim Series" with BMW, as the second position won by Estonian team "JõuJaam". The first place securely taken by the only one diesel car and Lithuanian team "Diesel power".
"DHL Racing Team" kept fighting with fuel system up until the finish. However, they have managed to take the first place, as their main competitor has stopped in a track finish straight few laps before the finish.
Next BaTCC and BEC 6H event already – on 14-16 of August, happening in Estonia.