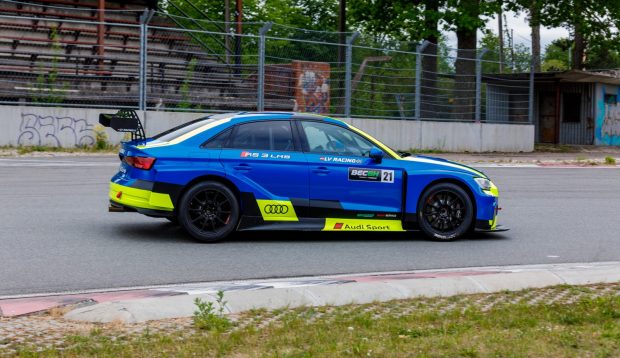 First TCR car in Latvia presented in Bikernieki race track!
On 3rd June in Bikernieki racetrack Latvian circuit racing team "LV Racing" presented their new TCR class race car Audi "RS 3 LMS", which will race this season in Baltic 6 hour endurance championship races in Parnu and Riga.
There are around 12 TCR cars in the Baltic States in total, but this is the first one from Latvia. Lauris Vīgants, team crew chief tells more: "For some time we watched the TCR series in Baltics and worldwide and we saw that this is the right direction to go – it's factory built car, where everything is made just for one purpose – for racing! It's a very fast car, that is quite easy in maintenance. We are sure that after few tests, we will be ready to fight for the highest places in the championship!".
One of the team's racers in this season will be Finnish racer Antti Rantala: "I am very delighted that I had an opportunity to join this project. After my start Legends cars series, I tried to find a team with a TCR class car. After some negotiations in Baltics, I made a decision to join a new team that has a lot hunger to show their best, superb car and high expectations.  I have high expectations also and can't wait to get back on track! I hope that 2020 will be my personal best in career so far, because I think that there is a lot of expectations for the new team and its drivers. I have done a lot of physical training during these difficult times and driven also some simulator races. And can't wait to have some tests and real races to start!"
The "LV Racing" team still has some seats available for this season.
TCR is a very popular racing class worldwide, involving nearly every car manufacturer with their factory built models. All TCR cars are front-wheel drive, their engine power is approximately 340 HP while their racing weight with driver is around 1265 kg. It's chassis are specially built for race tracks and racing. With identical cars we also see the world's best racers competing in World Championship.
Since 2019 Baltic Touring Car Championship and Baltic 6h Endurance Championship are officially licensed TCR series, ensuring  the Technical rules are obeyed and and the cars are leveled in their performace. New factory cars cost around 100-130 thousand EUR, while used cars can be bought from 50 to 80 thousand EUR.
Baltic Endurance Championship in 2020 will consist of two rounds – 14-16th August in auto24ring in Parnu and 9-11th October in Riga at Bikernieki race track.