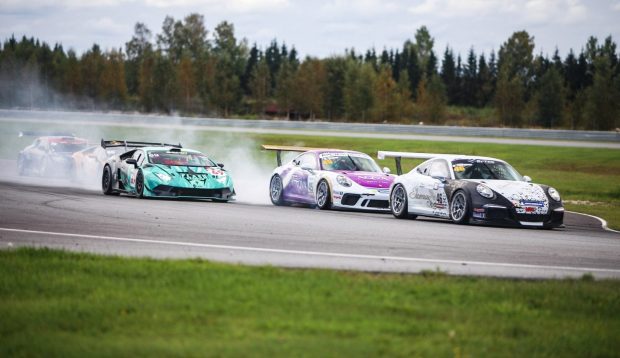 BATCC FINALS IN ESTONIA BRINGS NEW CHAMPIONS IN ALL CLASSES
Weekend of BaTCC grand finals is marked with a lot of special moments. There were not only racing moments of this year season, but also quite a list of final battles, helping to clarify the champions and winners. Nevertheless, among quite a number of races, there were the most common and loved competitions of Baltic Touring Car Championship.
This season, BaTCC consists of "BTC", "Formula Historic" and "R1600", further grouped by power and technical similarities.
Well known and loved historical formula's series combines of "Easter 1300" and "Mondial" classes. There were some really strong and interesting fights between the participants, finally having the names of this year champions. While in "Mondial" class, Latvian racer Andris Griķis was quite calm having impressive number of season points, second and third place winners were confirmed after the finals. The vice-champion is Jaak Kuul but the third step of a podium belongs to Taavi Kroon. Both these athletes represent Estonia. As for "Easter 1300" class, champion was finally confirmed after the last finish only. The title was assigned to racer from Latvia Raitis Mūrnieks. Second place owner is another Latvian Italo Alsiņš as third place trophy will go to German sportsman Hartmut Heidicke.
Eye catching battles were happening during Baltic Touring Cars (BTC) races. This season was impressive with the technique participating as well as pace shown in track.
There was set the fastest lap time under 1 minute 14 seconds and it happened while "BGT" classes participants were fighting for better position during qualifying and Estonian racer Oliver Tiirmaa wanted to assure the pole position on a grid. His best lap time was 1.13,997 minutes, taking a pole position.
The most impressive battles happened between Oliver Tiirmaa and Latvian Arturs Batraks. Drivers were trying to catch each other all the time, driving so close and fighting so aggressively, at finally second run ended being out of track for both of them. At this point, their competitors had a chance to overtake them both getting really important championship points. Putting together all the points gathered during the season, BTC champions and winners were named.
Finally, after great fights during finals, in "BGT PRO" class first place was taken by Estonian Raivo Tamm and his Porsche GT3 Cup, having only three points gap over Arturs Bartraks and Lamborghini Huracan. Third place winner was called Egidijus Gutaravičius with his Lamborghini being 5 points behind from A. Bartraks.
In "BGT AM" class, victory was celebrated one round before the Grand Finals by Latvian Robertas Rode participating with unique Nissan 200SX. The second place was assigned to Lithuanian Marius Dijokas and his BMW 316 as in the third place remained Latvian Jānis Hāns and Subaru Impreza.
BTC1 class podium was fully taken by Lithuanian sportsmen. Technical caprices during final event did not manage to spoil the season result for Marius Miškūnas and he kept the champion title. Vice-champion name was given to Andrius Keblys as third place winner this year is Julius Skirmantas. All racers were competing with Honda Civic Type-R cars.
In "BTC2" class, victory was taken by Finish racer Jyrki Jonkkari and his BMW M3. Even though, the second place during finals was taken by Andrei Ermolov, points number received was not enough to move higher in season standings and racer remained in a fifth position. The second place in season belongs to Russian sportsman Denis Perlov and Seat Leon, as the third place trophy will go to Lithuanian Jurgis Adomavičius competing with BMW M3.