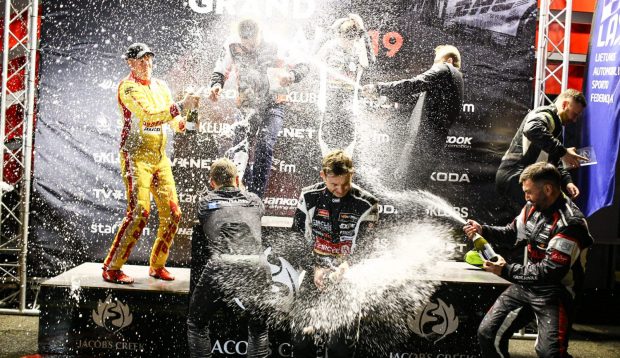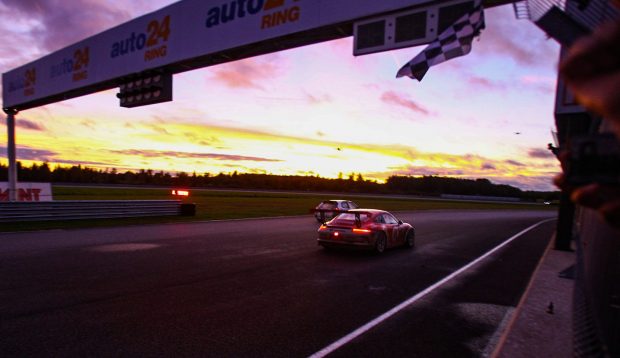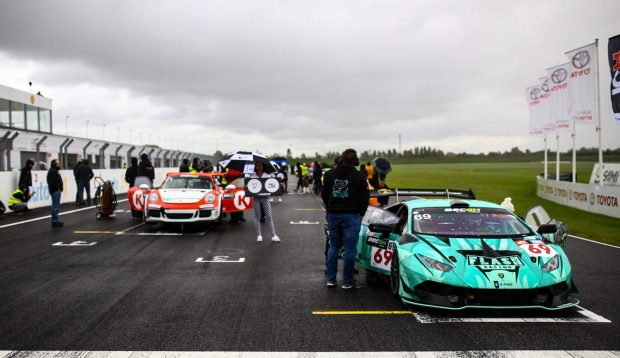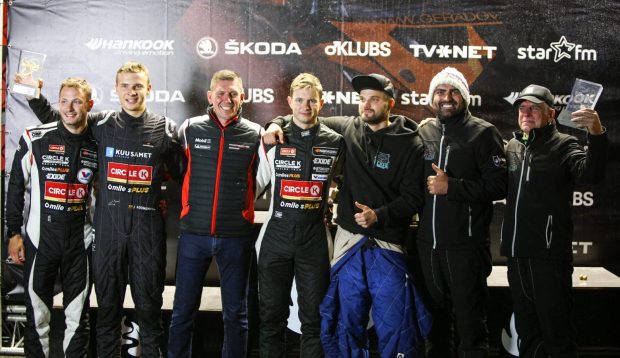 NEW BEC6H CHAMPIONS ARE NAMED IN ESTONIA
Cold weekend in Estonian "Auto24ring" track did not disappoint neither participants nor fans. Grand finals were really great and fights already started during qualifying sessions on Friday, later on transferring to Saturday race. Last event was really impressive, having even 26 teams participating. During qualifying, pole position was taken by "Flash Racing Latvia" team, showing great pace and a lap time of 1.23,059 minutes. Right behind them, there was "Circle K milesPLUS" team.
Race itself was worth of the grand finals title: fights were impressive and champions were cleared only after finish, leaving some of the teams fetching a sigh "if only two more minutes..".
Secure victory of "Circle K milesPLUS" team
From the beginning of the race, "Circle K milesPLUS" team took the first place and kept going, making the gap bigger and running away from other participants. Constantly great pace and good driving of Julius Adomavičius, Ignas and Jonas Gelžiniai assured the victory of the last event and champion title of a season. The victory was reached both, in Overall classification and "GT PRO" class.
Not the greatest season of "Rotoma Racing" team ended taking second place in overall and first place in "GT AM" class. However, important points brought by Andrius Jasionauskas, Dainius Matijošaitis and Robertas Graudinis were not enough to win over the second place in season standings and team staid in a third place.
TCR class Champion title not clear until the finish line
Third place of the event in overall and first one among TCR cars, was taken by "DHL Racing" team with Cupra TCR car. In this event, team was represented by Ramūnas Čapkauskas, Konstantin Calko and Jurgis Adomavičius. Really important points received quite changed the season standings. There was quite a fight for these points and victory. "Dream 2 Drive PRO" team had a third place for a while, until the rain showed up having 1,5 h until finish. Than this place was taken by K.Calko and "DHL Racing" team. Up until the finish, Tauras Tunyla representing "Dream 2 Drive PRO" was trying to catch their competitor, but finish came first and there was still a gap of 7 seconds in between, leaving the team in a fourth place in overall and second among TCR cars.
Technical caprices for season finals
Some of the teams had fights not only in track, but in garages, too. Their cars started showing quite a character or tiredness after season and in between of fights in track, competitors had to solve technical issues. Lamborghini of "Flash Racing Latvia" had problems with electronics, as "Skuba Racing" Team's VW Golf GTI TCR changed lubricant in a gear box as it started overheating. "Noker Racing Team" had an issue with engine pillow as "Porsche Baltic" has changed the gear box already on Friday evening. However, some teams could not reach the finish due to bigger issues. Among those – "KSB racing" team from Finland and Lithuanians "Anteja.LT racing team" and "Kautra Subaru Racing Team".
Finally, at the end of the race when the finish line was crossed, in "GT PRO" class points were taken by "Circle K milesPLUS" and "Flash Racing Latvia", in "GT AM" class by "Rotoma Racing", "Techninis Projektas-Viada" and "Porsche Baltic" teams. As among "TCR" class participants, first place taken by "DHL Racing", second – "Dream 2 Drive PRO" and third by "Igorio lankai" team. In "A3000" group, victory was taken by "Mažeikių Auto Sporto Klubas" team, participating with "Peugeot 308 RC", second place won by "Bruno Racing Team", as the third place taken by "Helios sport" team. Important points for season victory were taken by "RD Signs" team participating in "A3000+" class. Meanwhile, in "A2000" class victory taken by "RM klubas" team, "ACAP Racing" team took the second place and "topratai.lt" team took the third step on a podium. "4race" team was the fastest among diesel cars, second place taken by Finish team "Meretek racing by Special Stage", as in the third place staid "Redus LT".
As the grand finals already ended, the last thing to do – carefully calculate the points gathered to verify, who is the winner in each of class. End of season means the beginning of new season: new teams, changes of technique and brand new tactics are waiting ahead.