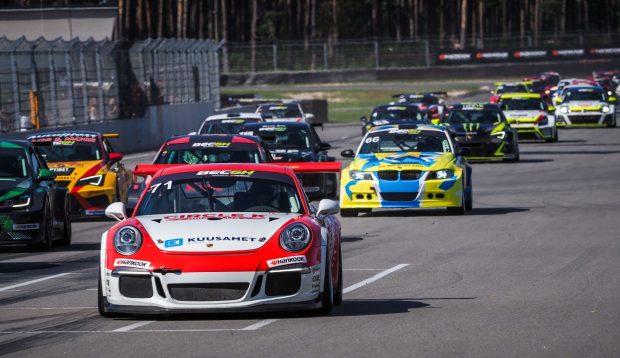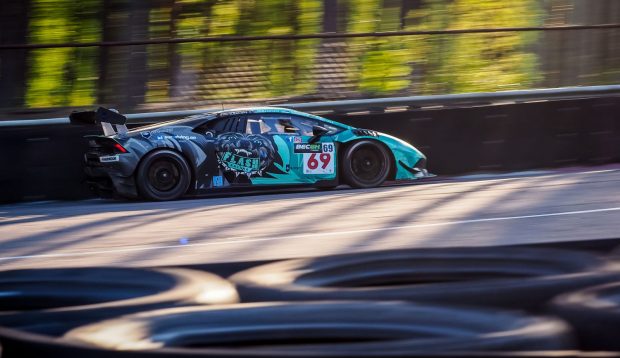 BEC6H CHAMPIONS WILL BE NAMED IN ESTONIA
In Baltics 6 hour Endurance series already few seasons in a row fights for the season victories continue until the end of the season. This season is just like that: nothing is clear yet. Statistics intrigue and clearly indicate that we will know who's the champion only after final event in Estonia happening on 21-22nd of September.
Obscurity among Overall classification
All season called as the leader, "Circle K milesPLUS" team keeps fighting. However, a lot of important points were lost during "Riga Summer Race", as their Porsche 911 GT3 Cup broke down. At this point, team has 134 season points gathered. Second place is held by two teams having the same amount of points (110). However, it means that the gap between of participants is too small to stay calm, as first place winner of an event gets 60 points. So, we have few different scenarios: either leaders will take these points and confirm the first place, or they will be overtaken by other competitors and will lose it this year. As for competitors, there is quite a list of them: second and third place owners "Skuba Racing Team" racing VW Golf GTI TCR SEQ and "Flash Racing Latvia" with Lamborghini Huracan, showing amazing pace during "Riga Summer Race".
Theoretically, the difference of points between participants is really tiny and there are much more teams able to win the first place in Overall classification. For instance, "DHL Racing" with Cupra TCR DSG, "ENERGIZER RACING" and their VW Golf GTI TCR DSG, "Noker Racing Team" and VW Golf GTI TCR SEQ and "Dream 2 Drive PRO" with Cupra TCR DSG. All those teams, theoretically, can continue fighting for the podium and victory of final event and the season.
Shuffled cards in classes standings
Previous event in Riga has really shuffled the cards for participants in different classes. Technique whims and accidents have influenced the amounts of points assigns, and there where teams who were pushed out from the podium. As for others, some competitors were happy to get closer to the victory. Looking at the season standings, it's quite clear: some of the participants can relax and enjoy the final moments of the season, as others should prepare the best strategy and keep fighting up till the end.
In "A2000" class, first place is taken by "ACAP Racing" with Toyota Corolla. However, second and third places are not so confirmed as the gap between participants is too small. At the moment, second place belongs to "Akademijos Motorsportas" team and their Honda Civic, as behind them – real fighters "RM Klubas" team.
Real relax mode is switched on by "A3000" class leader "Mažeikių Auto Sporto Klubas" team, having a secure gap from the competitors. These guys participate with "Peugeot 308 RC". Second place, at the moment, is taken by "Helios Sport" and their BMW E46, as in the third place we find Latvians "Bruno Racing Team" team competing with "BMW 330". These guys still have a chance to take the second place.
In "Diesel" class, main battles are happening among teams in 2-4 places. At the moment, third place is taken by team from Finland "Meretek Racing by Special Stage" with BMW E90 D, as in the second place – Lithuanians "Anteja.lt Racing Team" and BMW 135D. Leader place is taken by "Redus lt" team competing with "VW Golf".
Meanwhile, as we are moving towards the classes where we have more powerful technique, battles are getting more intense. For example, in "A3000+" class everything can change right after final event in Estonia. After car breaking down in Riga, "Telšių Statyba" team lost a lot of important points and still have to fight up until the last moments of season. Another bad race can mean losing the first place of a season classification. And vice versa, of course: one good race for "RD Signs" team can mean the highest step of the podium. As for the third place, we find "ITCC" team here, still having a possibility to overtake "RD Signs" and to take the second place in season standings as the difference is only 10 points.
"GT AM" class first place is taken by Porsche Cayman GT4 representing "Porsche Baltic" team. However, it is quite too early to celebrate season victory, as "Techninis projektas – Viada" team is behind them with not quite a secure difference of points. These guys from Lithuania participate racing BMW M3 E92. Thirst place holder "Rotoma Racing" team is not yet leaving the game, too. Successful final event could bring the second place in season classification.
As for "GT PRO" classification, the main battle is going to happen in between of most powerful technique of this racing series: Lithuanian team "Circle K milesPLUS" Porsche and "Flash Racing" Lamborghini. Third place is taken by another Porsche from Lithuania, representing "MM 911 Racing" team.
And, of course, the newbies "TCR Endurance" participants, distinguishing from others with big numbers of participants and real intense battles. This class has all the unknowns gathered and for sure, season champions will be cleared only after race in Estonia. At the moment, first place in this class is held by "Skuba Racing Team", having only 8 points gap from the second place owner. In here we find "Noker Racing Team". Both these teams participate racing VW Golf GTI TCR cars. In the third place, we find "DHYL Racing" team and "Cupra TCR". However, "Dream 2 Drive PRO" team is only few points behind and everything still can change after great finals. The motivation – is really big, as the difference of points – so tiny.
It is quite obvious, that the season champions will be called after final event only, happing on the 21st of September in "auto24ring" track.