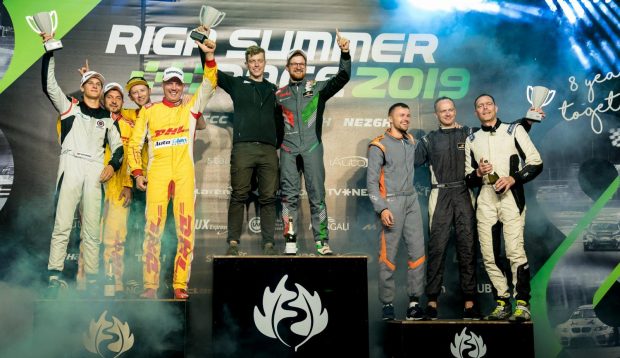 SKUBA RACING TAKES HOME FIRST TCR ENDURANCE VICTORY
There was a lot of drama during the NEZ 6 hours endurance race on Saturday afternoon in Riga, Bikernieki racetrack. In each team pit box and track itself. The main battles for TCR victory was going on between Lithuanian teams "Noker Racing", "Skuba Racing" and "DHL Racing Team". Unfortunately season leaders "Noker Racing" had to retire from the race after 3/4 distance when their gear box broke down. The same scenario happened to "GSR Motorsport" team which made only half of the distance.
After "Noker Racing" retirement the lead was taken by "Skuba Racing" team which held it till the finish flag, reaching the second position overall and securing TCR season leader position after 3 rounds. Second place was taken by DHL Racing Team with a mixed driver set-up of Lithuanian and Latvian racers, finishing 1 lap behind Skuba Racing. The third place got another Lithuanian team "Igorio lankai".
A big crash happened between Finish team "Black Rose Racing" with VW Golf GTI TCR DSG and VW Golf car of "Redus LT" team, the TCR crew had to drop out of the race losing a lot of important points. "Black Rose Racing" driver was brought to the hospital.
Technical issues had also "Dream 2 Drive PRO" team which changed a ball joint in the middle of the race.
Season overall TCR class after 3 rounds:
1. Skuba Racing Team 138 p.
2. Noker Racing Team 130 p.
3. DHL Racing 118 p.