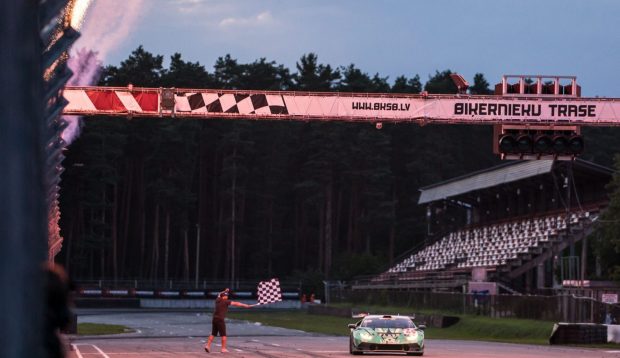 HOME TRACK BRINGS VICTORY TO FLASH RACING TEAM
Incredible event of 8th "Riga Summer Race" has just passed through leaving a lot of different emotions behind. So many races, so many fights and tense were felt up until the last moments of finish. However, it is another tradition to have endurance race as a main race for one of the days. Despite a lot of accidents, crashes and broke-downs, there was a great fight to watch and amazing victory of "Flash Racing Latvia" team marked with fireworks. It seems that bad luck has abounded this team and they finally had a chance to fulfil their main goal of the season.
Before the event, there were 26 teams listed for BEC 6H race. However, 25 of them started as one of the cars broke down already before the start.
Qualifying
It was really interesting to see a group of teams trying to get better position by beating other competitors only by few parts of a second. Especially tense fight happened between of TCR cars where each and every driver really tried to show the best they can. The pole position was clear at the beginning as events' winner team "Flash Racing Latvia" and their Lamborghini Huracan has showed incredibly fast lap time of 1:20,105 minutes. The second place of the starting grid was taken by a season leader "Circle K milesPLUS" team with Porsche. Their shown time was 1:22,988. "Rotoma Racing" team took the third position  showing the time of 1:23,166. And right after them there was already a TCR car of "Skuba Racing Team" with the best lap time of 1:24,069.
Battles from the very beginning
Real fight started right after start of the race. During first hour, some participants had to stop for a longer period than only driver change or to face technical issues making harder to keep up with others. One of those teams was "Circle K MilesPLUS" hitting somewhere the bottom of a car, broking down one of the radiators. Team had to stop and work on car losing some important positions. However, they did a great job and were able to reach the podium in their class. As the first-place holders of overall classification and "GT PRO" class – "Flash Racing Latvia" team was just uncatchable, there were two "TCR" class cars right behind them: "Skuba Racing Team" with VW Golf GTI TCR and "DHL Racing" team with a mixed team of Lithuanian and Latvian racers and "Cupra TCR" car.
Black Rose Racing and Redus LT crash and 3 TCR cars retiring during the race
However, there was a lot of drama during the race in each team pit box and track itself. After big crash in between of Finish team "Black Rose Racing" with VW Golf GTI TCR DSG and VW Golf car of "Redus LT" team, the TCR crew had to drop out of the race losing a lot of important points. "Redus LT" car was also damaged so they lost a lot of points. Another two "TCR" cars retired as the gear box broke down: same scenario happened for two VW Golf cars: the one representing "GSR Motorsport" and "#SpeedSistersLT" project and another – belonging to "Noker Racing Team". It is really painful loss for those guys, as they were the leaders of the championship. Technical issues forced "Bruno Racing Team" from Latvia, "R2M Performance" and "RD Signs" teams to drop out, too.
There were lots of teams competing and solving technical issues at the same time, as for example "Dream 2 Drive PRO" team changed a ball joint in the middle of the race, as "Telšiu Statyba", having one hour up until the finish, spilled oil up until at least three corners of the track, dropping out of the race. These guys were struggling with the car all weekend. So, really tense fight could be felt there on Saturday during 6 hours race, as afterwards – really great joy and fireworks welcoming racers to the podium.
Results by classes
So, in "GT PRO" class right after "Flash Racing Latvia", we have "MM 911 Racing" team with Porsche 911, as in the third, as we mentioned before – season leaders "Circle K MilesPLUS" team and their Porsche 911 GT3 Cup car.
"GT AM" class winner – another team dealing with technical issues this season – "Rotoma Racing" with BMW M3 E92 car. Second place owner – "Porsche Baltic" team with Porsche Cayman GT4, as in the third place – "Techninis Projektas-Viada" team with BMW M3 e92.
In a "TCR" class, victory was celebrated by "Skuba Racing Team". Second place taken by "DHL Racing" team, as for the third place – there is another Lithuanian team "Igorio lanai".
In "A3000+" class, there are two teams that have dropped out; however, they have managed to drive enough of racing distance to get really important points in a championship. First place belongs to "Telšlių statyba" team, as even solving the technical issues all the time, they have shown really good pase. In a second place of this class we found "RD Signs" team that was competing with BMW Z4 car.
In "A3000" class, victoty was taken by "Mažeikių Auto Sporto Klubas" with Peugeot 308 RC car, as in the second place we have "Helios sport" team with BMW E46, leaving "Bruno Racing Team" in a third place.
"Diesel" class winner – "Anteja.LT Racing Team" and their BMW 135d car, second place owner – "Redus LT", that has lost due to an accident.
"A2000" class leader – "RM Klubas" team with Honda Civic Type-R car. These guys left behind "ACAP Racing" team being in a second place and "Topratai.lt" being third.
Final event happening at the end of September is going to be really interesting to watch as the fights for the champion titles are still in front of us!