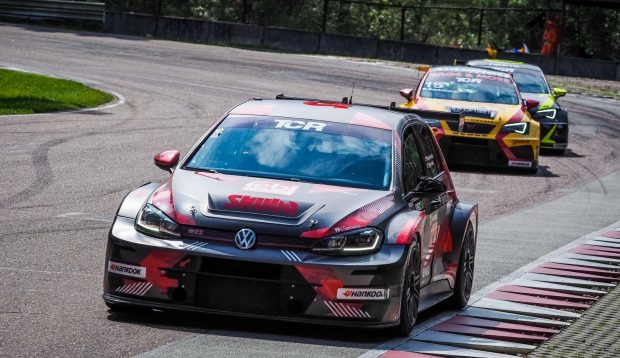 HATTRICK FOR DŽIUGAS TOVILAVIČIUS IN RIGA SUMMER RACE WEEKEND
This was a weekend to remember for Džiugas Tovilavičius at Riga Bikernieki. After winning Saturday the TCR class in the NEZ6H series, the Lithuanian driver scored a double victory today in the TCR races of the Baltic Touring Car Championship at the wheel of the same Volkswagen Golf GTI car run by the Skuba Racing Team.
Tovilavičius dominated the first race, as he took the lead from pole position and built a small advantage, while Ramūnas Čapkauskas and Julius Adomavičius were fighting for the second place. Čapkauskas had pipped Adomavičius at the start and seemed able to defend the position, however, during the penultimate lap he ran out of fuel and stopped into the pits. And so Adomavičius finished second and Latvian driver Andrey Yushin inherited third. The fifth competitor, Peteer Peek retired at the end of the first lap with an electronic issue.
The second race was livelier as Tovilavičius was closely followed by Adomavičius and Čapkauskas during the first three laps. Then, as his pursuers began to fight for the second place, the leader was able to build a small margin. A couple of mistakes from Adomavičius gave Čapkauskas the opportunity to find a gap and move ahead on lap 6. In the final part of the race Čapkauskas increased his pace and closed in within two seconds of Tovilavičius, while Adomavičius successfully defended the third position from Yushin.
The double victory meant that Tovilavičius took the leadership in the standings, 29 points over Čapkauskas, while Adomavičius lies in third position, a further three points adrift.
The Baltic Touring Car Championship will come to an end at Pärnu, in Estonia, on 21st/22nd September.
Championship points:
1. Tovilavičius 158 p.
2. Čapkauskas 129 p.
3. Adomavičius 126 p.
Text: tcr-series.com