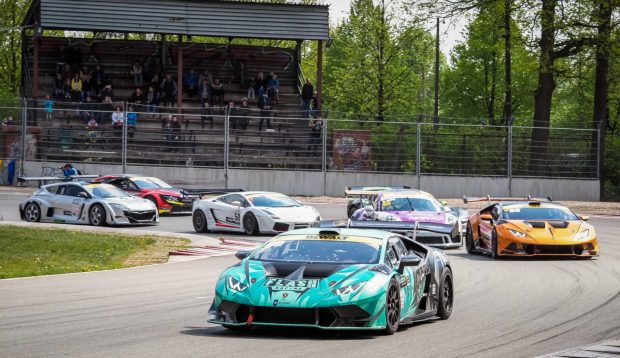 8 YEARS OF FANTASTIC RACING EMOTIONS – RIGA SUMMER RACE TOURING CAR FESTIVAL IN THE MIDDLE OF AUGUST
Baltic Touring Car Championship as it is now started with one event 8 years ago. This event is called "Riga Summer Race". And till now it is one of the most awaited events of the season. It is welcoming everyone with it's fantastic atmosphere and the special aftertaste.
In the weekend of August 17-18, for the eighth time Bikernieki track will welcome the traditional "Riga Summer Race" fiesta with strongest participants of Northern Europe, Baltic States, Poland, Russia and Belarussia . In the fourth round of the season, new participants and racing classes are expected.
Two full days of adrenaline and speed await visitors and participants of Riga Summer Race Baltic Touring Car Festival. In addition to the usual racing classes Polish and Lithuanian Championships have joined bringing the total number of participants to 180 athletes.
As usual, "Riga Summer Race" spectators will be delighted by "Legend Cars" and historical car series "Dzintara aplis" ("The Amber Ring") with Volga, VAZ and historical formulas.
Fans of more powerful vehicles should definitely see the six-hour endurance race (NEZ6H) in Northern Europe, where none of the previous rounds have been without intense battles and major or minor incidents on the track. Will someone win the unbeatable Porche GT3 of CircleK milesPlus racing team?
For the first time in Riga Summer Race will start the new Nankang Endurance Academy project for participants who want to test their skills in endurance racing. Participants will spend two hours on the track with one driver change.
The second day of the event promises to be powerful. The Baltic Touring Car class will feature some of the most powerful vehicles in the Baltics, including cars like Lamborghini and Porsche. Likewise, participants of the Polish and Lithuanian Championships will compete for the first time in Bikernieki track. As dessert for all racing fans on Sunday will compete the new TCR class participants, promising fierce battles to the finish.
Along with participants' victories, spectators will have the opportunity to spend a great weekend, catch a dose of adrenaline, take a closer look at sports cars, take a bus ride into Bikernieki track, and enjoy a variety of attractions for the whole family.
Tickets for the event can be purchased online at www.bileuserviss.lv. Ticket for both days – 10 euros. Children up to 12 years (including), pensioners, disabled and their companions, free of charge, presenting a valid certificate.