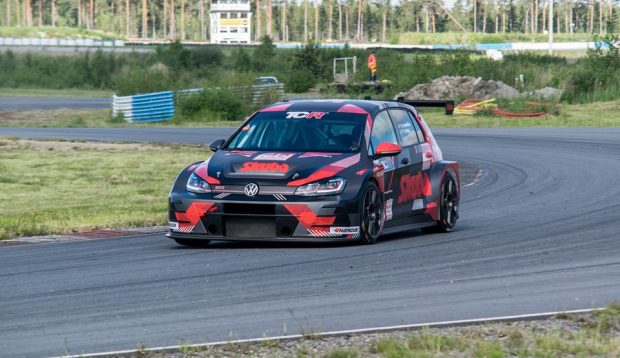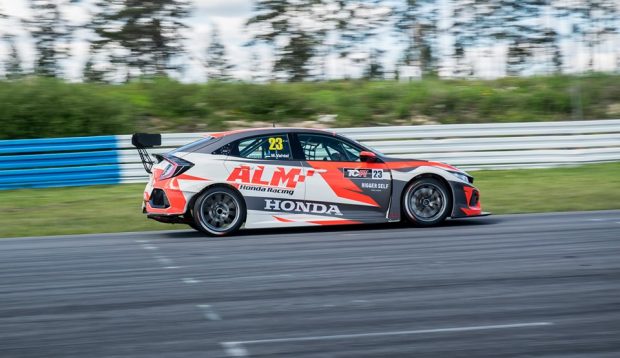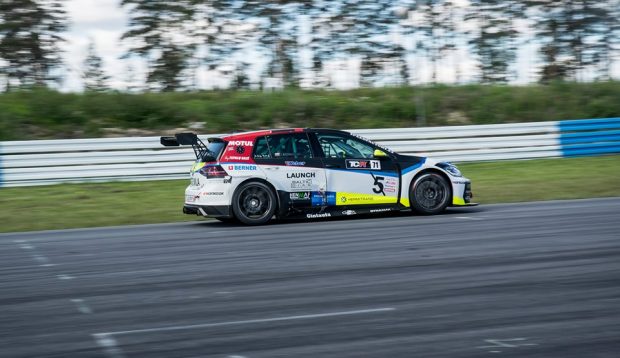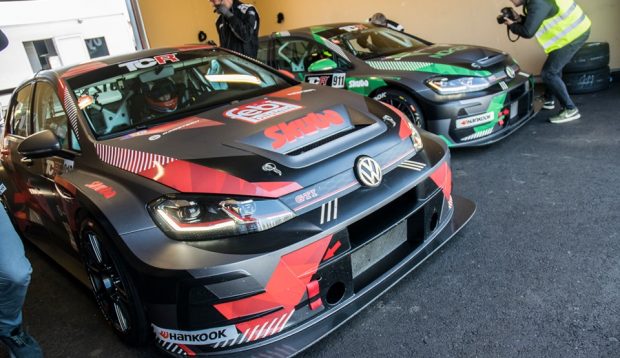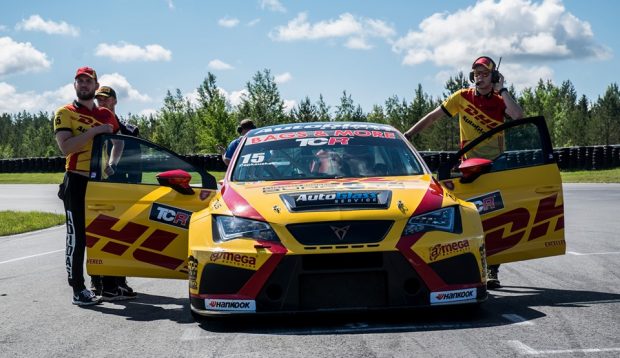 DŽIUGAS TOVILAVIČIUS TAKES THE BOTNIARING TCR CLASS VICTORY
A nice and sunny weather welcomed TCR 2nd round which took place in Botniaring racetrack, Finland together with BaTCC and Finnish Championship. Eight participants from Lithuania, Estonia, Finland and Latvia took part in TCR class.
As this was completely new track for most of the participants it was hard to predict the leaders and winners and both races proved that the winner could be any of the drivers. The best lap in qualifying was set by Lithuanian Džiugas Tovilavičius with Skuba Racing VW Golf GTI TCR – SEQ.
Race 1
First race started with Džiugas Tovilavičius going in the leading position, second position got Julius Adomavičius with GSR Motorsport 's VW Golf GTI TCR – SEQ, but after a contact with Robin Vaks, he lost several positions and went in the boxes to check his car, but he continued the race finishing in the eigth place.
After overtaking Julius Adomavičius Robin Vaks(Honda Civic Type R TCR – FK7) from ALM Racing took second position behind Džiugas. Two laps before the end of the race third position holder Finnish driver Emil Westman in his Cupra DSG tried to get pass Robin Vaks but he didn't succeed and Top-3 finished as they were in the end of first lap.
First round winner in Bikernieki racetrack Ramūnas Čapkauskas finished sixth in his Cupra TCR – DSG.
Race 2
From pole position in the second started first race winner Džiugas Tovilavičius, second was Robin Vaks. After not a very successful performance in Race 1 the best start was done by Julius Adomavičius. Starting from the third position he was already first after the first corner. Džiugas Tovilavičus lost his leading position and dropped back to the forth positions having several contacts with Robin Vaks. Finnsih driver Emil Westman came out second from the first corner but soon lost it to both Robin Vaks and Džiugas Tovilavičius.
On the forth lap Tovilavičius started to chase the second position owner Robin Vaks but the Estonian driver was doing his best to defend his second position. He did an excellent job until lap 8 when Džiugas Tovolavičius finally overtook him and won the second place in Race 2. Victory was saved by Julius Adomavičius and Robin Vaks came third.
After Race 2 Emil Westman was disqualified from both races, his car was 5 kg too light. It resulted in more points for all participants behind him.
Nevertheless this was not the best performance from Riga round winner Ramūnas Čapkauskas, he managed to keep the leading position in the Championship overall standings.
Round 2 overall:
1. Džiugas Tovilavičius
2. Robin Vaks
3. Julis Adomavičius
Season overall after two rounds:
1. Ramūnas Čapkausas 66 p.
2. Džiugas Tovlavičius 65 p.
3. Julius Adomavičius 62 p.