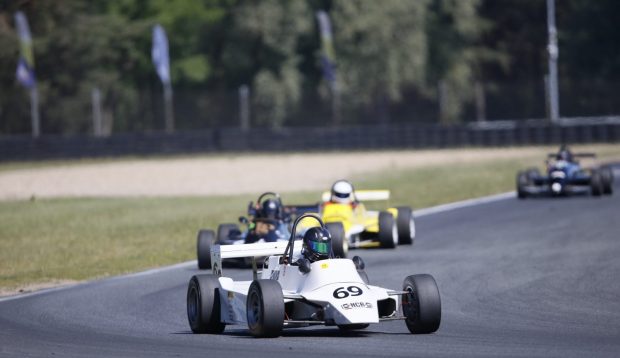 HISTORIC FORMULA IN A HOT WEEKEND EXPLORE TOR POZNAN RACETRACK
Last weekend, June 8-9, together with Polish and Central European zone Championship in Poland, Poznan place took Baltic Touring Car Championship second round for Historic Formula classes. On the round overall podium – two Latvian and two Estonian participants.
The second round gathered more than 100 participants with 12 in both Historic Formula classes from Poland, Latvia, Estonia, and Germany.
After qualification, major technical issues with the car had Latvian racer Raitis Mūrnieks, but with hard work and help from other participants, the necessary parts were provided and on his first race, he finished second. After the second race, even better – he finished first in the race and overall. Second place got Hartmut Heidicke and the third place won Christian Stoppel.  

With a lot more participants, at Formula Mondial class the biggest battle was between Latvian Andris Griķis and Estonian Taavi Kuul. At the second race, Andris Griķis managed to overtake Estonian racer but was practically unable to get away. Although Taavi Kull made a mistake and slip out from the track in one of the fastest turns, he was still able to stay in the race 6 seconds behind the leader. Unfortunately, the engine of Andris Griķis formula didn't pass the pace and withdraw 3 laps before the finish. That allowed to Estonians take the entire podium at the second race. Overall the first place won Taavi Kuul, the second place got Andris Griķis, the third place another Estonian – Jaak Kuul.
The Polish round was chosen on purpose, with the aim to develop and accumulate racing experience and establish new contacts. This was the first session for the Baltic Championship outside the usual Riga and Pärnu racetracks. The "Tor Poznan" racetrack configuration is different with specific and fast turns and 800 meters long finish line, which is very grateful to Formula drivers.  

Overall results:
Formula Easter:
1. Raitis Mūrnieks (LV)
2. Hartmut Heidicke (DE)
3. Christian Stoppel (DE)

Formula Mondial:
1. Taavi Kuul (EE)
2. Andris Griķis (LV)
3. Jaak Kuul (EE)