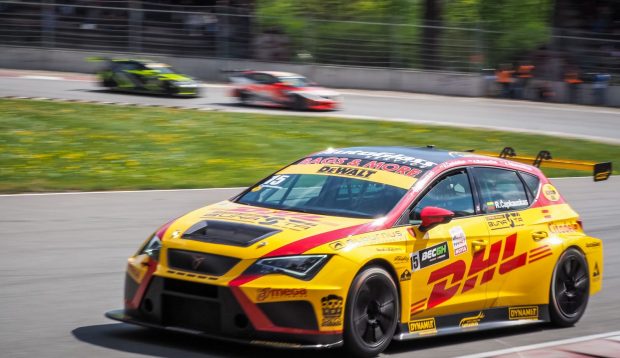 RAMŪNAS ČAPKAUSKAS DOMINATES AT THE FIRST BALTIC TCR SPRINT SERIES ROUND
Last weekend was historic for the Baltics Touring Car racing series. Launch of the Baltic TCR class was on of the new seasons most expected novelties. TCR sprint series opening round was taking place in Riga, DEWALT Grand Prix event.
DHL Racing's Ramūnas Čapkauskas and his Cupra DSG dominated the two TCR sprint races on Sunday, May 12, that opened the Baltic Touring Car Championship's season.
In the first race Estonian Mattias Vahtel made a great start and took the lead in his Honda Civic, but the experienced Lithuanian driver managed to pass him already during the opening lap and pulled away. Vahtel comfortably cruised in second place until the end, while there was a close fight for the third position between Julius Adomavičius' CUPRA, Dziugas Tovilavicius's Volkswagen Golf GTI and Egidijus Valeiša's Hyundai i30 N that finished in the order.
Čapkauskas encored in Race 2 with a lights-to-flag victory. He started from the pole and led for the whole distance; Adomavičius passed Valeiša for the second place on lap 3 and began to chase the leader, but never got close enough to try an overtaking manoeuvre. On the last-but-one lap, Vahtel overtook Valeiša and won the fight for the third position.
The next round of BaTCC takes place at the Botniaring, in Finland, on June 15/16.