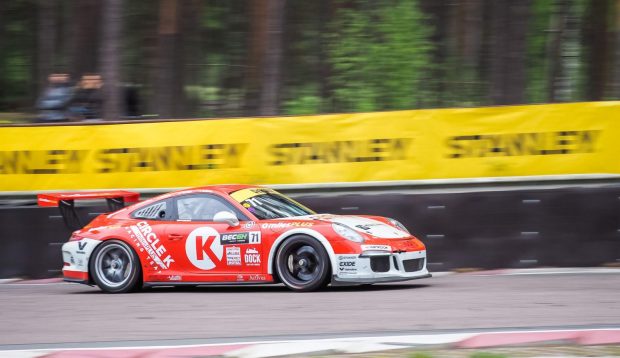 CIRCLE K MILESPLUS RACING TEAM OPENS NEZ6H SEASON WITH VICTORY
Season opening round of NEZ6H Endurance series in Bikernieki racetrack was hot as hell with "Flash Racing Latvia" brand new Lamborghini on fire and other intense moments. 24 teams began the new NEZ season in Riga, on top of the podium finish reached "Circle K milesPLUS Racing Team" from Lithuania with drivers Jonas Karklys, Julius Adomavičius, Jonas Gelžinis and Ignas Gelžinis (Porsche GT3).
Victory in NEZ6H qualification, showing the fastest lap time 1:19,146, got "Flash Racing Latvia" with Estonian racer Mikk Maaten behind the wheel. Unfortunately, the race ended quite dramatic. "Flash Racing Latvia" was in a strong lead, but after almost three hours of racing, the car slipped and lightly crashed into the barier, but was able to return to the track to get to the service park where some technical improvements were made and they returned to race. When they came to refuel, the car came on fire and Bikernieki racetrack took over a big smoke cloud. The race for the team was over.
"Circle K milesPLUS Racing Team" took the lead right after Lamborghini's crash and held it until the finish flag. Second place got "Dream 2 Drive PRO" with CUPRA TCR DSG – winning the new TCR class, third finished "MV Sport" team (Hyundai i30 N TCR).
NEZ6H Round 1 results:
A2000 class:
1. ACAP Racing
2. Akademijo Motorsportas
A3000 class:
1. Mažeikiu Auto Sporto Klubas
2. Helios Sport
3. Bruno Racing Team
A3000+ class:
1. Telsiu Statyba
2. ITCC Racing
Diesel class:
1. Redus LT
GT AM class:
1. Techninis Projektas-Viada
2. Porsche Baltic
3. AutoGlass Service
GT PRO class:
1. Circle K MilesPLUS Racing Team
TCR class:
1. Dream 2 Drive PRO
2. MV Sport TCR
3. Noker Racing Team