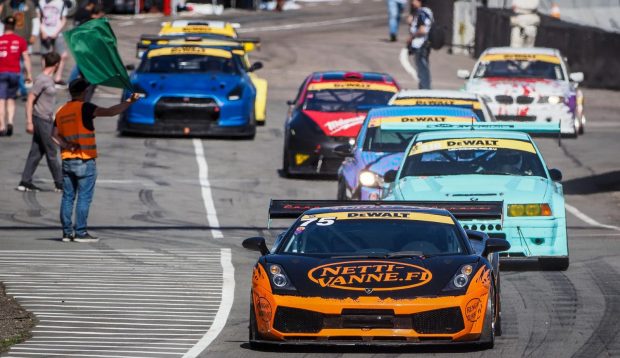 TICKET SALES TO "DEWALT GRAND PRIX" IN RIGA HAVE STARTED
From May 10 to 12 the capital city of Latvia – Riga will welcome NEZ and Baltic Touring car Championship participants with a spectacular program. Special ticket offer to the opening round "DeWALT Grand Prix" is already available at "Biļešu Serviss" ticket offices and online www.bilesuserviss.lv.
NEZ and Baltic Touring car Championship season opening round "DeWALT Grand Prix" will take place in Riga for the third year, bringing together 200 participants and 160 all kind of sports cars all over Northern Europe. The service park, which will be open for all visitors, will allow to see the latest generation Porsche GT3 as well as powerful Lamborghini, V8 Thundercars and World-class TCR cars.
BMW car lovers will enjoy BWM Xtreme class races that always show exciting battles in Riga. Thrilling races are expected between Legend Cars from Finland and Latvia. On Saturday afternoon season will open NEZ 6H Championship participants. But the fans of historic classics on Sunday will be delighted by "Dzintara aplis" season opening with VAZ, Volga and historic formulas.
During the season opening round as a tradition will take place Mechanic Challenge where mechanics of competitors will compete for valuable prizes. Various attractions for children will be available as well as free opportunity to take the guided tour around Bikernieki racetrack by bus.
Till May 10th you can purchase a weekend ticket with 20% discount – 10 euro. One day ticket price – 7 eur. Free entrance for children under 12 years of age, pensioneers, and people with disabilities.
NEZ and Baltic Touring Car Championship season opening round title sponsor is "DeWALT", general sponsor "MOTUL", sponsor "Facom", media partners: "Tvnet", radio "Star FM", magazine "Klubs" and "iAuto".