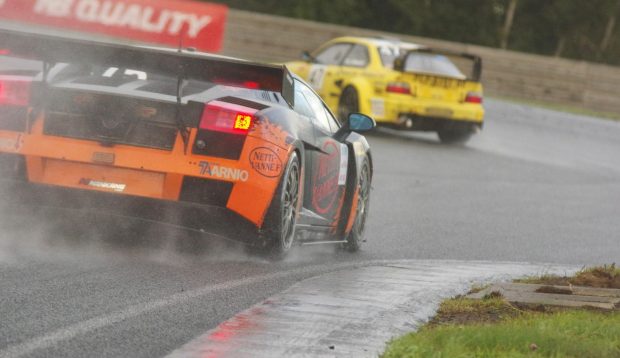 SEASON FINALS HAVE CLEARED UP THE NEW BATCC CHAMPIONS
At the weekend from September 22 to 23 the final round of the Baltic Touring Car Championship season 2018 took place in Parnu with more than 140 participants. During the event five BaTCC champions have been cleared up.
On Sunday, September 23, in Baltic GT class season Champion title secured Marko Rantanen with Lamborghini Gallardo, but the fastest GT car in Parnu was Raivo Tamm's Porsche GT3. The vice-champion title received Roberts Rode (Nissan 200SX) from Latvia. Overall third place got Vytenis Gulbinas (BMW M3) from Lithuania.
BTC1 class Champion title with another victory secured Estonian Peeter Peek (Honda Civic), the second place got Andrey Yushin (Honda Civiv) from Russia and seasons third place secured Lithuanian Karolis Gedgaudas (Honda Civic Type-R).
After the previous event's thriumph in Baltic Endurance Championship Ernesta Glogyte won also BTC2 class Champion title. The tightest ballte in BTC2 class was between Indre Senkute-Gedgaudiene (LT) and Jyrki Jonkkari from Finland who both got same amount of points (139). Taking into account the extra criteria – the Vice-champion title won Indre Senkute-Gedgaudiene and third place this time got Jyrki Jonkkari. With Parnu event Victory in BTC2 class home went Ramūnas Čapkauskas (Seat TCR).
In Baltic Championship Hankook Trophy Super 1600 class Champion title won Dmitry Savateev (Honda Civic). He showed the second fastest result in auto24ring concending only to Russian driver Vladimir Cherevan. Season's second place won Reinis Trūps (MG ZR) from Latvia but third place got last year's champion Steeven Puust (Toyota Yaris) from Estonia.
In Volga class the tightest battle for champion title was between Latvians Ervīns Kreicbergs and Aleksandrs Čuhrovs. At the final round the first place won Jānis Grope, but Ervīns Kreicbergs finished in third place securing the season victory. Aleksandra Čuhrovs saved his second place in the season, but the third fastest racer this season is Jānis Grope.
The champions in VAZ1300 and VAZ1600 classes were already clear in the previous round in Riga, so the battles this time were for traditional traveling cups. This season's champion Mārtiņš Lagzdiņš was awarded in VAZ1300 class with Guntars Judeiks memorial cup, while in the VAZ1600 Jānis Aliks traveling cup won Toms Bērziņš. The fastest driver in VAZ1600 class in Parnu was Andrey Kozlov from Russia.
Season Top-3 in VAZ1300 class: Mārtiņš Lagzdiņš, Harijs Uple, Normunds Bērziņš. Season Top-3 in VAZ1600 class: Adomas Petrovas, Pēteris Laipnieks and Toms Bērziņš.
No overall cups were played out for ABC Race this year but during the final round first place won Kristaps Laipnieks, the second place got Regnārs Mozga-Kļaviņš and third place – Mareks Matvejevs and Ainars Šēnfelds.
Season overall results find HERE.
Baltic Touring Car Championship organizers are very grateful to our sponsor "Hankook", official car "Auto Blitz", media partners "Delfi", radio "Star FM", magazine "Klubs", and supporters "Latvijas autošosejas federācija", "Jacob's Creek", "Mangaļi".
Photos: Darius Kibirkštis, Raimonds Volonts